Jonathan Quick or Tim Thomas: Who Had the Better Conn Smythe Performance?
June 15, 2012

Bruce Bennett/Getty Images
Jonathan Quick won the Conn Smythe trophy as the MVP of the 2012 Stanley Cup Playoffs. Just one year ago it was another American goaltender taking home the award, the Boston Bruins' Tim Thomas.
Thomas helped the Bruins end a 39-year cup drought in 2011, while Quick led the Kings to their first championship in their 45-year existence.
Both goaltenders were dominant, but whose performance was better?
Thomas went 16-9 with a 1.98 goals-against average, a .940 save percentage and four shutouts.
Quick went 16-4 with a 1.41 goals-against average, a .946 save percentage and three shutouts.
At first glance, the answer seems obvious given Quick's superior numbers. However, there is an argument to be made for Thomas.
Led by Chara and Doughty, both teams had solid defensemen, but it was the Kings' blueliners who were able to limit the number of shots their goaltender faced.
The 2011 Bruins averaged 33.96 shots against per game in the playoffs, while the Kings only allowed 26.9 shots per game in 2012. Thomas faced a much tougher task than Quick, as he was responsible for almost seven more shots per game.
Thomas also played in a number of elimination situations, including three Game 7s. After allowing three goals in Game 7 of the quarterfinals, Thomas turned in remarkable performances in his next two starts in a deciding game.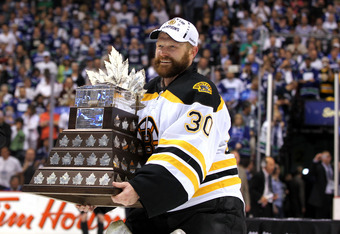 Bruce Bennett/Getty Images
In the Eastern Conference Final against the Tampa Bay Lightning, Thomas stopped 24 shots to secure the shutout and a trip to the finals for the Bruins. In Game 7 of the Stanley Cup Finals versus the Canucks, Thomas stopped 37 shots, shutting out the Canucks in Vancouver to win the Stanley Cup.
Thomas was brilliant the entire series against Vancouver, allowing only eight goals in seven games. Throughout the playoffs, Thomas stepped up when the Bruins needed him most. It was an amazing run that many fans didn't expect to see again for a long time.
It turned out they didn't have to wait long at all, as Jonathan Quick dominated the Stanley Cup Playoffs just one year later.
Quick played consistently throughout the entire postseason. On only three occasions did he allow more than two goals and he never allowed a fourth in 20 playoff games. He also helped the Kings set the record for most consecutive road wins in the playoffs with 10.  
Quick led the Kings to 3-0 leads in each of their four playoff series; the first time any team has accomplished that feat. Three of those series were against the top three seeds in the Western Conference, including President's trophy winners and defending conference champs, the Vancouver Canucks.
Quick's most impressive accomplishment may have been his ability to play smart and limit his mistakes. In the entire postseason, the Kings' goalie only had two unforced errors, which include allowing a strange goal from centre and misplaying the puck on a penalty kill. Other goaltenders would have caved following these plays, but Quick brushed them off and continued to play well. 
With that being said, Quick's consistency along with his statistics, put his MVP performance just slightly ahead of Thomas'. Quick gave his team an opportunity to win every single game of the playoffs, which they often did, going 16-4. In doing so, he finished with some of the best playoff numbers of all time.
While fans may debate who the better goaltender is, there was no debating who would win the Conn Smythe trophy in each of the last two years. Thomas and Quick put on goaltending clinics in consecutive postseasons that won't be forgotten in the near future.
They serve as inspiration for young goaltenders across American and once again proved that solid goaltending is crucial to a team's playoff success.