WWE No Way Out: Predictions for a Potentially Game-Changing PPV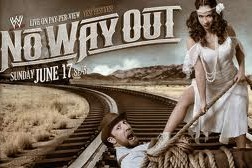 When WAS the last time a Diva was on the poster...?
Sunday's No Way Out might be an off-month, "B" Pay-Per-View, but when you look closer at it there is a lot more going on underneath the surface. There is the potential to be some serious game-changing stuff that goes on during the show; then again, WWE might drop the ball and the show might disappoint.
I'm going to go ahead and be optimistic here. I'm going to give my predictions for the No Way Out that we need to see, the one that has the potential to be a really good show and could set in motion some really good summer storylines for a company that really, really needs the life.
So let's get right down to it:
Begin Slideshow

»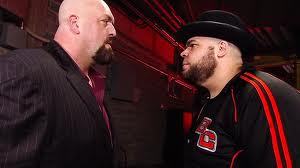 Will we see this again soon?
I already wrote an article about this match, but to recap:
This match is either going to be a complete garbage squash, or it's going to mean more than you might think it should. I'm going to cross my fingers and hope for option No. 2.
Clay is obviously making an impression on some people backstage. Despite being saddled with a bizarre gimmick, he's gotten over and seems to be legitimately having fun out there.
He has gotten wins over Dolph Ziggler, Jack Swagger, and The Miz (all decorated champions) and may be getting into a potentially hot feud with Big Show and involving himself in the main event picture with Cena, Big Show, Laurinaitis and McMahon.
The only catch here: Clay has to take the loss to get there.
If WWE is serious about getting Clay involved in bigger things (and restocking their floundering roster), he has to lose to Otunga through a screwjob finish (likely either Big Show or Big Johnny getting involved) and then return the favor by coming to Cena's defense in the main event.
Yes, I know that, technically, Clay is being "kept away" from Big Show due to concerns over his safety, but it's likely that they are just prepping him to get involved with Show in the long run.
As I mentioned in my last article, I see a Clay push working out sort of like what Cena's partnership with Cryme Tyme a few years back should have been; a combination of a proven winner and proven entertainers.
Latch Clay to Cena's hip if need be, let him get involved and see if it sticks. If it does, presto...new upper-midcard/main-event player; if people don't get behind him, he quietly goes back to dancing and squashing guys.
PREDICTION: David Otunga wins via interference
The Game vs. The Pain
Not really a match, but Triple H's appearance is likely going to kick off this "big summer feud" we keep hearing about from guys like Paul Heyman and CM Punk.
No doubt, Triple H is going to address Brock Lesnar (definitely) and/or John Laurinaitis (likely, since Laurinaitis "signed" Lesnar). Some kind of repercussion for Lesnar breaking Triple H's arm is going to come into play, which no doubt will lead to Triple H vs. Lesnar being set for Summerslam.
I wouldn't be surprised to see Paul Heyman make an appearance here. I would be surprised to see Lesnar, though; it would make sense, but Lesnar staying away and only speaking through Heyman would get Lesnar mega-heat as the arrogant, holier-than-thou a-hole they need him to be.
What's murkier, though, is what all of this means long-term. I don't think that Triple H vs. Lesnar is going to go anywhere long-term, since 1) Triple H's most logical move is to get involved with whatever is brewing between John Laurinaitis and Vince McMahon, and 2) Lesnar doesn't want to waste his precious few dates by fighting an authority figure like Triple H.
Whether Lesnar is going to fight Undertaker or The Rock at WrestleMania XXIX is up to WWE, but it's likely that Triple H and Lesnar are going to part ways after Summerslam.
Honestly, the most likely scenario is that, as someone on this site predicted (if it's you and you're reading, feel free to let me know and get credit!), Lesnar comes back on the 1,000th episode of Raw and breaks up the rumored DX reunion by beating down Shawn Michaels to fully get Triple H invested in the match.
PREDICTION: No Lesnar, Triple H confronts Heyman, Triple H vs. Lesnar set for Summerslam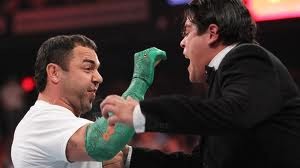 Can the bring the funny and the quality?
Let this be a lesson to all of you who want to be professional wrestlers or bookers: you can have two over-the-top characters in a ridiculous excuse for a match, and people will watch it and cheer for it.
Santino Marella and Ricardo Rodriguez are two guys that are obviously having a blast out there being idiots, and people are buying it due to sheer force of personality and commitment.
Santino almost got a world title out of it and has some of the best crowd reactions in the company; Ricardo has actually been getting more crowd support than Alberto Del Rio and is almost definitely in line for a face turn.
Lost in all of the gimmicky hilarity is the fact that these two are actually really talented wrestlers. I'd actually love to see these two be funny and then get a chance to put on a really good match. What would be the harm in seeing both comedy and quality?
As for the match, though, I see Santino making funny faces, Ricardo running away a lot, a Cobra or two, and Santino pulling off Ricardo's tux to show another embarrassing shirt or something of the ilk.
It'll be good for a cheap laugh, despite the fact that there is actually a lot more that these two can do. Maybe someday.
PREDICTION: Santino wins, Ricardo wears tighty-whities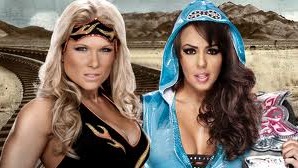 We want Kharma!
I have no idea what's going on in the Divas division these days.
I love these two ladies, but I feel like they are just biding their time until Kharma is ready to come back. Not that this is a problem, mind you (Kharma is awesome and would make a killer dance partner with Phoenix), but having an entire division in stasis is just awkward.
First, Phoenix is thiiiiis close to being the longest-running divas champ ever (despite never defending it), then jobs to the Bellas, who immediately drop the belt to Layla. Now Layla is feuding with Beth.
Honestly, what was the point of Beth even dropping the belt in the first place? Phoenix is a heel, Layla is a face, just have Phoenix drop it to Layla.
Involving the Bellas unnecessarily got the fans' hopes up for a Kharma return (seeing as how they were involved in a storyline with her before she left) and put the belt on someone who had only recently become a credible performer.
I don't know what to expect from this match, other than another month of waiting for Kharma to come back. For now, Layla keeps the title, even though Beth deserves it more.
PREDICTION: Layla wins, fans chant "We Want Kharma!"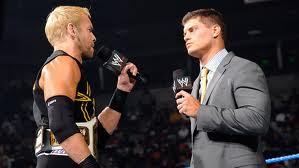 These two might steal the show
I like this feud, what with Cody calling out Christian and his curious reasons for turning babyface again. I wonder if this is going anywhere, though; if they want to keep having Rhodes push Christian until he snaps and admits to lying (like Christian did with Edge a couple years back) then fine, but I do think that Christian will remain a face for a while and be a reliable veteran that can feud with up-and-coming young talent.
I actually see this feud as the next chapter of what we have seen numerous times over the years: a guy who has proved himself as a stud in the midcard drops his Intercontinental/US Title and begins the ascension to the main event scene.
We've seen it work wonders with The Rock, Triple H, Stone Cold Steve Austin, Chris Jericho, and Edge to name a handful; more recently, we've seen The Miz (sort of worked, jury is still out), Kofi Kingston (came close, ran afoul of Randy Orton), MVP (should've gotten there but he couldn't keep his mouth shut), and Dolph Ziggler (fingers crossed) try to go the same route.
Now? It's time to see if Cody Rhodes can be the next man up (as a side note: I still find it amusing that people were calling for Cody Rhodes to get Jannetty'ed after the break-up of Legacy, but instead it's Ted DiBiase who has fallen into obscurity and Rhodes who's gotten the big push).
I say yes, and I also say soon; I think that Cody Rhodes will enter into the main event scene in the coming months, either feuding with Sheamus or a returning Randy Orton (or possibly Dolph Ziggler if Ziggler turns face).
What that means, though, is that Rhodes will be taking the fall here. Not saying that it'll be a bad thing; this is likely going to be Match of the Year material. Let's hope they're given time to show off for the crowd.
PREDICTION: Christian wins, both look awesome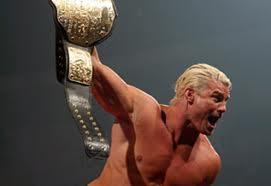 Once again: we HAVE to see this happen...
I've already written about Dolph Ziggler and the World Title, so I'll keep this brief: if we're ever going to take Dolph Ziggler seriously as a main event player, he has to win the belt at No Way Out or he has to get screwed by Vickie and Swagger and turn face.
There is no other option. He keeps coming close and keeps falling short. Yes, he has held the belt before but it was a joke. Ziggler is awesome athlete, a great promo guy and a good character (I still don't think he's a great character, but he's getting there), but every time he gets the shot to compete for the title, he falls flat.
If Ziggler fails here, he cements his spot as a performer who is a good guy to throw in there in off-month Pay-Per-Views to get a title shot, put on a great show, and fall short. Is there any real shame in being someone who just can't quite get there? Not really. Not everyone can be a world champion.
Maybe a career of being an almost-main event player and multiple time Intercontinental/US Champion is in the cards for Dolph Ziggler. Maybe he will break through (and I hope he does). But one way or the other, we're going to find out Sunday night.
PREDICTION: Ziggler wins the World Title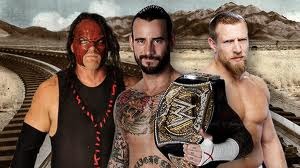 Expect lots of change by the end of the night...
This is the most interesting match on the card as far as potential future storylines go. I could see any of these three winning the belt, and I think all of it depends on what happens with AJ.
I'm not saying that AJ has to turn heel on Sunday, but I think it's a strong possibility; I think the storyline that makes the most sense would be AJ siding with Kane and guiding him to victory (despite the fact that Kane seems freaked out by her, which is saying something), both because she sees that he "has a heart" and because it would screw over Daniel Bryan.
This situation leads to two things: one, an AJ heel turn and partnership with Kane nicely resets the main event storylines and gives the IWC their desired Daniel Bryan face turn and will allow him to eventually win the WWE title as the conquering hero (Yes!).
Of course, they'd have to reconcile the fact that AJ went crazy because Bryan treated her like crap, but they did it once with Lita and Kane, so I don't see why we couldn't see it again.
That leaves CM Punk; as I mentioned before, I think Punk is going to get involved in whatever the "big summer feud" is going to be (that likely involves Heyman, given what he's said on Twitter).
I see Punk not being involved in the decision and somehow getting screwed out of a rematch by Laurinaitis, which would lead to Punk feuding with Big Johnny and the powers-that-be in a throwback to the glory days of Steve Austin (though Laurinaitis is not as good a heel as Mr. McMahon was back in the day).
There is always the option of Punk turning heel, but he's already one of the top babyfaces in the company and is likely drawing too much merchandise money to turn heel and side with Heyman, even though character-wise and storyline-wise it would make the most sense.
Whether Punk joins the Anti-Laurinaitis faction, turns heel and joins the Anti-Vince/Triple H factions, or goes rogue and creates an nWo redux, he is likely going to be involved heavily in the summer storylines.
However, he's going to be doing it without the title. I love Punk, I think he's a great champ, but the time has come for him to go back to being an anti-hero or even a villain.
PREDICTION: Kane wins the WWE Title, Punk is not involved in the fall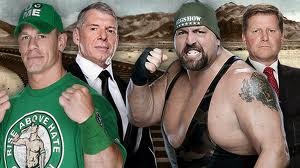 Will Big Show finally prove himself worthy?
Another Cena vs. Big Show feud. Another instance of Show being booked like the unstoppable monster (plus, he seems to be getting some of Brock Lesnar's gimmick in Lesnar's absence). Cena is up against the wall. Cena has to overcome the odds.
However, Show has to win here. If he doesn't, everything is for naught.
The stipulation of John Laurinaitis being fired if Show loses makes it all but obvious that Big Show is going over, though recent developments regarding Laurinaitis's real-life role have somewhat muddied the waters.
I still say that Laurinaitis holds onto the GM role, as he has improved as a character and they've spent a lot of time on him; then again, you couldn't have said the same thing about Mike Adamle.
But let's forget about the Laurinaitis stipulation for a minute here and focus on what this match means to the legacy of Big Show: if he loses here, his career goes down as arguably the biggest bust in WWE history.
He has always been booked to seem like a big, unstoppable giant, but all he has ever been is a stepping stone. Every time someone needs to get over, they beat Big Show.
Nowhere is this more apparent than in his infamous WrestleMania record. He never won a singles match until this year, and even that was more of a "thank you for your service" win. He seems big and bad, but he goes down easily.
He's the Karl Malone of the WWE: looks great, does well in the regular season (or, in Big Show's case, in the build-up of feuds), but in the big moments, he comes up small.
Big Show cannot come up small again. He must beat Cena. He must dominate Cena. Maybe a little interference here and there won't hurt too much (and you know it's coming), but Big Show has to finish the job this time. If not, he might as well pack it in, because he's as good as done.
PREDICTION: Big Show wins, Laurinaitis keeps his job