New York Jets: Why 'Jets West' Camp Will Be Good for Tim Tebow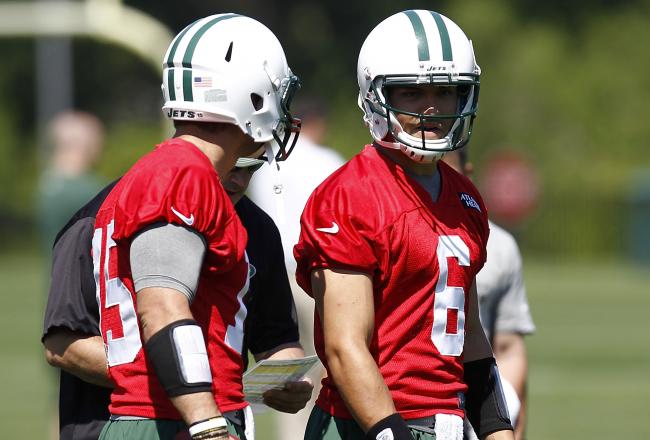 Jeff Zelevansky/Getty Images
When I attended Jets minicamp on Monday, it could not be more clear that Tebow was the inferior quarterback to Mark Sanchez. He was throwing at people's feet, the ball came out wobbly and his long release was painful to watch.
Still, after the practice, Tebow was, by far, the most sought-after autograph, even more so than the player that he backs up.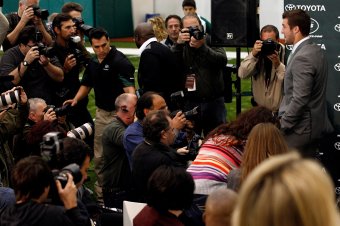 Jeff Zelevansky/Getty Images
While it is still early in the process, the whole "backup-is-more-popular-than-the-starter" situation will certainly create an interesting dynamic in the locker room. While it may be amusing to watch this at first, at some point—as Tebow's role on the team fails to live up to the amount of media attention he gets—it could create an air of jealousy that will stem from more players than just Mark Sanchez.
Which is where "Jets West" comes in.
In years past, "Jets West" was nothing more than a cute and fun way to get the skill position players together for some of Mama Sanchez's home cookin' after tossing the pigskin around all afternoon. While Sanchez was pretty much forced to invite Tebow along for this year's festivities, if used correctly, this novelty event could turn into a turning point in terms of defining the roles of Sanchez and Tebow in the locker room.
This whole situation must have been awkward for both Sanchez and Tebow so far. Not only does Tebow have to be careful about what he says to avoid becoming a distraction, but Sanchez needs to find the balance of being a leader without looking insecure about his spot on the team—which is exactly why Sanchez had to invite Tebow in the first place.
When the backup quarterback has a press conference before the starter, maintaining that balance is quite a challenge, to say the least.
By spending several days together away from the usual workplace, Tebow and Sanchez can treat each other as teammates rather than co-workers.
When I was at Wednesday's minicamp, Sanchez and Tebow hardly ever chatted; at least from what I saw. Tebow was the first player out for warm-ups; Sanchez was dead last.
Jeff Zelevansky/Getty Images
While both players are saying the right things, they clearly are not quite comfortable with each other yet, which is perfectly normal for two people who have worked together for just a few weeks.
There is also the benefit of Tebow getting more acquainted with the other players at "Jets West." Not only are there obvious on-field benefits that can be gained from extra practices in terms of developing timing and rhythm, but after spending extra time with teammates, he can be treated more like "one of the guys" and less like a lab experiment.
Still, while Tebow is, for all intents and purposes, the ideal citizen, he can still rub people the wrong way—just as no one liked the overachieving high school class president.
As magical as the Broncos' season was last year, a lot of players are glad to be rid of Tebow because his accomplishments overshadowed the contributions of other players. Not only does Tebow have to warm up to having new teammates around, the rest of the Jets need to warm up to having someone like Tebow in their locker room for the rest of the year.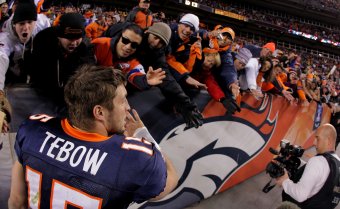 Doug Pensinger/Getty Images
While all of these possible benefits are great, is there any way this whole situation could backfire?
Outside of Mama Sanchez feeding Tebow some spicy salsa that gives him the runs for the rest of the week, it certainly is difficult to come up with a scenario where "Jets West" makes this already-delicate situation turn toxic.
Coaches are not present, so there is virtually no pressure to perform well on the field. There will be no fight for reps. Everyone is there to just stay sharp before heading into training camp.
Even if the nightmare scenario occurs where Tebow completely outplays Sanchez, no one will be there to witness it outside of a few spectators at Mission Viejo high school.
So no, there is no way that this could make the situation any worse, as long as Mama Sanchez does her job.
Will the events of "Jets West" have any impact on the Jets' final record? Maybe not. However, despite the obvious awkward nature of Sanchez inviting Tebow into his home, there a lot of positives that can be gained from this, both in terms of gaining an advantage on the field and to help "normalize" Tebow's role on the team.
This article is
What is the duplicate article?
Why is this article offensive?
Where is this article plagiarized from?
Why is this article poorly edited?

New York Jets: Like this team?