Texas A&M Football: Why Sumlin's Offense Will Revolutionize SEC Football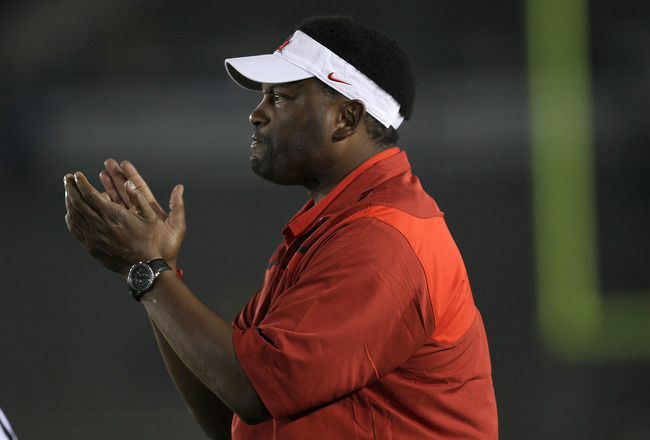 Stephen Dunn/Getty Images
Kevin Sumlin and the "Air Raid" offense that he brings to the Texas A&M Aggies looks to make a splash in 2012 in perhaps the most defensive minded league in the country.
The SEC is not much for offense—just look at the stats from last year. The conference did not have a single team in the top 25 in total offense.
However, SEC fans will be quick to let you know that it's defense that wins championships.
Just look at the last six national championship teams. All six have been from the Southeastern Conference, and all six had strong defensive units.
It may not be Conference-USA for Sumlin and his preferred offensive strategy, but the books shouldn't be closed too soon.
If the Aggies can find a solid quarterback, it could be a revolutionary year in the nation's best conference for several reasons.
Aggie Wide Receivers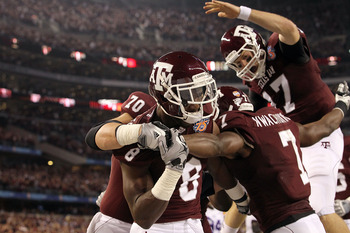 Ronald Martinez/Getty Images
Last year, the Aggies were ranked 10th in total offense and 17th in total passing yards.
The best receiver, Jeff Fuller, has departed but the Ags return some serious talent at the wide receiver position.
Fan favorite, Ryan Swope, was convinced by Sumlin to return for his senior season along with Uzoma Nwachukwu. Both receivers have already made solid contributions in previous years and should be set to explode with more opportunities coming their way.
There are also some talented new faces coming aboard. Malcolm Kennedy and JUCO transfer Derel Walker have already shown the ability to succeed; they are just waiting for the opportunity.
The Aggies may not have the entire wide receiver rotation figured out, but there is already something we can count on. Texas A&M receivers will have a serious height advantage over SEC defensive backs.
The Aggies only have two receivers under 6'1", neither of which will see a considerable amount of playing time. Meanwhile, the average height of a starting defensive back in the SEC is only 5'10".
History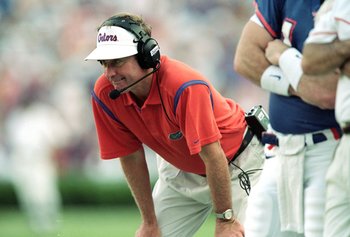 Andy Lyons/Getty Images
It wasn't too long ago that another visor-wearing, smooth-talking head coach took the SEC by storm.
Prior to Steve Spurrier becoming the head coach of the Florida Gators, the SEC was dominated by strong tailbacks and stifling defenses. Games were won in the trenches—and only in the trenches.
Sound familiar?
Spurrier didn't adapt to the conference, he forced the conference to adapt to him.
The Gators became the team of the conference during the 1990s, winning four-straight league titles and a national championship in 1996.
A good defense can hold a good offense to a point, but eventually the focus will shift to outscoring your opponent.
Only four SEC teams averaged 200 passing yards or more in 1989, the year before Spurrier arrived at Florida. By 2001, Spurrier's final year, nine out of the 12 SEC teams averaged more than 200 passing yards.
History has a way of repeating itself.
Effective Run Game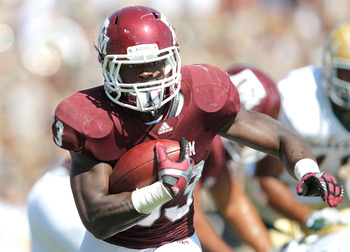 Sarah Glenn/Getty Images
When the Houston Cougars' offense stuttered in 2011, which was not very often, it was because teams were selling out to defend Case Keenum's aerial assault.
SEC defenses won't be able to do the same in 2012.
Although the Aggies lost Cyrus Gray to the NFL, Christine Michael returns along with an improving Ben Malena and a promising freshman in Trey Williams to lead a very talented Aggie running back unit.
Sumlin's offense may be considered an "Air Raid", but it will surely see much more balance than it did at Houston, making it even more deadly.
With arguably the best offensive line in the SEC heading into 2012, the Aggie offense should be clicking on all cylinders in every facet of the game.
Run and pass.
That's something that causes trouble for even the best defenses.
Keep Reading

Texas A&M Football: Like this team?