U.S. Open Golf TV Coverage 2012: Intriguing Storylines You Must Watch on Friday
June 15, 2012

Harry How/Getty Images
The gaudy scores may not be there, but the intrigue is in full swing (get it, swing?) at the 2012 U.S. Open. 
The Olympic Club golf course has turned eagle-dropping superstars into mere "par" mortals, but the watchability (it's a word, don't worry about it) is as high as ever. 
Let's take a look at what's making the second major of the year must-see TV and where and when you can catch all the action.
Note: You can find the complete TV schedule and leaderboard below, or you can find all second-round tee times by clicking here. 
Classic Tiger Woods (Tees off Friday at 4:18 p.m. EST)
We got glimpses of the vintage Tiger Woods last week when he made this amazing chip-in and went on to win the Memorial.
He even gave us the ol' fist pump. Still, many wondered if the inconsistent Tiger would bring his A game to San Francisco this week.
Woods has answered the question with a resounding "yes."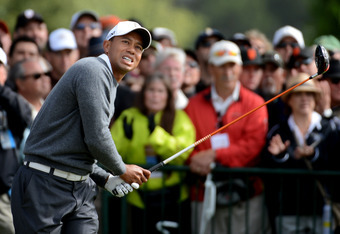 Harry How/Getty Images
While the superstars in Woods' pairing (Bubba Watson and Phil Mickelson) succumbed to early pressure and posted terrible rounds, Tiger shot a one-under and finds himself in a tie for second place.
When Woods is playing to his full capability, there is nothing better in golf to watch. I suggest not missing it while you can.
The Youngsters
The amateurs are making headlines at Olympic this year.
First, you have 14-year-old Andy Zhang (tees off at 4:36 p.m. EST). He shot a plus-nine on the day, but it's simply amazing to just have him at the tournament. He is a spectacle in his own right.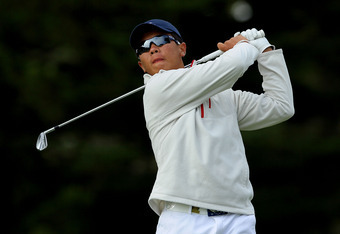 Jeff Gross/Getty Images
Of course, Zhang likely won't make the cut, but you still have another day to watch this youngster play on the biggest stage.
Not all of the amateurs are struggling, however. 
Seventeen-year-old veteran (you know, veteran compared to Zhang) Beau Hossler (tees off at 3:30 p.m. EST) shot an amazing even-par and sits in a tie for seventh place, just one stroke behind the mighty Tiger Woods and four strokes behind the lead.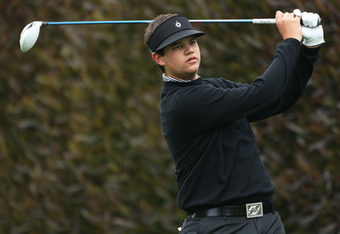 Andrew Redington/Getty Images
If he somehow manages to post another similar round on Friday, he would become the talk of the tournament.
Rickie Fowler (Tees off Friday at 11:43 a.m. EST)
Fowler is quickly becoming the brightest young star on the PGA tour. 
Rory McIlroy currently holds that title, but he continues to struggle (+7) while Fowler, who shot a plus-two, looks intent on yet another top-10 finish.
Should he finish in the top 10, it would be Fowler's fifth in his last six tournaments.
Throw in his awesome mustache, the fact he wears an orange jumpsuit on Sundays and his young age of 23, and he defines must-see TV. 
2012 U.S. Open Golf TV Schedule
Friday, June 15: Second-Round Coverage
12:00-3:00 p.m. EST on ESPN
3:00-5:00 p.m. EST on NBC
5:00-10:00 p.m. EST on ESPN
Saturday, June 16: Third-Round Coverage
4:00-10:00 p.m. EST on NBC
Sunday, June 17: Fourth-Round Coverage
4:00-10:00 p.m. EST on NBC
Leaderboard
| | | | |
| --- | --- | --- | --- |
| Rank | Player | Score | Thru |
| 1 | Michael Thompson | -4 | F |
| T2 | Graeme McDowell | -1  | F |
| T2 | Nick Watney | -1 | F |
| T2 | Tiger Woods | -1  | F |
| T2 | Justin Rose | -1  | F |
| T2 | David Toms | -1  | F |
| T7 | Jim Furyk | -1 | F |
| T7 | Jason Bohn | E | F |
| T7 | Beau Hossler (A) | E  | F |
| T7 | Robert Karlsson | E  | F |
There are four more players tied for seventh at even par. For a complete look at the full leaderboard, click here.