L.A. Lakers: Breaking Down Pau Gasol's Real Trade Value
June 15, 2012

Brett Deering/Getty Images
One man's trash is another man's treasure.  Lakers' big man Pau Gasol certainly fits either description, making assessment of his trade value totally subjective.
Let's Start With the Negative
1.  The seven-foot Spaniard is coming off the worst postseason of his 11-year career.  In 12 games, Gasol averaged 12.5 points on just 43 percent shooting, compared to his career averages of 17.3 and 52 percent.
2.  Gasol will be 32 on July 6, and while that is not "old" in the traditional sense, it is by NBA standards.  Gasol loves the game too much to take a break; he'll be competing for Spain in the London Olympics this summer, which is great for his native country, but lousy for the Purple & Gold.  Pau needs a rest.
3.  Gasol seemed lost in the Lakers' system this season.  Coach Mike Brown had him playing further from the basket, as he was asked to be more facilitator than scorer so that Andrew Bynum could get more touches in the low post.  The problem was that, unlike Phil Jackson's triangle offense, Brown's scheme was more about pick-and-rolls and often turned into one-on-one basketball, leaving Gasol to stand around or take jump shots that were often out of his range.
4.  While Gasol is one of the best passing forwards in the game, he is not one to be putting the ball on the floor as if he were a seven-foot point guard.  This season, there were way too many dribbles which created way too many turnovers.  Pau was much better playing in the triangle, where spacing and rapid ball movement are the keys to finding open players for good looks.
The Pros
1.  Gasol is a tremendous passer and can still be that complementary piece that can help take a team to the next level.  Though his postseason numbers were terrible, Gasol managed to have a decent regular season, averaging 17.4 points on 50 percent shooting despite being a third option behind Bryant and Bynum.
2.  Gasol has a soft, efficient touch from 10-12 feet and can make those open shots all day long.  Being seven-feet tall allows him to shoot over most defenders.
3.  Gasol's basketball IQ is excellent.  He usually makes the smart play at the right time—it's an intangible that you can't teach.
4.  Gasol is the consummate team player.  He has good basketball self esteem.  Gasol merely wants to win and works hard to accomplish that.
What's the Next Move for Los Angeles?
The Lakers realize they need to make changes in order to compete.  The bar of excellence has been reset by the upstart Oklahoma City Thunder, while such other Western Conference teams as the Clippers and Grizzlies have caught up to L.A. 
The Spurs will find their way back in the hunt again next season because they effectively mix veteran stars with young talent, like forward Kawhi Leonard.  Still others, like Denver and Utah, are young and getting better.
Smart general managers realize that Pau's dismal playoff showing was not all his doing; that some of it had to do with a Lakers team short on cohesiveness, passion and a coherent offensive scheme.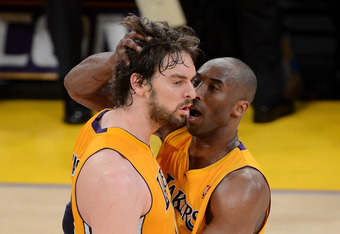 Kevork Djansezian/Getty Images
Gasol was almost dealt to Houston last December and has been the subject of trade rumors for months.  In fact, a deal with the Rockets that sends point guard Kyle Lowry and forward Luis Scola to Los Angeles in exchange for Gasol still seems to have legs despite Pau's shaky finish to the season.  
Kobe Bryant, once Pau's biggest supporter, lost patience with him following the Lakers' Game 4 loss to the Thunder in the second round of the playoffs.  Bryant told Johnny Ludden of Yahoo! Sports, "Pau's got to be more assertive.  He's the guy they're leaving [open].  When he's catching the ball, he's looking to pass.  He's got to be aggressive.  He's got to shoot the ball or drive the ball to the basket."
I don't think Gasol has truly recovered from the near trade that would have sent him packing.  When the trade deadline in March passed and he was still part of the Lakers, Gasol seemed to breathe a little easier for awhile.  But that dissolved as the Lakers' season flushed itself down the drain at the hands of OKC.
Persistent trade rumors have Gasol possibly going to Chicago or Boston, though I think both teams would rather spend that kind of money on younger, more athletic players.  Kevin Garnett will surely leave the Celtics, but bringing in Gasol will make it hard for them to re-sign Brandon Bass.
Ironically, we might even see Gasol being traded to the New Orleans Hornets in exchange for former Lakers ball-hawk Trevor Ariza and a couple of other pieces and/or draft picks—all of which L.A. desperately could use.
And there's even the chance—remote as it is—that Gasol goes nowhere, that the Lakers end up trading Andrew Bynum to Brooklyn for Deron Williams, which would give Gasol a new lease on his NBA life.
Pau Gasol is a great, if expensive, complementary piece.  That means having other good pieces around him.  If the Lakers can find a willing trade partner and get something in return that can help them get younger and better, then they should pull the trigger.
Otherwise, the team should stand pat and look to move their other big asset for an elite point guard and bench reinforcements.
The Lakers are playing a high-stakes chess game with Pau Gasol.  It's their move, and time is running out.