50 to 1: Important Numbers in College Football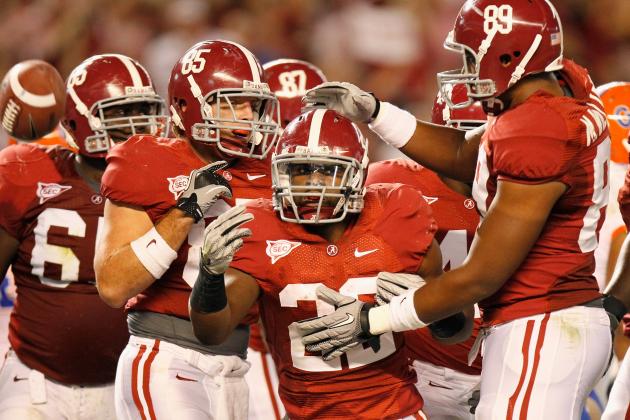 Kevin C. Cox/Getty Images

College football has quite a history, and along with that history comes some very important milestones and numbers.
While some numbers mark an important digit worn by a star athlete, others mark a record that has still yet to be erased from the NCAA record books.
As we wait for the 2012 season to kick off, here is a look at the numbers 50 through 1 and some of the significance behind those numbers in college football history.
Begin Slideshow

»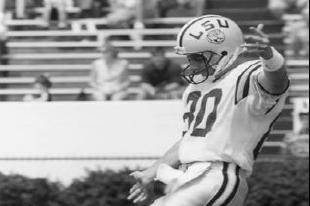 We start off with the number 50 and when looking at that number, it represents the record for yards per punt over the course of the season.
Back in 1997, LSU punter Chad Kessler had an outstanding season on special teams and set the mark for today's punters.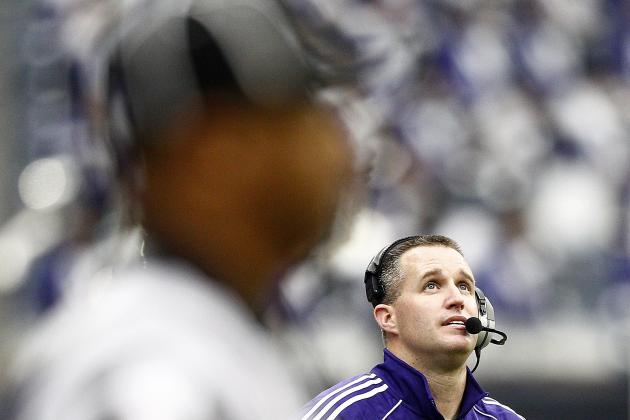 Bob Levey/Getty Images

One of the worst runs in the nation right now is the streak that Northwestern is on. Not only do the Wildcats only have one bowl win in their history, but it came back in '49 against the California Golden Bears, 20-14 in the Rose Bowl.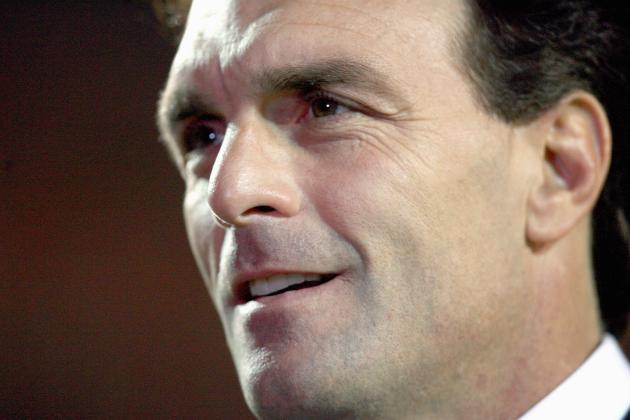 Doug Benc/Getty Images

Everyone remembers that in 1984, Doug Flutie dropped back and stunned the nation by heaving up a Hail Mary touchdown that earned Boston College a win over the Hurricanes.
What some may not know, though, is that while the throw was longer, it went down as a 48 yard touchdown pass for the quarterback.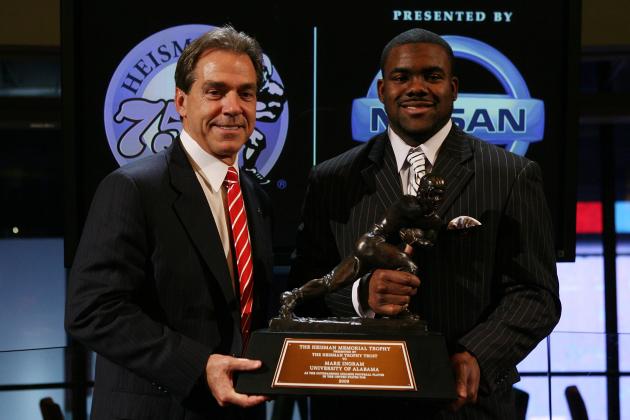 Chris Trotman/Getty Images

During the 2009 season, Mark Ingram was the crowned Heisman Trophy winner. When tallying up all the points, Ingram received 47% of them. 46.99% if you want to be exact.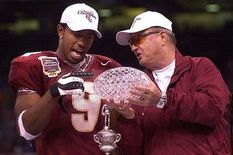 Back in 1999, Florida State came out on fire in the national championship and didn't stop until the game was over. This was unfortunate for the Virginia Tech Hokies—who were on the receiving end of the beatdown—as the 46 points that they allowed was the most in BCS title game history.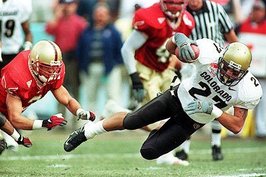 In the 1999 Insight.com Bowl, Colorado exploded in the first half and put up a number that has yet to be matched. In the first half, the Buffaloes scored a record 45 points. This is a total that has yet to be matched in any bowl game.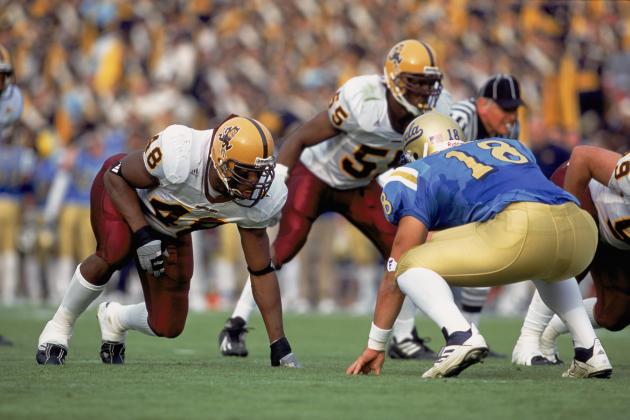 Jeff Gross/Getty Images

While at Arizona State, Terrell Suggs created havoc around the Pac-10. Suggs was an absolute monster on defense, and his 44 sacks still stands as the career high in NCAA history.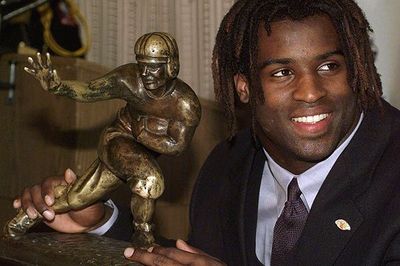 When thinking about the history of the Heisman, it is generally won by running backs and quarterbacks. After diving deeper, 43 running backs have earned the honor since it started to be awarded.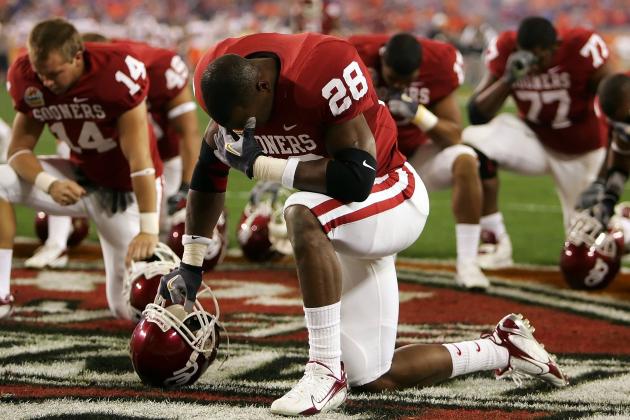 Jonathan Ferrey/Getty Images

While the BCS is a point of contention with many people, it has still provided some outstanding games. Since the creation of the BCS, Oklahoma has the distinction of the team to score the most points but still lose the game, with 42—to Boise State, in the 2007 Tostitos Fiesta Bowl.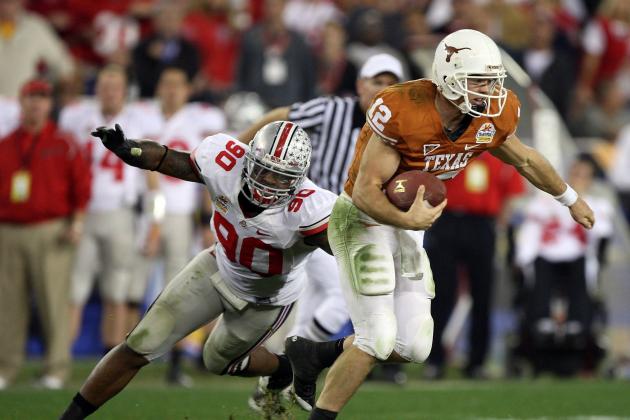 Jed Jacobsohn/Getty Images

During the BCS era, Texas and Ohio State have aired it out in the Fiesta Bowl. During the 2009 bowl game, Colt McCoy and Troy Smith combined for the most completions in a BCS bowl game, with 41.
Stephen Dunn/Getty Images

For some teams in the now Pac-12, it seems like Chip Kelly has been around forever—and that is not a good thing for them. Since taking over at Oregon only three years ago, Kelly has coached in 40 games, achieving a 34-6 record.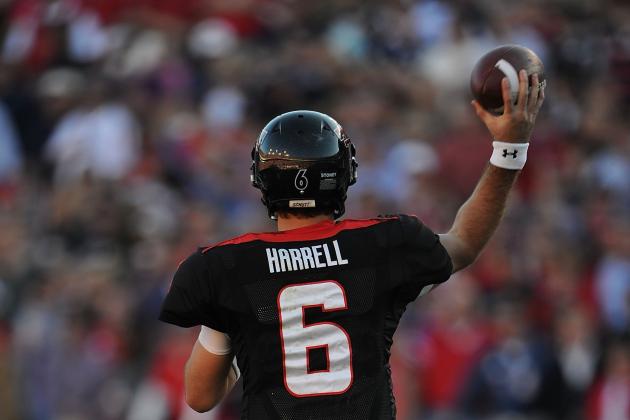 Ronald Martinez/Getty Images

Texas Tech is known for their ability to throw the ball all over the field. Back in 2007, Graham Harrell set the mark for most pass completions per game over the entire season, with an average of 39.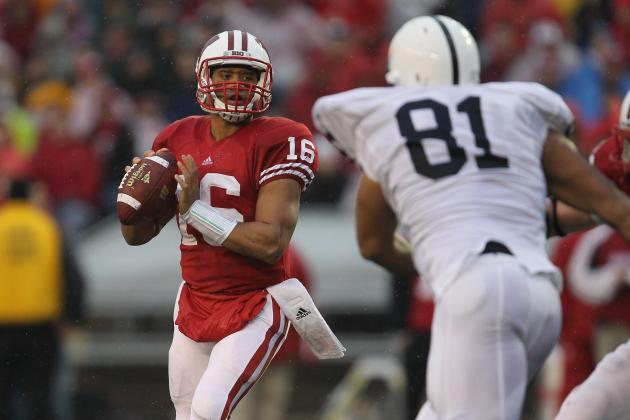 Jonathan Daniel/Getty Images

Russell Wilson had an outstanding career in college, with both NC State and Wisconsin. During his time in college, Wilson set the mark for most consecutive games with a touchdown pass, setting the mark at 38.
In 1988, Barry Sanders set the standard for all other running backs. During the season, Sanders set the mark for most rushing touchdowns in a season, with 37 trips to the end zone.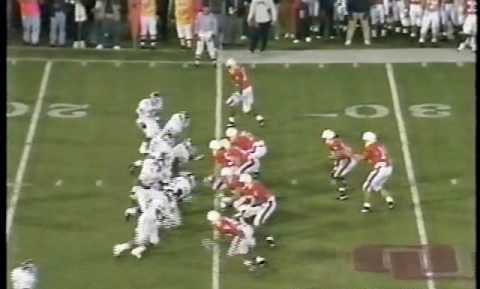 During the 1991 Gator Bowl, Oklahoma got on a roll against Virginia and never stopped. During the game, the Sooners set a record for most first downs, with 36.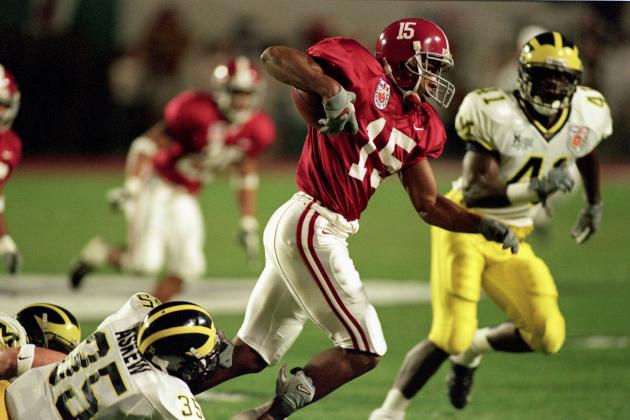 Eliot J. Schechter/Getty Images

Another record from the BCS era came out of the Orange Bowl between Michigan and Alabama. During this game, Michigan and Alabama were able to combine for 35 points in the third quarter and set a mark for most points in any quarter of a BCS game.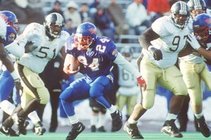 Back in 1991, Tony Sands was a workhorse for the Kansas Jayhawks, and that was on display against Missouri. During that game, Sands set the record for most rushing attempts in a half, with 34.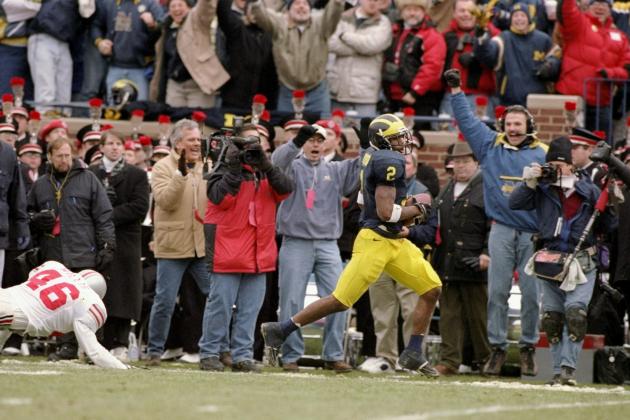 Jonathan Daniel/Getty Images

The unique part about looking at the number 33 is the fact that Michigan, USC and Notre Dame have all won 11 national titles. All three are programs with amazing histories and it is appropriate that they are grouped together with the same number of national titles.
Jeff Golden/Getty Images

The number 32 is the number that some of the greatest college backs have worn. Marcus Allen and O.J. Simpson, specifically, are two that sported this number during their college careers.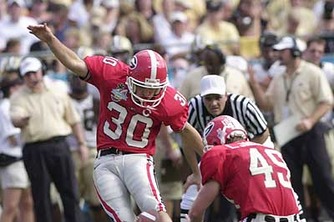 During the 2003 season, Georgia kicker Billy Bennett set an NCAA record. When the season was over, Bennett had kicked 31 field goals and set the mark for the most made field goals in one year.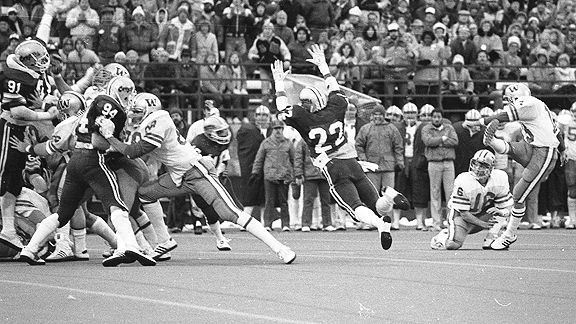 Another number that we can credit to a kicker is the number 30. From the 1981 to 1982 season, Washington kicker Chuck Nelson made 30 consecutive field goal attempts, which is still a NCAA record.
When you reach back a few decades, you get the meaning behind the number 29. From 1950-1952, Al Brosky, a defensive back for Illinois, set the NCAA mark for most interceptions in a career, with 29 picks.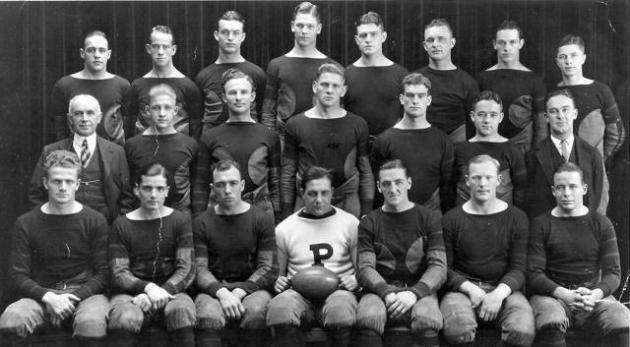 While many fans may not even think twice when hearing about Princeton, they were a powerhouse in the early years of college football. So much so that the school claims 28 national titles.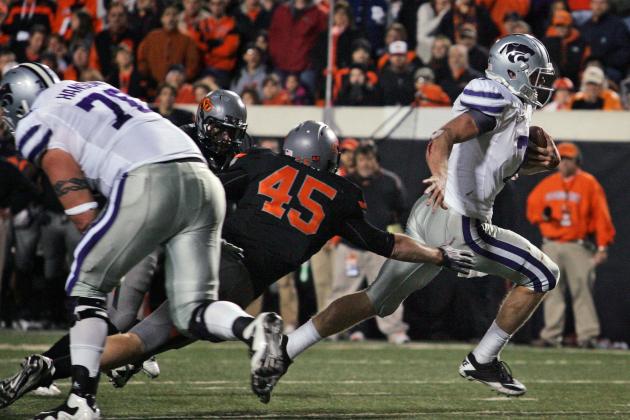 Brett Deering/Getty Images

During the 2011 season Collin Klein, quarterback for Kansas State, set an NCAA record. During the year, Klein rushed for 27 touchdowns—including a massive 63-yarder—which is a record for quarterbacks.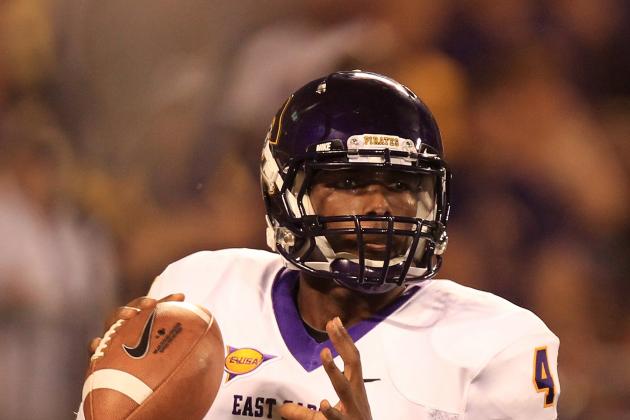 Streeter Lecka/Getty Images

Also during the 2011 season, another NCAA record was set. During a game against Memphis, Dominique Davis, quarterback of East Carolina University, was able to complete 26 straight passes.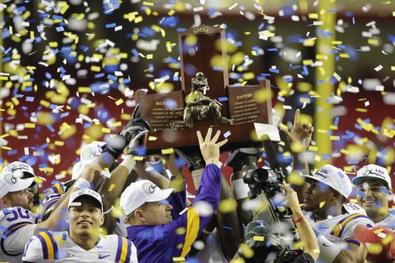 When you think of the number 25 and college football, you immediately think about the top 25 poll that sets the tone from the start of the season until the end. The rankings offer validation for teams, no matter where they fall on this list.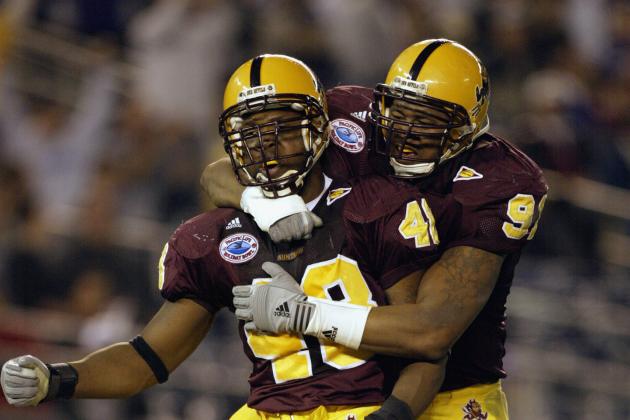 Jeff Gross/Getty Images

Terrell Suggs is back on the list and is back for the same reason. During the 2002 season, Suggs continued his tear on quarterbacks by adding up the sacks, with 24 in total.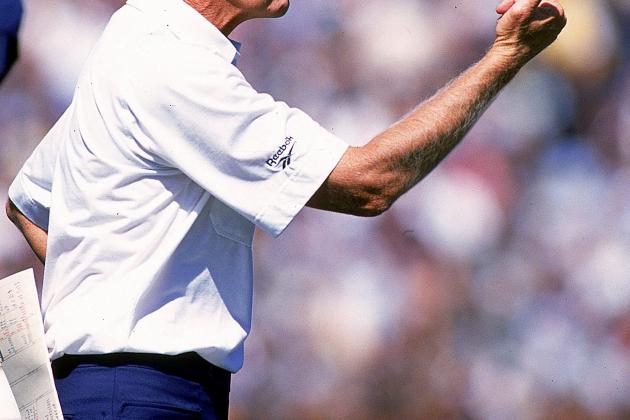 Jonathan Daniel/Getty Images

23 is not a great number for the Irish. When the Crimson Tide were able to lift another championship this past year, it marked the 23rd straight season since the Irish were able to do the same. A sad fact for a proud program.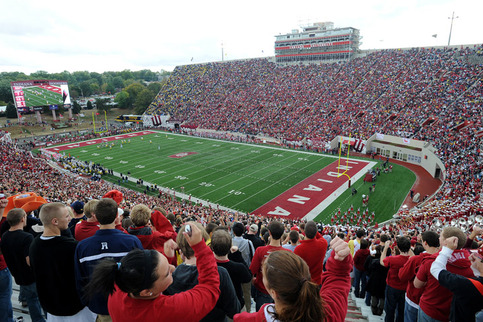 In 1991, Alex Smith pulled off something that you will likely never see again in any level of football. During one quarter against Michigan State, Smith carried the ball 22 times. There are backs that don't get that many carries in a game in today's times.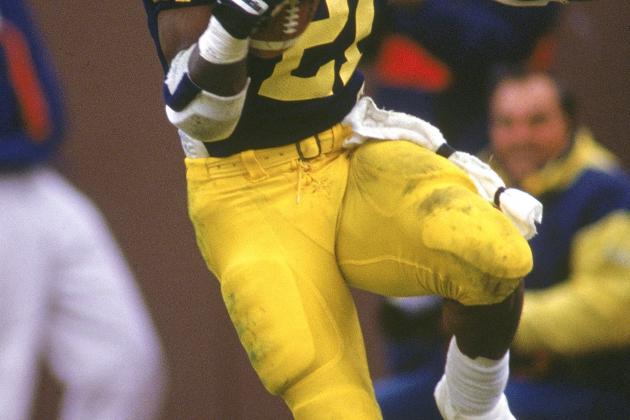 Chris Covatta/Getty Images

During the 1991 season, Desmond Howard was a true weapon for the Michigan Wolverines. During their annual game with Ohio State, Howard did something that will always be remembered.
After receiving a punt, Howard took it in 93 yards for a score, and then had a moment when he struck the Heisman pose: an image still seen today.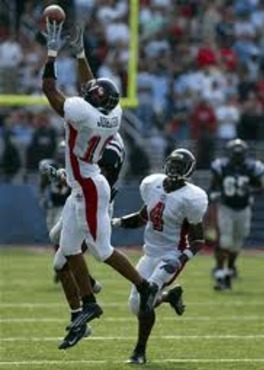 While Tyrell Johnson is not a household name, he is in the NCAA record books and comes in at the number 20. During the 2005 season, Johnson made 20 solo tackles in a game between his home team Arkansas State and North Texas. A truly remarkable feat.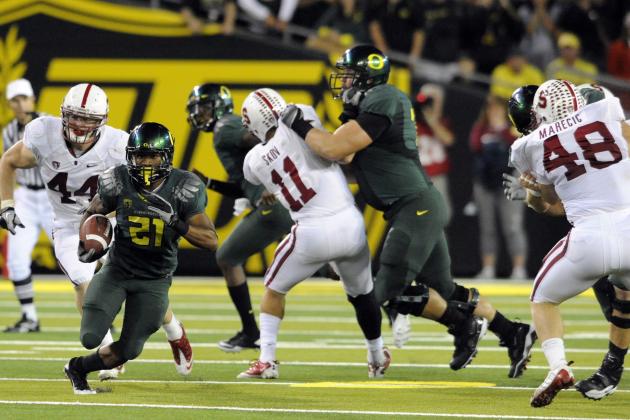 Steve Dykes/Getty Images

Oregon's offense is known for how fast it goes and that was on display in 2010. During the season, Oregon average 19 minutes with the ball. The good news is that they scored a lot, but the bad news is that they left the defense on the field for 41 minutes a game.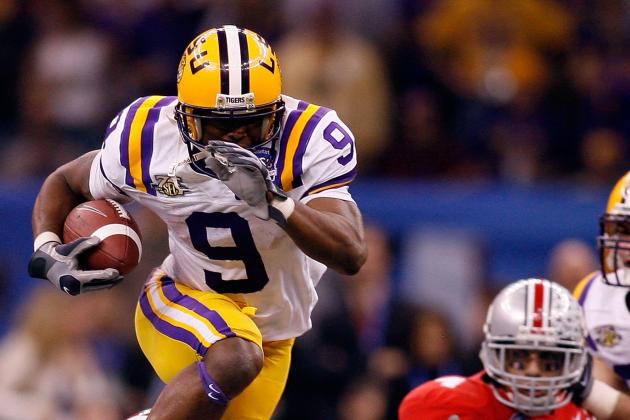 Chris Graythen/Getty Images

While looking for another national title, Ohio State turned to James Laurinaitis for a spark. During the 2008 national title game against LSU, Laurinaitis recorded 18 tackles, and it still stands as a BCS record.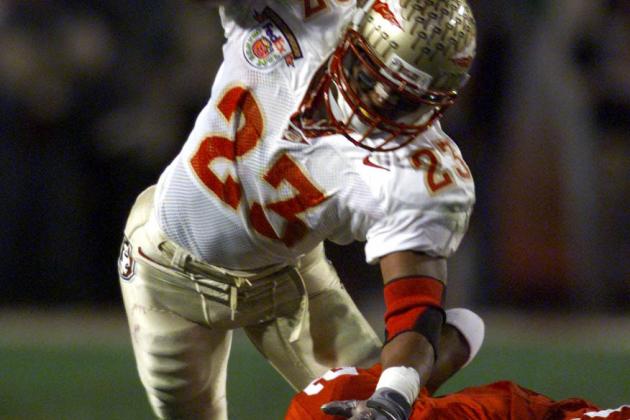 Brian Bahr/Getty Images

During the 2001 Orange Bowl, running the ball was clearly not a priority for Florida State. With 17 attempts, the Seminoles totaled up for 27 yards and went nowhere fast.

Back in 1947, LSU and Arkansas still had not perfected the art of the forward pass. During this Cotton Bowl, the two teams combined to throw for only 16 yards. If that happened in today's game it would be almost unbearable for fans.
Al Brosky is back, at number 15. Brosky was a true ball hawk that kept finding a way to make an impact on defense. From 1950-1952, Brosky was able to make an interception in 15 consecutive games, a number that may never be surpassed.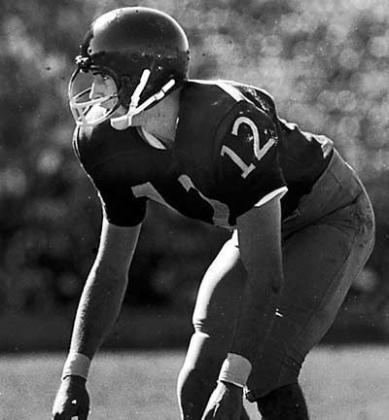 One of the best defenders in Washington Husky history is Al Worley, and he has his name in the NCAA record books. During the 1968 season, Worley managed to pick off 14 passes and set the mark for most interceptions in one season.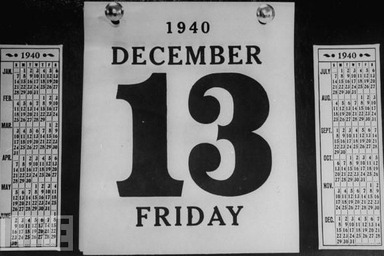 When it comes to the number 13, I am not going to label this on anyone. Many people are superstitious about this number and I am one of them.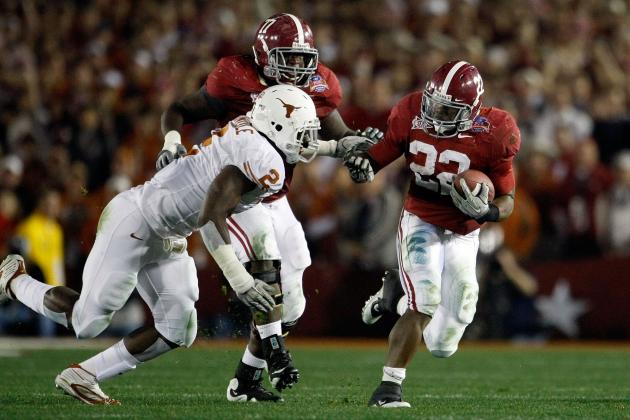 Jeff Gross/Getty Images

While some games today can turn into pass-happy affairs, the national championship between Alabama and Texas was quite the opposite. During the game, the teams combined for 12 passing attempts and only saw six completions.
Jonathan Daniel/Getty Images

Bombs away when looking at the number 11. During a 1990 game between Houston and Eastern Washington, Houston quarterback David Klingler went off and threw for 11 touchdowns and set the NCAA mark for most touchdown passes in a game.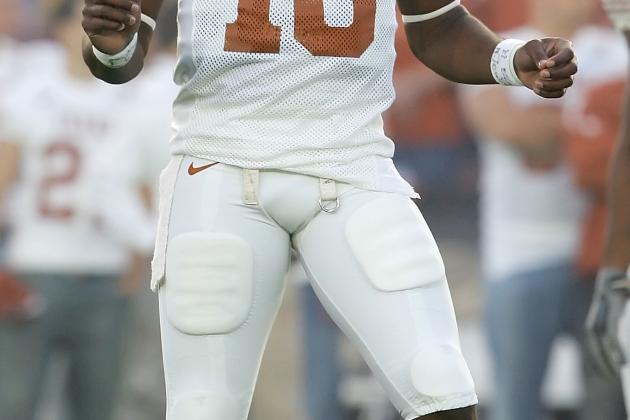 Lisa Blumenfeld/Getty Images

One of the most electric college players of our age was Vince Young. Young was an unstoppable force while at Texas, and was able to lead the Longhorns to an epic national championship. The number 10 is reserved for the jersey number that he wore.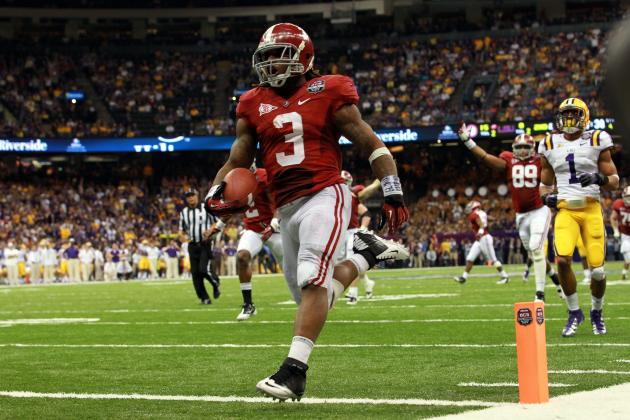 Ronald Martinez/Getty Images

While the SEC has laid claim to eight BCS national titles, last year saw a technicality as the conference lost their first BCS title game.
During this past year's title game, Alabama played LSU and with the Tigers' loss, the SEC lost their first title shot but did move their number of teams to make it there to nine.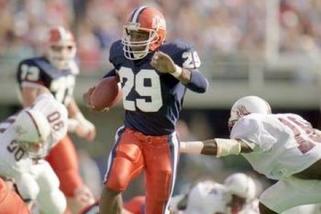 Much like how incredible the passing touchdown mark is, the rushing touchdown mark for a single game is just as impressive.
When Illinois took on Southern Illinois in 1990, Howard Griffith ran wild, and ended up finishing the game with eight rushing touchdowns.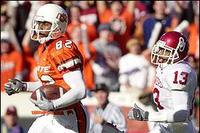 Now that we have seen the passing and rushing touchdown marks, the receiving touchdown mark is next. Rashaun Woods of Oklahoma State managed to bring in seven touchdown passes in a game against SMU during the 2003 season.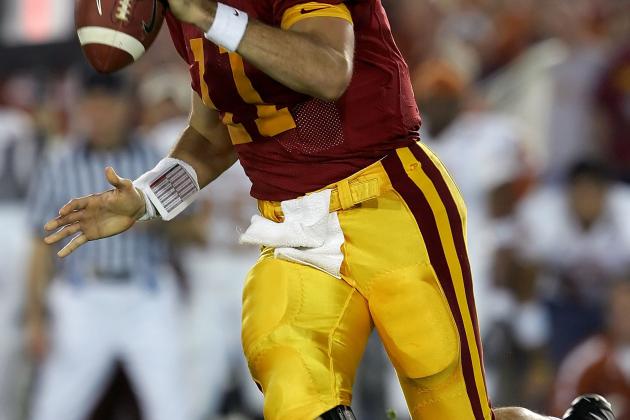 Lisa Blumenfeld/Getty Images

The SEC has certainly dominated the BCS era. Aside from the conference only six other teams around the nation have won the BCS national title. Texas, USC, Florida State, Oklahoma, Miami and Ohio State are all teams who have managed to break the SEC stranglehold.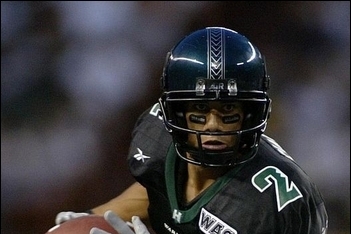 Punt and kick returns are sometimes the most exciting play in football. In the 2004 season, Hawaii punt returner Chad Owens set a NCAA record of his own. During that year, Owens returned five punts for a touchdown which is a record that still stands.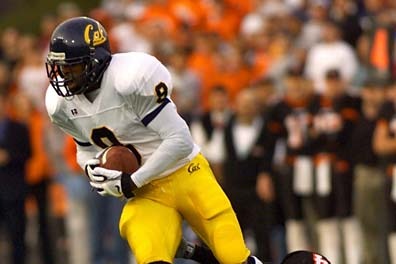 If you were going to pass anywhere in the vicinity of Deltha O'Neal during the 1999 season, he was going to make you pay. During that year, O'Neal returned four interceptions for a touchdown for the Cal defense and turned himself into a true playmaker.

While Deltha O'Neal may have the record for most picks taken back for touchdowns in a season, Johnnie Jackson was able to pull off an incredible feat in one game.
During a game between Houston and Texas in 1987, Jackson had three interceptions that all went back for touchdowns.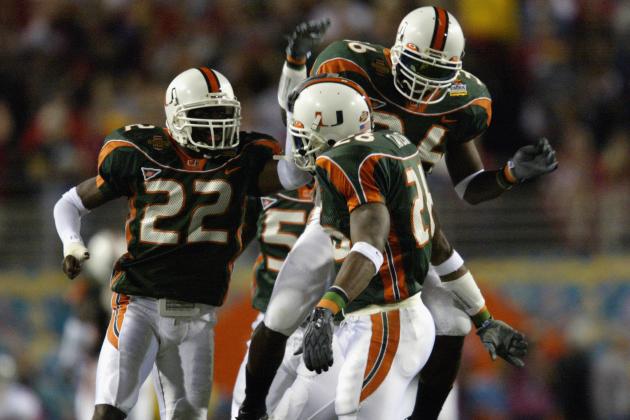 Elsa/Getty Images

When looking for a play that made an impact on a BCS national title, look no further than Sean Taylor. During the 2003 national title game, Taylor picked off two passes against Ohio State, a number that hasn't been matched in any other BCS title game.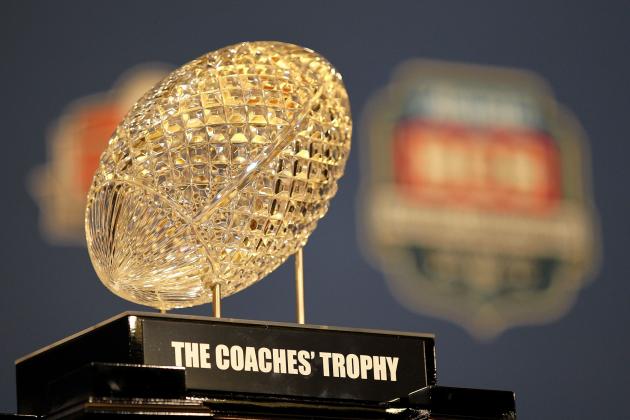 Andy Lyons/Getty Images

When it is all said and done, every college football team strives to finish the season as the number one team in the nation. Out of all the numbers in college football, all that matters is being number one.