MLB Trade Rumors: Carlos Quentin, Torii Hunter, Denard Span and More
June 14, 2012

Al Messerschmidt/Getty Images
Though the Yankee front office is refusing to divulge what exactly has kept the ailing Brett Gardner out of the Yankee lineup since April 19th, team insiders are suggesting that Gardner's elbow condition is more serious than the organization thought when they placed the 28-year-old left fielder on the disabled list nearly two months ago.
According to ESPN's Doug Mittler, Yankee manager Joe Girardi rebuked rumors of ligament damage in Gardner's troublesome right elbow, though he would not elaborate further on Gardner's affliction during New York's past series in Atlanta.
Gardner also spoke briefly about his aliment, which he has referred to several orthopedists during the past week.
"It really doesn't matter what he said," said Gardner of his latest visit to Birmingham orthopedic surgeon Dr. James Anderson. "I think I'm going to play."
Despite Gardner's optimism and Girardi's suggestion that there is no ligament damage in his left fielder's elbow, neither he nor the Yankees have released even a preliminary timetable for Gardner's return. Recently, the team has used a platoon of veterans—Raul Ibanez and Andrew Jones in left, along with sparing use of DeWayne Wise. The three have combined for a .235 average along with 16 home runs this year. Gardner is a career .265 hitter.
While Jones and Ibanez have added some power in place of Gardner, the Yankees have missed the speed he brings to the bottom of their lineup.
Last year the team stole 147 bases, anchored by Gardner's 49 swipes. This year the Bombers are on pace for 89 steals.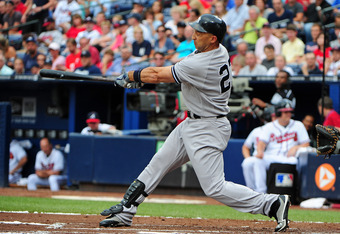 Scott Cunningham/Getty Images
While Ibanez and Jones's defense has been serviceable in left field, the duo's ages (40 and 35 respectively) call their longevity into question. With more than 29 years of major league experience between the two, both profile more as DH than outfielders at this point in their careers. With their range already significantly less than Gardner's—a converted center fielder—there is question about how the veteran's defense will hold up during the rest of the season if Gardner does not return in the near future.
New York's General Manager Brian Cashman has denied that team will be actively looking to trade for an outfielder in the weeks before the July 31st non-wavier deadline. However, given that Gardner's injury is beginning to show shades of Xavier Nady's 2009 affliction, the Yankees may need to make a move to supplement the workloads of Ibanez and Jones in left.
One outfielder the Yanks could have interest in going into July is the Twin's Denard Span. Saddled at the bottom of the Central Division, Minnesota is on the verge of rebuilding, shopping players such as first baseman Justin Morneau, starter Francisco Liriano and closer Matt Capps along with Span, according to ESPN 1500 Minnesota's Judd Zulgad.
Even the resurgent Josh Willingham is on the block, according to ESPN's Buster Olney.
While Willingham would be an interesting addition to an already powerful Yankee lineup, Span profiles similarly to Gardner and his asking price would be lower than that of the coveted Willingham.
Span sits at .293 for the year and has spent most of the year as the Twin's leadoff hitter. The center fielder has stolen only seven bases in 10 tries, projecting him for 18 on the year, a disappointing mark. Despite this, Span does bring speed to the table along with a plus glove and great range.
Adam Bettcher/Getty Images
While the 28-year-old would help supplement many of Gardner's tools, he is signed through 2014 earning 3.3 million a year, a commitment the Yankees could be hesitant to make given their efforts to get under the league's 189 million tax threshold. On the other hand, Span could also replace Nick Swisher next year if the two sides cannot agree on a contract. Swisher could garner a contract in the 8-12 million range this offseason, a figure that would fall outside of the organization's commitment to reduce payroll.
Aside from Willingham, the biggest outfield name currently on the market comes from the Padres. Like Minnesota, San Diego sits at the bottom of their division and is in the throngs of a rebuilding process that was kick-started with the trade of Heath Bell to Miami last winter.
Carlos Quentin is one of several Padres who have received interest heading into July's non-wavier deadline, according to ESPN's Jason A. Churchill. Olney has suggested several potential landing spots for Quentin this summer, including Cincinnati, Tampa Bay and Cleveland among others. Depending upon Gardner's diagnosis, New York could also be added to this list.
When healthy Quentin can bring significant power to any team, especially one that plays half its games in the hitter-friendly Yankee Stadium.
Though he has never played more than 131 games in an major league season, Quentin's power has been evident over the past six years as he has eclipsed the 20 home-run mark four times during that span. Though injuries have kept him from putting up monster numbers, the 29-year-old has always had solid at-bats per home-run ratios—13.3, 19.0, 17.4 and 17.5 during his last four years with the White Sox.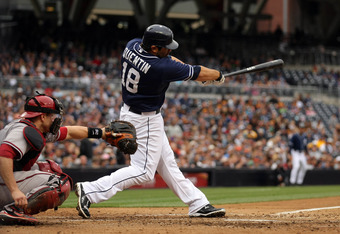 Donald Miralle/Getty Images
A lengthy recovery from arthroscopic knee surgery kept Quentin on the disabled list until May 28th,but the left-fielder has been hot since returning, hitting at a .421 clip along with an absurd .921 slugging percentage during his first 12 games off the DL.
If the Yankees did decide to make a move for Quentin, they could use him as a half-season rental as his contract expires at the end of the year. Not being tied to Quentin long term could make the front office less hesitant to pull the trigger given their payroll plans. However, if the Bombers did decide to use Quentin only as a rental, they would be more adverse to dealing a top-tier prospect such as Dellin Betances, Melky Mesa or even Edgurado Núñez in a package for him.  Instead, Cashman could look to move players not protected from this year's Rule 5 Draft such as Adam Warren or Brett Marshall.
There also remains the possibility that the Yankees could buy low for a veteran more defensively inept than Ibanez or Jones but still able to hold his own in a strong lineup, unlike Wise. Though he has flown under the radar as of late, Torii Hunter could be a solid low-cost veteran who Cashman uses to plug the defensive hole in left field without losing too much offensive production.
Quentin Hunter's contract expires at the end of the season, allowing the Yankees to use him as a short-term fix rather than a long term commitment.
Hunter is known for his good range and a great glove, illustrated by his nine career Gold Glove awards. His versatility is also a plus, as he can play all three outfield spots effectively.
At the plate, Hunter is a career .274 and the 36-year-old has kept his average around there over the past several years despite aging. Hunter has continued to have power into the twilight of his career, averaging 22.7 home runs over the past three years. While his speed on the base paths has declined with age, his range as a corner outfielder has remained a plus.
Hunter would be a natural fit in the of bottom the Yankee order, and can still provide some pop. He still has close to Gold Glove-caliber fielding ability and is known as a popular clubhouse personality and veteran presence, providing a perfect short-term replacement in left as well as a solid outfield utility player and DH platoon if Gardner does return before the end of the season.
Hunter struggled to begin the year but has turned things around since coming off the restricted list, raising his average to a respectable .271 to go with nine home runs. This resurgence could make it harder for the Yankees to acquire him from the Angels, but given Hunter's salary (18 million) as well as Los Angeles' surplus of outfielders, the price shouldn't be too steep to deal for a player the Angels probably won't resign next year. With both Peter Bourjos and Vernon Wells with the Angels to stay, moving Hunter would help ease the team's outfield logjam while saving them close to 10 million dollars in salary and perhaps getting some blue chips in return.