Bryce Harper: Nationals Phenom Will Give Yankees Fans Mickey Mantle Flashbacks
June 14, 2012

Jim Rogash/Getty Images
Branch Rickey once said that Mickey Mantle was the best prospect he had ever seen.
Later on, Casey Stengel said that Mantle had it in him to win the triple crown every year. He then paused, and said that Mantle "should do anything he wants to do." 
But I think former Chicago White Sox pitcher Jack Harshman said it best when he said of Mantle: "They ought to create a new league for that guy." 
These are just a couple of the many sentiments about Mantle that you can find on Baseball-Almanac.com. Other greats like Carl Yastrzemski, Reggie Jackson, Billy Martin and Ty Cobb are also quoted. Mantle, an old-timer by today's standards, had quite a few high-profile fans back in the day.
We'll never know what most of the old-timers who got to see Mantle play would make of Washington Nationals phenom Bryce Harper, but the things people are saying now about Harper sound awfully similar to the things the old-timers said about Mantle back in the day. It's almost as if two different generations of baseball people are discussing the same player.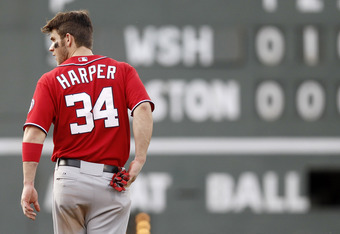 Winslow Townson/Getty Images
It's strange to compare Harper to Mantle, to be sure, but at the same time, it's kind of hard not to. Well before he reached the major leagues, Harper was billed as the next Mantle. Harper himself grew up idolizing Mantle, and it's already clear that his appreciation for Mantle influenced his own game somewhere along the line. 
The two have been compared quite often since Harper was called up to the bigs in late April. In fact, Bill Ripken of MLB Network even went so far as to break down the two of them on video, noting the similarities between the two players' skill sets, body types and so on.
Harper certainly has as much raw power as Mantle did, and he plays the game with the same kind of swagger and reckless abandon that Mantle did (as evidenced by various anecdotes and old black-and-white highlight reels, anyway). Heck, even the skeptics have to admit that there's an uncanny similarity between the two of them in the swagger department.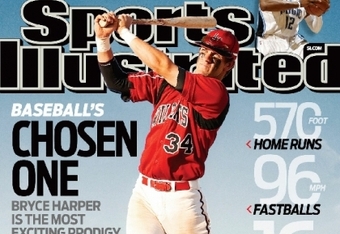 Ah yes, the skeptics. There are many of them when it comes to Harper, and honestly, it's hard to feel any ill will towards them. As Rany Jazayerli of Grantland pointed out earlier this week, sports have become a hype-driven business. The players who are stars don't generate as many headlines as the players who might be stars, and Harper was generating headlines several years before the Nationals finally called him up in late April.
A lot of people buy the hype. Some don't. That's just how it is.
Concerning Harper, it's even harder to feel any ill will towards Yankees fans who don't want to hear about the Mantle comparisons. Mantle was a prodigy who panned out and went on to have one of the greatest careers in baseball history. He's arguably the greatest Yankee of all time, which is no insignificant title.
Until further notice, Harper is just some kid.
Maybe so, but perhaps the numbers will sway the skeptics. Courtesy of Baseball-Reference.com, here's a look at how Harper's numbers through his first 41 career games compare to The Mick's numbers through his first 41 career games:
| | | | | | | | | | | | | |
| --- | --- | --- | --- | --- | --- | --- | --- | --- | --- | --- | --- | --- |
|   | PA | H | BB | SO | HR | RBI | AVG | OBP | SLUG | OPS | SB | CS |
| Mickey Mantle | 182 | 43 | 16 | 33 | 4 | 32 | .262 | .328 | .402 | .730 | 3 | 3 |
| Bryce Harper | 177 | 47 | 20 | 30 | 7 | 19 | .303 | .384 | .548 | .933 | 4 | 3 |
Not bad, eh? If Mantle was on his way to a Hall of Fame career through 41 games, I daresay Harper's on his way to becoming the greatest hitter that ever lived.
Calm down. Just kidding.
Sort of...
As impressive as these numbers are, they're just that: numbers. As Vin Scully once said, baseball people use stats like drunks use lampposts—for support, not illumination.
Though numbers should help, Mantle-loving Yankee fans aren't going to be illuminated of Harper's Mantle-esque qualities with mere statistics. They need to see these qualities for themselves.
To that end, the Yankees' three-game series at Washington this weekend should come in handy. It goes without saying that Yankee fans will be watching, and that skeptics and fans (he surely has some among the Yankee faithful) alike will be watching Harper intently, just waiting for him to do something reminiscent of an old Mantle highlight.
These people won't be disappointed. For anybody who has watched him play on a regular basis this season, it's kinda hard not to watch Harper intently. The Bryce Harper Show is one that never stops. 
You have to keep your eyes on Harper when he's in the field because there's no telling when he might dart across the outfield to make a ridiculous play that maybe only two or three other outfielders in baseball could make. If a runner decides to test his arm, you have to watch because odds are, Harper's going to win that battle.
Jim Rogash/Getty Images
On the flip side, Harper usually wins when he decides to test the arms of the opposition when he's on the basepaths. He's been caught stealing a few times, sure, but going first to third and scoring from first base have become common occurrences for Harper.
When Harper is at the plate, you can't look away. You can't even blink. His swing is long and loopy, but violent at the same time. When he squares a ball up, the sound it makes coming off the bat is that of a gunshot.
Of his seven home runs, ESPN's hit tracker says that four traveled at least 420 feet. It's just a matter of time before he hits one 500 feet, something that all the old newsreels and record books say that Mantle did regularly in his day.
Perhaps that will be this weekend. In fact, the odds are better than you may think. Phil Hughes, who will be pitching for the Yankees on Friday, has already surrendered 15 home runs this season. Ivan Nova, who will be toeing the rubber for the Bombers on Sunday, has the highest opponents' slugging percentage of any pitcher in baseball.
Harper, meanwhile, is as hot as can be. He's hitting .381 with a .667 slugging percentage over his last 11 games. Aided by their 19-year-old phenom's efforts, the Nationals have won nine of those 11 games.
Yankee fans are about to see why. Harper is doing it all for the Nationals, and he's doing it all with swagger and sheer general awesomeness reminiscent of The Mick. 
Just watch. Harper will prove that this isn't a clown comparison, bro.
If you want to talk baseball, hit me up on Twitter.