Manny Pacquiao: Timothy Bradley Debacle Makes Pac-Man Sympathetic Figure
June 14, 2012

Jeff Bottari/Getty Images
Whether you believe perception actually is reality, it remains the only thing of import in the sport of boxing.
As in, the conflict between what the judges perceived and what everyone else in the known universe perceived when Manny Pacquiao and Timothy Bradley met at the MGM Grand Garden Arena in Las Vegas this past Saturday.
It didn't seem to matter that the overwhelming "reality" of the fight dictated that Pac-Man would come away with his 16th consecutive win in rather convincing fashion.
Since the judges saw it fit, for whatever reason, to give the decision to Desert Storm.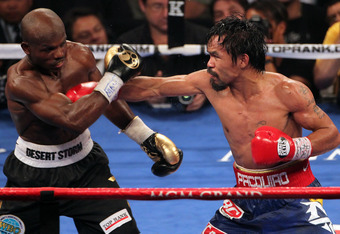 Jeff Bottari/Getty Images
There's a silver lining for Pacquiao in all of this, however slim it may be—the perception that he was robbed of his WBO Welterweight title makes him a good guy (if not the good guy) in the ever-shifting landscape that lay between him and the currently-incarcerated Floyd Mayweather Jr.
Any concerns or criticisms about Manny's willingness to fight Money May, be it on account of random drug testing or for financial reasons, might well be ignored entirely or attributed to Top Rank CEO Bob Arum, whose image as a villain has only intensified since Saturday.
Unfortunately—for Pac-Man and boxing fans as a whole—the cleansing of Pac-Man's hands will likely come as nothing more than cold comfort considering the huge black cloud that said silver lining surrounds.
It won't bring a Pacquiao-Mayweather fight any closer to fruition, with Gareth A. Davies of The Telegraph reporting that a fourth bout with Juan Manuel Marquez is probably forthcoming for November.
Because if there's any fighter who knows a thing or two about getting shafted by judges, it's Dinamita.
Arum has already said he won't pursue a Pacquiao-Bradley rematch, claiming (rather justly) that Manny has nothing to prove against Timothy.
He's also insisted that he be included in whatever investigation proceeds, which leaves some suspicion as to why he'd desire to emphatically to clear his own name.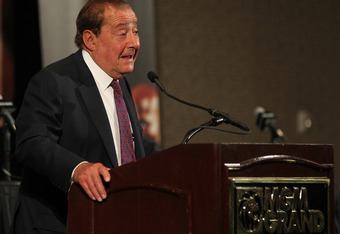 Jeff Bottari/Getty Images
Then again, with all the conspiracy theories swirling around Arum's role in the Bradley fiasco, his reasons for volunteering his testimony might not be so mysterious.
In any case, it's somewhat challenging not to feel some modicum of sympathy for Pacquiao.
His current plight is all too reminiscent of that which has befallen the sport of boxing in recent years. On the one hand, he's a tremendous talent who's made more money and enjoyed more success in more aspects of everyday life than just about anyone could ever imagine.
Yet, on the other, there's so much more he could do, and by more I mean fight Floyd Mayweather.
But, like boxing as a whole, Pacquiao has been held back by his greedy handlers (i.e. Arum), who are more concerned with stuffing their own pockets by staging matches between their own fighters than they are with putting together the best bouts possible.
More specifically, by pitting Pacquiao against Mayweather and getting "only" half of the take of what would likely be the most lucrative fight in boxing history.
This could all change, though.
Pac-Man's contract with Top Rank comes due next year, at which point he would be free to handle his own affairs and cut Arum out of the process entirely. That, of course, is assuming Pacquiao wants to leave Top Rank or would even consider such a drastic move.
But if Pacquiao wants to keep the inane perceptions that permeate boxing from infringing on the reality of his own potential, then he'd do well to follow in Floyd's footsteps and leave the judging to those to whom such trivial affairs actually matter.