Kansas City Chiefs: Kevin Boss and Tony Moeaki's Impact on the Passing Game
June 14, 2012

Joe Robbins/Getty Images
Matt Cassel could not be more excited for the 2012 season with all of the acquisitions the Kansas City Chiefs made this offseason. Along with new players, Cassel and two of his teammates on offense are returning from injury. With all of these pieces put together, Cassel has to take advantage of what is being given to him.
At wide receiver, the Chiefs hope to get Dwayne Bowe to a long-term deal and get him to work with Jon Baldwin and Steve Breaston to help Cassel this season. Cassel also has a strong pair of tailbacks behind him in Jamaal Charles and Peyton Hillis. In addition, Cassel has two athletic, talented tight ends that makes the Chiefs' offense look good on paper.
The tight-end duo of Tony Moeaki and Kevin Boss will be one to keep an eye on this season. Moeaki, an injury-prone player, won't be carrying a heavy load now that another tight end is coming in and assisting him.
Kevin Boss brings a Super Bowl ring and five years of experience to Kansas City. He worked with one of the best quarterbacks in Eli Manning before playing for the Oakland Raiders for one season.
Chiefs general manager Scott Pioli realized that Moeaki will not be active for all 16 games in a season. At least, he has not yet done so in his two-year career. With Boss, who has consistently been active in his career, on the Chiefs, Moeaki won't have to do as much and can split the tight-end duties with Boss.
For players like Moeaki, Boss and all the other pass-catchers, individual success, such as statistics, are not important. Cassel won't have any problems distributing the ball to his two tight ends this season to help the Chiefs move the football.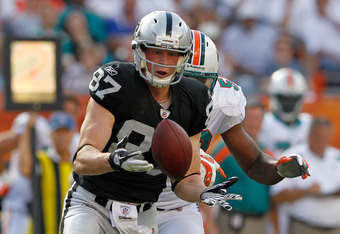 Mike Ehrmann/Getty Images
Cassel had a lot of success with Moeaki as the two have played together in 15 games, including the postseason. While playing with Cassel in 2010, Moeaki caught 46 passes for 565 yards and three touchdowns. Moeaki helped contribute to a previously weak offense early during his rookie campaign with two touchdown receptions in three games to help the Chiefs start 3-0.
Now that Boss is on the team, Kansas City is set at tight end and their passing game can only get better after finishing 25th in 2011. The Chiefs were the only team in the league last season that failed to score a touchdown in their opening drive.
The Chiefs also had the third-fewest touchdowns and second-fewest points among all teams in the league in 2011.
Returning players and new faces, like Moeaki and Boss, will help change that.
It is hard to project this early which tight end will start or who will get a majority of the receptions. But Cassel will have no trouble succeeding with Moeaki and Boss being part of a strong group of pass-catchers.
He has more than one reliable option and a lot of players he can pass to while making his reads. Cassel's options were limited in 2009 and 2011 because of the lack of offensive depth. That won't be the case this season.
Even if one injury occurs, it won't be anything like last year, where Cassel's options became limited. The Chiefs have strong depth at offense, which is something this team has not had in recent years. But now, the chances of an injury taking place has reduced because players do not feel like they are under pressure to carry this team. Moeaki was Kansas City's only viable tight end going into the season following the lift of the lockout. His absence hurt Cassel and the Chiefs.
Although injuries are part of the game, they can be avoided by making sure a player does not overwork himself.
After playing for the Raiders last year, Boss is now on the better side of the rivalry, as he states it. The Chiefs are loaded with many bright-eyed players on offense, making them a strong candidate to jump from 25th to the top 10 in the passing game.