Manny Pacquiao: Last Thing Pac-Man Needs is 4th Bout Vs. Juan Manuel Marquez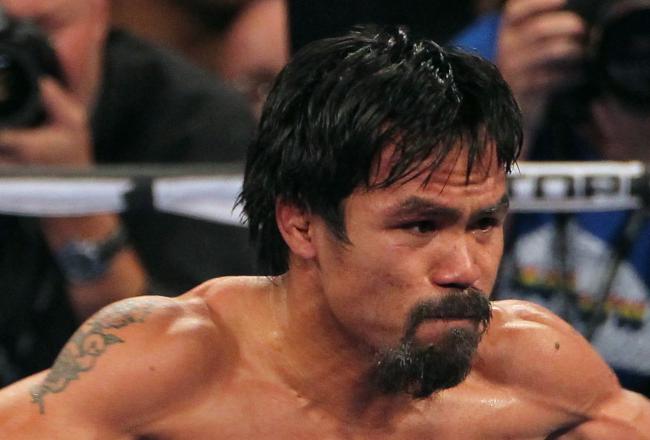 Jeff Bottari/Getty Images
The boxing world is still looking for answers as to why Manny Pacquiao was robbed of a win against Timothy Bradley on Saturday, and some sort of closure is needed before Pac-Man makes his next move.
The worst decision he could make is agreeing to yet another fight against Juan Manuel Marquez, which the Manila Standard Today is reporting he intends to do.
They have already fought in three rather controversial fights— which is the LAST thing Pac-Man needs right now. Pacquiao wants to beat Bradley again in a rematch that already has a date (Nov. 10), but Top Rank promoter Bob Arum isn't on the same page.
In a recent interview with Ray Brewer of the Las Vegas Sun, Arum made it clear he doesn't want to see Pacquiao in the ring against Bradley again:
Jeff Bottari/Getty Images

This fight was a one-sided fight. If it had been scored properly, 10-2 or 9-3 [in rounds], who would be asking for a rematch? – Nobody. Just because these officials screwed up, that doesn't justify a rematch.
Obviously the ideal scenario is for Pacquiao to step into the ring against Floyd Mayweather in what would certainly be the fight of the decade, but with Mayweather's 87-day jail sentence not concluding until the end of the summer, there are certainly question marks about Money May's ability to get in shape for a November fight. Then there is the whole 50/50 revenue split fiasco.
Brewer believes Marquez may be the best option, and outlines the reasons why:
A fight against Marquez, which would be ideal in the interim if Mayweather can't be in fighting shape by November, would be the fourth meeting between the two and appealing because of how close the three previous fights were.
This is a terrible idea for the following reasons:
Pacquiao Is in a No-Win Situation
He beat Marquez last November 116-112, 115-113, 114-114, in a match that could have gone either way. The crowd was enraged over the decision, and anything short of a knockout is going to cause yet another uproar.
After watching these guys three times, this fight will not end in a knockout, and the judges will be relied upon. That would be a horrific scenario with the way everything has played out.
Marquez Is Boring
It's not a diss to the counter-punch specialist, but it's true and his fights seem to always lack a bit of luster.
Pac-Man is arguably the most popular boxer in the sport and doesn't need to comeback from two controversial fights in a row with another technical bout that bores fans who are currently furious with boxing.
Who Should Pac-Man Fight Next?
Boxing Needs a Big Splash from Pac-Man
The sport is on life support right now, and they need the biggest name to save it. It's not his fault the judges screwed him, but it's his job to make sure everyone forgets about it.
Fighting Bradley again is an option, but the wounds from that night are still too fresh. Victor Ortiz is another option, but that bout won't move the needle quite like a fight against you-know-who.
The powers that be have to realize the dire state boxing is currently in and pull the proper strings to ensure Pacquiao-Mayweather happens.
People don't want to see rematches or rematches of a rematch, they want to see the fight of the decade and are going to gradually fade away unless it happens.
Marquez had his chance on three different occasions…it's Mayweather's turn.
This article is
What is the duplicate article?
Why is this article offensive?
Where is this article plagiarized from?
Why is this article poorly edited?