2012 NHL Entry Draft: Why Edmonton Is Better off Trading the First Overall Pick
June 15, 2012

Abelimages/Getty Images
The NHL season has come to an end; the complete draft order has been set. Now fans eagerly wait for June 22 to see who their team picks.
Edmonton—for a third year in a row—won the first overall draft choice. In the last two years they used that pick to get young talented forwards in Taylor Hall and Ryan Nugent-Hopkins.
Let's not forget they also have Jordan Eberle and Sam Gagner who were drafted in 2008 and 2007, respectively. The four young stars combined for 97 goals this season.
If Edmonton decides to keep the pick and goes with either Nail Yakupov or Mikhail Grigorenko as is predicted, it will have a wealth of young forwards to utilize.
Yet it still does not address the concerns that kept the Oilers in the basement of the league.
Yes, they had improved this season, placing slightly better than the last two years, but it was glaringly obvious they needed help in their own zone.
Their defensive corps was lackluster, making mistakes it could not recover from. The defense allowed just under 2,500 shots on their pair of goalies.
Only six goalies across the league faced over 2,000 shots on net, all of them played close to 70 games.
In net, the Oilers alternated between the 26-year-old Devan Dubnyk and 39-year-old veteran Nikolai Khabibulin. The pair split the season almost exactly.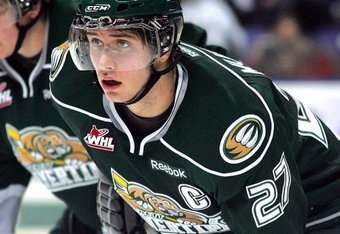 Dubnyk has the potential to be a good starting goalie, but needs a stronger defense in front of him if he hopes to succeed.
Rather than use its first-round pick on one of the three forwards predicted to go first, Edmonton may also be looking at some of the top defense in this year's draft.
Out of the top 12 prospects, eight are defensemen.
There has not been this many defensemen in the top 15 was 2008. That year was when Drew Doughty and Luke Schenn were grabbed in the top five.
This year's top defensemen prospects are according to TSN's Bob MacKenzie are Ryan Murray third overall and Mathew Dumba fifth overall.
Craig Button, also of TSN, has a slightly different look at things as he ranks Mathew Dumba  second overall and Morgan Rielly third overall.
While it could be a good course of action for the Oilers to use their top pick to grab one of the defensemen mentioned. These players could all be ready to play in the NHL next season.
Or another option remaining to Edmonton is to trade its pick down.
If they stay within the top five, there is a guarantee that most—if not all—the defensemen mentioned will still be available.
This would allow them to draft a much needed resource while gaining a top four pairing defenseman who already has some time in the NHL.
A large issue for Edmonton is that limits the teams it can trade with.
Columbus needs defense just as badly, of not worse. The Islanders only have a couple good defensemen themselves. 
That leaves fellow Canadian teams, Montreal and Toronto. Montreal will not part with Subban who is by far their best defenseman.
Toronto on the other hand has a plethora of defense; Luke Schenn, Jake Gardiner and Cody Franson are their young defensive corps, not counting those still in the AHL.
The Leafs also have a number of veteran defensemen that Edmonton may find attractive, such as Dion Phaneuf, Mike Komisarek or John-Michael Liles.
If Edmonton so decided to it could also look to the top 10 teams as a trading partner for their pick.
While some of the more prestigious defensemen of this class will be gone, there will still be a good number to choose from.
That would open up Anaheim, Minnesota, Carolina, Winnipeg and Tampa Bay as potential trade candidates.
The return from these teams would be decent as each team has a few good defensemen.
Anaheim has a few and would probably be willing to part with one and swap first pick for names like Visnovsky, Sbisa or Beauchemin.
Carolina has a little less to work with unless they re-sign Jaroslav Spacek. It still has a few players who might interest Edmonton in Jamie McBain, Tim Gleason or Bryan Allen.
The Wild are like Edmonton and Columbus, struggling on the blue line and it is doubtful that they would have the assets that Edmonton desires to trade for.
Tampa, on the other hand, has a couple veteran defensemen in Mike Commodore, Marc-Andre Bergeron or young Keith Aulie.
One of the more tempting trading partners would be with Winnipeg, though it is doubtful that it would be willing to part with one of its top defensemen and swap picks.
Stranger things have been known to happen, and if the Jets did decide to speak with Edmonton, they could offer up Tobias Enstrom, Zach Bogosian or Dustin Byfuglien.
Again it is doubtful that Winnipeg would offer the last two and swap picks with Edmonton.
If the Oilers can find a partner willing to trade a good defenseman with some years in the NHL and swap picks, they should make the deal.
It will address the needs that the Oilers have immediately and give them the opportunity to pick a strong defenseman in the draft.