Netherlands vs. Germany: Scoring the Key Battles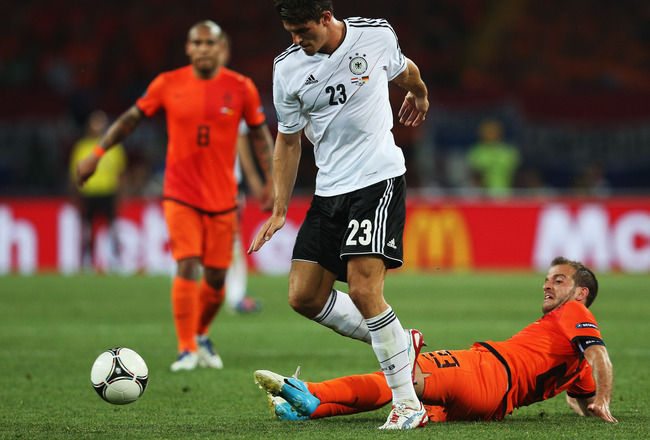 Joern Pollex/Getty Images
In the high-paced world of Euro 2012, even the biggest international matches become irrelevant within 24 hours as the world moves onto another day of exciting, end-to-end football.
Thus, even though two of the world's best footballing nations, Germany and the Netherlands, faced off in a mammoth clash just yesterday, the world has already become immersed in analyzing and breaking down Italy's 1-1 draw with Croatia and Spain's 4-0 destruction of Ireland.
Fair enough; but Germany and the Netherlands were two teams heavily favored to win the tournament. Few people ranked any team besides Spain higher than these two heading into this tournament.
So even though the game between these two juggernauts is now over 24 hours old, we're going to go through the key matchups of the game and see who won and lost.
Who knows—these may be the matchups that decide who progresses and who doesn't in the final round of matches in Group B.
Mario Gomez vs. the Netherlands' Back 4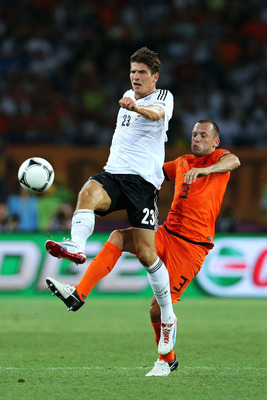 Joern Pollex/Getty Images
Usually a striker's main matchup is with the opposition's centre-backs. If he's successful, he usually scores at their expense, and if he fails to score it is usually because they were especially resolute.
But against the Netherlands, this was not the case. Johnny Heitinga and Joris Mathijsen were not especially remarkable in defense, but they were not at fault, at least not directly, for either of Mario Gomez's goals.
On his first goal, Gomez was played through on goal by a sweet pass from Bastian Schweinsteiger. Mathijsen and Heitinga were perfectly in line with each other, and had all of the Netherlands' defenders been in line with them, Gomez would've been offsides.
But Gregory van der Wiel was standing in a deeper position than the rest of his defense when Schweinsteiger played in his pass to Gomez, and his positioning is what kept Gomez onside and allowed him to score.
On the second goal, excellent play by Germany down the Netherlands' left flank really stretched Holland's defense, and by the time Gomez had beaten Jetro Willems for a good path on goal, it was too late for Heitinga or Mathijsen to do anything.
You could potentially blame Mark van Bommel or Nigel de Jong for not helping out on the left flank when Germany's attackers ganged up on Willems, but the blame shouldn't go to Heitinga or Mathijsen, who stayed disciplined and marked their own men.
In any case, Gomez emphatically won this matchup, and displayed terrific movement and finishing. With three goals already in the tournament, Gomez will surely leave this competition with a much-enhanced reputation and increased confidence, no matter how Germany fare in the rest of the tournament.
Victor: Mario Gomez
Robin Van Persie vs. Mats Hummels and Holger Badstuber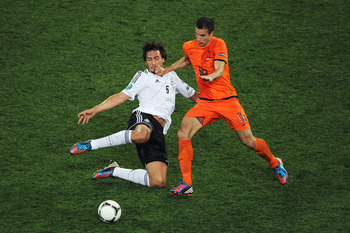 Christopher Lee/Getty Images
Robin van Persie finally opened his Euro 2012 scoring account when Bert van Marwijk changed up his tactics in the second half and enabled Van Persie to have more space to score, but the Netherlands were unable to find an equalizer and the goal ended up being nothing more than a meaningless equalizer.
In truth, partly because of Holland's tactics, and partly because Germany's defense was so resolute, Van Persie had nothing more than half-chances (or quarter-chances really) to feed on for much of the game.
Even the goal he scored was a rather lucky one. With his weaker foot, RVP managed to hit the ball with enough venom and precision to not only pass through Holger Badstuber's legs, but also beat Manuel Neuer at the far post. Quality.
But on almost all of his other chances, Mats Hummels had little trouble dispossessing or bothering RVP.
It's no surprise that almost none of RVP's scoring chances took place with Hummels in the area—only when Badstuber was the man marking RVP did RVP have a bit more space to create a decent shot for himself.
Like Gomez, Hummels entered this competition with a reputation for being great for his club, but poor for his country. With two brilliant performances in the competition so far, Hummels looks like he'll be a pillar for Germany's success for many years to come.
Victor: Holger Badstuber and Mats Hummels
Ibrahim Afellay and Arjen Robben vs. Lukas Podolski and Thomas Mueller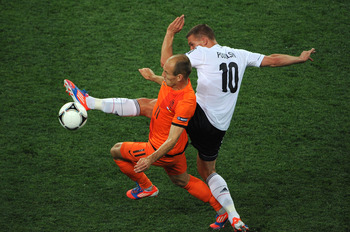 Christopher Lee/Getty Images
If you want to really understand the root of Holland's struggles at Euro 2012, you need only look at their wide players.
With their remarkably defensive 4-2-3-1 setup, the Netherlands are extremely dependent on their wide men to stimulate the team's offense.
After all, if they're off-form, then all the pressure piles up on two men, the attacking midfielder and centre-forward, to generate the team's offense. Even if those two men are among the best attackers in the game, they're still fighting a losing battle against four to six quality defenders.
Against Germany, Ibrahim Afellay was the very definition of passive: 32 touches, 24 passes, and nothing more; no tackles, no interceptions, no clearances, no assists, no key passes—just poor really.
Arjen Robben may have been even worse. Robben only further confirmed his reputation as a "black hole." He got only 49 touches as his team's confidence in him clearly dipped, but even so, he made only 29 passes—no Dutch player made fewer passes in the same amount of minutes.
He took four shots, three of which were nowhere near the target. His one on-target shot hardly threatened the keeper either.
To be fair though, the Germans weren't much better out wide. Thomas Mueller and Lukas Podolski didn't suck as bad as Afellay or Robben, but their contributions were minimal.
Mueller at least won the header that led to the second goal, along with a couple of other headers, but Podolski took one off-target shot and failed to do much else. Against a team like Spain, Germany's ineffectiveness out wide may hurt them.
Victor: Germany, but more due to Holland's abysmal efforts than Germany's quality play.
Mesut Ozil vs. Wesley Sneijder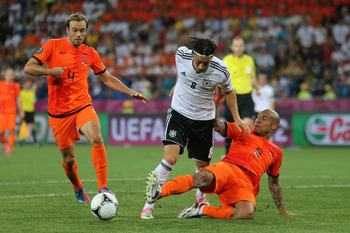 Joern Pollex/Getty Images
If there's one player who's managed to shine through Holland's adversity in their first two group games against Denmark and Germany, it's Wesley Sneijder.
Against Denmark, Sneijder played a number of brilliant balls up to Van Persie which he failed to finish, and against Germany it was more of the same. As such, it wasn't a surprise when Holland's first assist of the tournament came from Wesley Sneijder.
But that doesn't mean that Mesut Ozil's brilliance should be overlooked. He may not yet have an assist to his name, but even with the Netherlands' two defensive midfielders draped all over him for much of the game (one after Van Bommel was withdrawn at halftime), he was involved in much of Germany's build-up play.
He made three key passes (as many as Schweinsteiger), two successful dribbles and hit the post with one of his two shots.
Most importantly, his movement distracted De Jong and Van Bommel sufficiently to give Schweinsteiger plenty of room on the ball. That room allowed Schweini to record his first two assists of the tournament.
Both were spectacular, and if Sneijder was on the winning side, he'd have drawn numerous plaudits for his performance. As it stands, we'll call it a draw.
Victor: Draw
Substitutes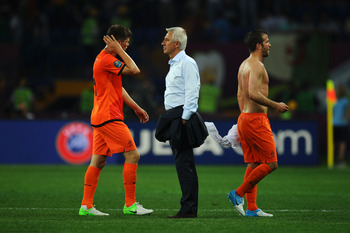 Lars Baron/Getty Images
Though they didn't contribute directly to Holland's goal, Rafael van der Vaart and Klaas-Jan Huntelaar's introduction at halftime for Holland lifted the performance of the Dutch tremendously and almost brought them back from their current 2-0 deficit.
On the other hand, Germany's substitutes seemed to have the opposite effect, or at least no effect. Miroslav Klose almost capitalized on a stupid mistake by Maarten Stekelenburg towards the end of the game, but Toni Kroos' presence was hardly felt in his 10 or so minutes on the pitch.
And, of course, Lars Bender's introduction was nothing more than a ploy to kill time by Joachim Low.
The Netherlands win this matchup, but one wonders if Holland could've taken more from this game if Van Bertwijk had made the right decisions at the start of the match and started VDV and/or Huntelaar.
Victor: Netherlands
Nigel De Jong and Mark Van Bommel vs. Bastian Schweinsteiger and Sami Khedira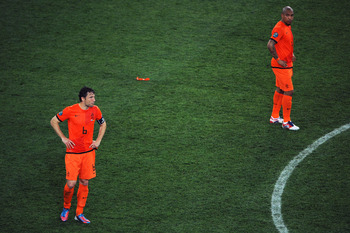 Christopher Lee/Getty Images
This is where Germany won the match.
Coming into this match, the defensive pair of Mark van Bommel and Nigel de Jong was under heavy scrutiny, and blamed—indirectly at least—for Holland's poor offense against the Danes.
The argument was that having two ultra-defensive midfielders like Van Bommel and De Jong in front of the team's defense provides the team with less options in transition, weakens the fluidity of the attack and its ability to build from the back, and ultimately stifles the Dutch offense.
This was proven by the improved efficiency of the Dutch offense after the introduction of VDV and Huntelaar.
But by the end of the Germany match, De Jong and Van Bommel (and Van Marwijk too) were under heavy scrutiny for very different reasons. One of the biggest reasons why the Dutch lost was because De Jong and Van Bommel had failed to do the job they were included in the starting lineup to do.
Too caught up with Ozil's movement, they left Schweinsteiger in acres of space time and again, and he punished them twice in the first half to bring the match to a quick end.
Sami Khedira, though much quieter than he was in the first game when he assisted the winning goal for Germany, was also solid. He comfortably sprayed the ball around midfield 53 times, second only to midfield partner Schweinsteiger.
Huge gulf in class and quality here, and ultimately the matchup that cost the Dutch the points they desperately needed.
Victor: Schweinsteiger and Khedira
Keep Reading