Matt Cain: Why Does Baseball Refuse to Acknowledge Him as a Top Ace?
June 14, 2012

Matt Cain has been one of the best pitchers in baseball for the past six seasons. His perfect game for the San Francisco Giants Wednesday night affirmed that assertion. 
But despite routinely finishing a season with an ERA below 3.00, and pitching 200 innings while striking out more than seven batters per nine innings and walking less than two, Cain has never been regarded as an ace pitcher. 
He's not mentioned in the same sentence as Roy Halladay, Justin Verlander, Cliff Lee, Jered Weaver or CC Sabathia when the conversation is about the best pitchers in baseball. Cain's Giants teammate, Tim Lincecum, would be included before he is. 
So why is that the perception of Cain? Why isn't he considered one of baseball's ace starting pitchers? Here are five reasons why the newest member of the perfect game and $120 million player clubs doesn't get the attention and acclaim that he deserves.
Isn't Lincecum the Giants Ace?
I would guess that most fans perceive Tim Lincecum as the Giants ace. If you were to strike up a conversation about the Giants, Lincecum would likely be the first player mentioned. He's a two-time Cy Young Award winner and has led the league in strikeouts four times. 
But Lincecum is having an awful season; easily the worst of his career. He has a 2-7 record and 6.00 ERA after 13 starts. He's winless in his last eight starts. And as my Horsehide Chronicles colleague Zach Rymer wrote on Wednesday, his velocity is down and he's not throwing strikes.
Despite all that, the general perception has been that Cain isn't even the best pitcher on his own team. That could change this year, however.
West Coast Obscurity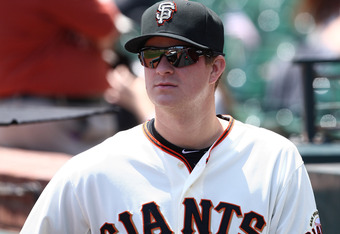 Tony Medina/Getty Images
People west of the Mississippi River might not want to hear it, but the majority of the country's population still lives in the eastern part of the United States. And with the Giants games typically beginning after 10 p.m. ET, baseball fans in the eastern and central time zones are going to sleep when Cain pitches. 
How many baseball fans watched Cain's perfect game Wednesday night as opposed to reading about it on Thursday morning?
Hearing that a perfect game was thrown might make more fans seek out recaps of the game and whatever else was written about Cain's performance. But even if Cain pitches well in a typical start, it's probably not enough to compel people to look for articles about him. 
Quirky Trumps Normal
Cain is easily overshadowed on his own team by the more curious and bombastic personalities on the roster. Lincecum has his long hair and funky windup. Brian Wilson has his beard, tattoos and impulse to find any camera pointed at him. Even Aubrey Huff has his rally thong. 
Did you watch "The Franchise" on Showtime last year? We watched Andres Torres lifting rocks and running hills. We saw Freddy Sanchez's humongous house. What did cameras show Cain doing? Spending time with his new baby. 
Cain just goes about his business and takes his turn in the Giants starting rotation. When asked Thursday morning if his perfect game achievement had sunk in, Cain said (via the San Jose Mercury News), "The crazy thing is I have to pitch again in four days." That probably says everything you need to know about Cain. 
No Standout Stats
As consistently great as Cain has been throughout his eight major league seasons, he hasn't had that one signature stat over a season that grabs attention. As we mentioned before, Lincecum has led the league in strikeouts four times. Clayton Kershaw and Justin Verlander won the pitching "triple crown" last season, leading their respective leagues in wins, ERA and strikeouts.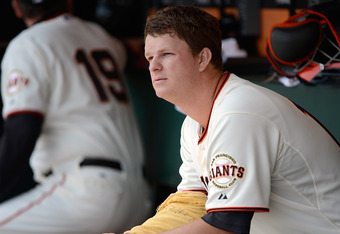 Thearon W. Henderson/Getty Images
Last year, Cain led the majors in WHIP (walks and hits per innings pitched). Hardcore baseball fans know how meaningful that statistic is. Fantasy baseball players are aware of its importance. But does that get tossed around among casual fans? Are people discussing it in the stands at AT&T Park? 
Wins are an easy statistic (though not truly indicative) to point to for a pitcher's success. So is ERA. Strikeouts are a quick way to show how dominant a pitcher is.
Complete games? Not a sexy, exciting statistic, though Cain did lead the majors in that category in 2009. The year before that, he led the league in games started, with 34. I'm guessing the MLB Network won't be devoting a show to that. 
He's a .500 Pitcher
Twenty-win seasons are another statistic that fans can point to as an indicator of success. Hey, if he won 20 games, you know he had a great season. The most wins Cain has had in a season is 14. That was in 2009, when he finished with an excellent record of 14-8. 
However, if you look at Cain's career, you see records of 13-12, 13-11 and 12-11. There are no 20-win seasons or records of 10 games over .500. His career record is 77-75. But a closer look is a great example of why win-loss records don't reflect a pitcher's true value during a season.
Last year, Cain went 12-11, but he had a 2.88 ERA. The man allowed fewer than three runs each time he took the mound, yet still lost 11 games. Do you think he may have been victimized by poor run support from the Giants lineup? 
But a lot of people tend to take the quick glance. Oh, he was 12-11. That's not very good. It's an easy—though completely inaccurate—shortcut to determining how good a pitcher is. Cain gets shafted by that kind of quick judgment and easy dismissal. 
Follow @iancass on Twitter