Euro 2012 Group C: Italy's Mario Balotelli's Football Future Firmly in His Hands
June 14, 2012

Claudio Villa/Getty Images
Mario Balotelli's imponderable future rests firmly in his own hands at Euro 2012, although his feet and head can certainly help him too.
The mesmerizing, gifted Italian striker can quickly silence soccer critics if he simply kicks or heads the ball in the back of the net while staying out of mischief during this month's bi-annual European football championship in Eastern Europe. 
Balotelli possesses the frightening pace and magical ball skills that not only Italy needs in Euro 2012, but also could make him a star along with the other Super Mario strikers in this year's field, namely Mario Gomez of Germany and Mario Mandzukic of Croatia.
However, lingering questions surround this stallion of a striker, and Italian football fans will anxiously await whether Balotelli employs his tantalizing talent or foolishly squanders it away on the Polish or Ukrainian pitch.
Controversy, silly behavior and fractured relationships have dotted Balotelli's brief career with as much regularity as the mind-numbing numbers he's already recorded at Inter Milan (40 caps and 10 goals from 2007–2009), and more recently at Manchester City (59 caps and 20 goals from 2012–2012). 
The enigmatic Balotelli may continue to show signs of brilliance on the field, as he did today against Croatia, but his baggage of immaturity clothes him like the number nine jersey on his back.
Italian fans view him as an unneeded narcotic on their already talented team and are bracing for another Balotelli boondoggle. At Inter Milan, Balotelli foolishly feuded with iconic manager Jose Mourinho, and at Manchester City he received a four-game suspension for violence. Not to mention a lengthy list of other juvenile antics off the pitch.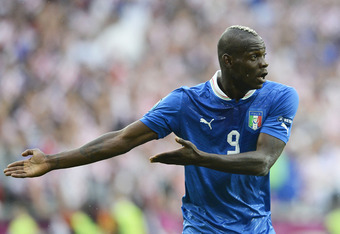 Claudio Villa/Getty Images
Following his first two games in pool play of Group C at Euro 2012, he still hasn't found the back of the net. Yet the petulant Balotelli has played passably, especially today against a spunky Croatian squad when two of his five shot attempts exploded off his weighty boots bound squarely toward goal. 
Even so, Balotelli's greatest accomplishment at Euro 2012 may be his attitude and discipline, not necessarily his long-awaited emergence as a world-class scorer on a highly scrutinized stage. 
In spite of a minor fist-pounding of the turf for a missed opportunity during Italy's 1-1 draw against Spain, Balotelli has handled his withdrawals from matches in favor of Antonio di Natale with decorum and, more importantly, ignored the unnecessary racial taunts from Spanish fans with an uncommon poise never before seen from this Ghanaian-born Italian citizen. 
Mario Balotelli's head or feet have not been instrumental in directing the ball in the back of the net for the Azzurri so far at Euro 2012. However, the unpredictable striker's imponderable future has been in good hands so far—his own. 
Straight talk. No static.
MIKE – aka Mike Raffone – thee ultimate talking head on sports!