The Latest Holdout News and Roster Buzz from NFL Minicamps
June 14, 2012
Joel Auerbach/Getty Images
Minicamps have begun across the league, finally supplying news based on what's happening on the field for the first time in months. 
There's a scattering of high-profile holdouts and a few other interesting tidbits of info coming from all the minicamps that opened this week. 
Let's take a look. 
Holdouts
The biggest names holding out for new deals are Drew Brees, Mike Wallace, Maurice Jones-Drew, Matt Forte and Dwayne Bowe.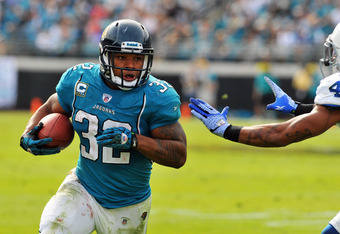 Al Messerschmidt/Getty Images
No one from that group showed up at the start of their respective teams' mandatory minicamps, essentially starting the holdout process.
There has been no reported progress in any of those players' contract negotiations.
Jones-Drew is the only player who isn't a franchise player, so he certainly has the most leverage out of all of those players. There is no deadline for the Jaguars to offer him the extension he desires. 
Chase Daniel 
With Drew Brees battling through an arduous contract dispute, backup Chase Daniel has been taking first-team reps at all of the Saints' offseason practices.
Not anymore. 
Per Mike Triplett of the New Orleans Times-Picayune, Daniel suffered a hairline fracture in the thumb of his throwing hand when it smashed against a helmet this week. He won't be able to throw for more than two weeks, but he will reportedly be fine for the start of training camp. 
Brandon Weeden 
Weeden was taking first-team reps in 11-on-11 drills when the Browns started their minicamp this week, something that should come as no surprise to fans in Cleveland. 
This column by Mary Kay Cabot of the Cleveland Plain Dealer details Weeden's practices and claims that he has the look of a starting quarterback. 
Does Colt McCoy stand a chance in this "quarterback competition?"
Ryan Tannehill
Although many believe Tannehill won't be ready to start in 2012 for the Dolphins, according to teammate Reggie Bush, per ProFootballTalk.com, the former Texas A&M quarterback has the "upper hand" in the quarterback competition.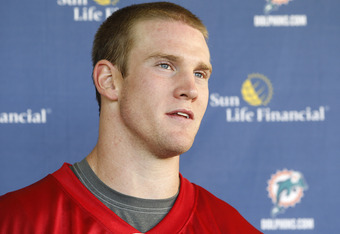 Joel Auerbach/Getty Images
Bush is referring to the fact that Tannehill doesn't have to learn a new offense because the Dolphins' new coordinator is former Aggies head coach Mike Sherman. 
When asked about a rookie quarterback leading a team to the playoffs, Bush said the following: 
"I think Tannehill can do it. Like I said, with the amount of veteran leadership that we have on this team, he's already coming into an offense that he knows, Mike Sherman is a great coach and offensive coordinator who is really working with him day in and day out, I think he'll be fine."
New England Patriots 
Bill Belichick unexpectedly cancelled the final practice of Patriots minicamps on Thursday afternoon, giving the team an early start to their "summer" before training camp opens in late July. 
What a nice guy, that Bill Belichick.