WWE Rumors: CM Punk, Steve Austin, Rey Mysterio and Friday's Top WWE News
June 15, 2012

As we sit here, two days before No Way Out, WWE is going to start hitting SummerSlam as hard as possible. At least that should be the plan. 
Triple H is making his return to WWE television on Sunday to discuss the angle with Lesnar. WWE has done its best to really no-sell this angle on television, casually mentioning Triple H's appearance with no real push for it. 
It will be interesting to see how that whole situation gets handled, but we also have Big Show vs. John Cena for the 1,432nd time. YES!
Unlike WWE, we are going to push all of the best news and rumors on you this Friday to get you set for a weekend filled with wrestling action. 
CM PUNK STILL WANTS STEVE AUSTIN AT WRESTLEMANIA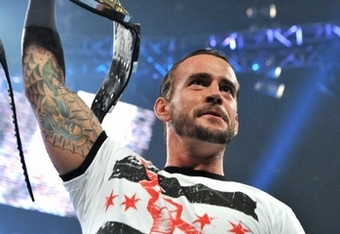 Lest you think that Brock Lesnar would be getting all the WrestleMania attention this summer, CM Punk wants you to know that he is, in fact, still interested in a match with Steve Austin. He did say, during his interview with ESPN Radio 97.9, nothing is imminent, so don't get your hopes up. 
Question on Everybody's Mind: Will WWE make the match happen?
Our Take: Punk wants the match. Austin, if he decides to wrestle again, would most likely work with Punk. There is no reason not to make it happen. A lot of things have to align for it to become reality, but Austin's return would make WrestleMania much bigger than anything WWE could put on the show. 
Hype Meter: 5 out of 5 WrestleMania Moments
Since WWE has gone back to the legends well so many times, there are very few superstars who can come back and make a big difference in business. Austin is obviously the biggest name left to come back. Here's hoping he is ready to don the black trunks one more time. 
Deeper Dive
CM Punk Interview Highlights (Wrestling Inc)
------------------------------------------------------------
REY MYSTERIO MAY OR MAY NOT BE BACK ON TIME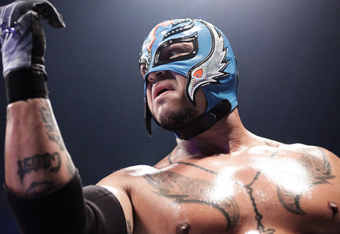 WWE, as everyone knows, has a problem with depth on the roster. One name who is due to return from suspension very soon is Rey Mysterio. He hasn't wrestled in nearly a year thanks to a knee injury and Wellness Policy violation, but at the end of the month he is eligible to return. That's all well and good, except WWE reportedly isn't advertising him for any shows. 
Question on Everybody's Mind: What is going on with Rey-Rey?
Our Take: Vince McMahon could be in one of those Vince moods, where he is going to punish anyone and everyone he can. Mysterio would be a natural fit to return, especially in the light of Randy Orton's suspension. 
Hype Meter: 3 out of 5 West Coast Pops
Usually it is best not to get hung up on what WWE is or isn't advertising, since plans change so frequently, but you would think one of the biggest stars in the company would be worth a mention here and there, wouldn't you?
Deeper Dive
Update on Rey Mysterio (Wrestling Observer Newsletter h/t NoDQ)
------------------------------------------------------------------
KHARMA GETTING READY FOR EPIC RETURN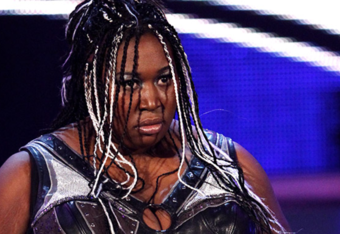 As fans anxiously await the return of the only female wrestler WWE wants you to care about, Kharma gave the world an update on her status by posting a picture of herself training. 
Question on Everybody's Mind: When is Kharma going to return?
Our Take: That is the $100,000 question, isn't it? My guess would be the 1,000th episode of Raw, since everyone on the roster is going to be used on that show. Plus, it would allow WWE the opportunity to start building for a Divas championship match at SummerSlam. 
Hype Meter: 4 out of 5 Headless Barbies
With Kharma on the roster, WWE actually seemed to have a grasp on what to do with the women. Since she has been gone, everything has reverted back to its usual, stale self. WWE needs more Kharma!
Deeper Dive
Breaking Down Kharma's Long-Term Future With WWE (B/R)
------------------------------------------------------------------
VINCE MCMAHON FEELING SOME HEAT FOR J.R. IMPERSONATION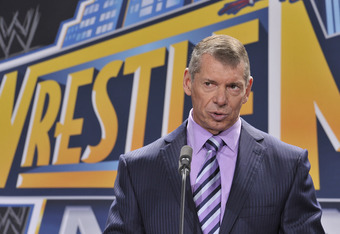 Michael N. Todaro/Getty Images
In what has become a running gag with Vince McMahon that should never have started in the first place, imitating Jim Ross is incredibly old and has never been funny. He tried it again on Monday, and has started to catch a lot of heat for it from fans and analysts.
Question on Everybody's Mind: What does McMahon get out of humiliating J.R.?
Our Take: The sheer satisfaction of knowing he can bully someone who won't fight back. It is nothing more than childish bullying. If McMahon really cared about entertaining, he would focus on writing a logical show every now and then. 
Hype Meter: 0 out of 5 Vince McMahon Laughs
McMahon should learn to take the advice of that Be A Star campaign that WWE is working with. Since he is Vince, though, he can say and do whatever he wants without any ramifications. Good for him. 
Deeper Dive
Vince McMahon Gets Blasted (Wrestle Zone)
----------------------------------------------------------
Check back for more on the WWE as it comes, and check out Bleacher Report's Wrestling Page to get your fill of the WWE. For more WWE talk, check out Ring Rust Radio for all of the hot topics you just can't miss.