With a change of regime comes many changes in personnel. As such, there will be plenty of training-camp battles to watch as new head coach Joe Philbin takes the reins of the Miami Dolphins for his first offseason.
There are so many battles to choose from, between the quarterbacks, wide receivers, offensive line, secondary and more. But which battle will carry the most intrigue and bear the closest watching this offseason?
To debate and discuss, we welcome in our go-to Dolphins voice, Bleacher Report featured columnist Alex Miglio, who can also be found on Twitter and my personal favorite stats website Pro Football Focus.
Alex, take it away!
Alex
You are throwing me a softball.
Of course, the most intriguing camp battle will be between Lauren Tannehill and the Miami Dolphins cheerleaders!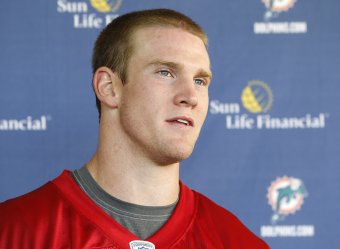 Joel Auerbach/Getty Images
Well, not quite, but her husband will be embroiled in an imbroglio with David Garrard and Matt Moore for the starting job at quarterback, and it should be a fun one.
Incumbent Matt Moore did a fine job last season, but a new coaching staff and offense have him starting from square one. Considering the only time he's won a camp battle was against heir Jimmy Clausen, he is in for the camp battle of his life.
Garrard may be 34 and coming off a whole year off due to back surgery, but he has looked good in practice thus far, and he might actually be better for the West Coast offense than Moore.
Of course, we cannot discount Mr. Lauren Tannehill here—Philbin has said the competition is too close to call, in part because he has looked pretty good himself. It probably helps that he knew the offense going into OTAs.
Erik
You're onto something with the quarterback camp battle, and while that will draw a lot of intrigue from fans and media alike, I'm looking at the battle at wide receiver with a longer eye than the quarterback battle.
Whether he wins it this year or not, the throne has Tannehill's name embossed in the gold trim already. Whoever sits in it this year, if it's not Tannehill, won't be there long.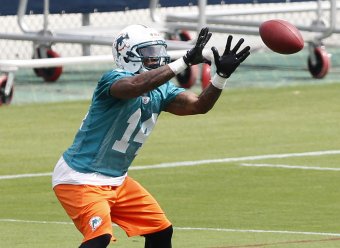 Joel Auerbach/Getty Images
At wide receiver, though, the group is young and the stakes are high. The Dolphins are looking for the right guys with the skill set necessary to succeed in the West Coast offense.
Oh yeah, they're also looking to replace 82 receptions, 1,214 yards and six touchdowns of production left behind by wide receiver Brandon Marshall, and although they won't be doing it with a "true" No. 1 receiver in that mold, they'll be looking for a group of guys who can get open and act as the No. 1 option on any given play.
At separate times, different receivers have set themselves apart. Omar Kelly of the Sun-Sentinel indicated that Roberto Wallace, Davone Bess and Legedu Naanee were the best receivers at minicamp. Armando Salguero of the Miami Herald pointed out that Clyde Gates was a focal point of minicamp, and said Wallace and Brian Hartline stood out.
The varying reports indicate to me that flashes of potential are occurring up and down the wide receiver depth chart. Now, someone just needs to sustain that flash into a beacon of light for the 2012 season.
We've seen plenty of underrated receivers succeed in Philbin's offense, and with so many unknown receivers with potential on Miami's roster, the battle is wide open.
Alex
Indeed, there will be a battle royale at receiver. It was assumed that Brian Hartline would ascend to the No. 1 role. I still think he will, but it will not come without a fight.
It's really nice that we are getting positive reports for so many different receivers from different beat reporters, but I do not put too much stock in glowing reviews from OTAs or minicamp. Receivers will have a particularly different experience when they have to beat cornerbacks, and that is going to be the real rub during training camp and the preseason.
Will any of these receivers be able to set themselves apart?
This is Hartline's golden opportunity. Bess has always been an underutilized receiver, but he might be perfect for this offense. Gates has been a disappointment thus far, but how much could we expect from a raw fourth-round pick? Naanee might look good in practice right now, but he was the worst-rated receiver according to Pro Football Focus last year.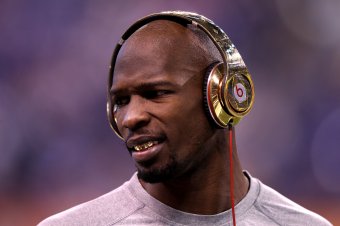 Elsa/Getty Images
Of course, we haven't even mentioned Chad Ochocinco. I question whether he really has anything left at his age. Things did not look good for him in
New England
last year—when you cannot make an impact with
Tom Brady
as your quarterback, what more do you have left?
Granted, Ochocinco's presence may be more about Hard Knocks than anything else, but he will be given a real shot considering the state of affairs in Miami's wide receiver corps.

Erik
Ah, yes, how could I forget Ochostinko, the guy who couldn't pick up the Patriots playbook and had to take a pay cut to even get an invite back to OTAs—and even that wasn't good enough to get him to training camp.
The Dolphins have so much young talent on the roster that it would almost be a shame if Ochocinco earned significant playing time. Is he going to be an answer for the future or for the present?
But getting back to the quarterback battle, that one will ultimately be just as important as the one at receiver.
It will be up to whoever wins there to get the ball to those receivers, but it goes deeper than that. If one of the veteran quarterbacks wins the job, it will be on them to help get the receivers up to speed on the ins and outs of the offense as well as of being a receiver in the NFL. They'll be setting the stage for what Ryan Tannehill is working with for the beginnings of his career.
If Tannehill wins it, it will be up to him to quickly get on the same page with those receivers and to play within the offense, getting the ball to open receivers and minimizing mistakes.
The training camp battles at both quarterback and receiver will set the tone for the offense for this year and future seasons.
Alex
As I have said for some time now, this is a multi-year rebuilding process for the offense. It would not surprise me if the receiving corps was overhauled after this season if nobody emerges.
Hopefully the camp battles will be settled sooner than later, though. The sooner we get some clarity on the depth charts, the sooner the chemistry can truly build between the quarterback and his receivers.
Which battle will be the most intriguing?
Erik
Absolutely true, and with that, I think our debate has come to a close.
Thanks so much for joining me, Alex, and we'll definitely link up again soon.
Readers can vote in the poll and leave your thoughts in the comments below. Check back at the AFC East blog every day for more debates.
Erik Frenz is the AFC East lead blogger for Bleacher Report. Be sure to follow Erik on Twitter and "like" the AFC East blog on Facebook to keep up with all the updates.