Chicago White Sox: Paul Konerko, AJ Pierzynski Still Producing After Many Years
July 9, 2012

Ed Zurga/Getty Images
They are the only two players left from the 2005 Chicago White Sox team that won a World Series.
They are the two oldest position players on the team and actually—with the exception of Matt Thornton—the two oldest players on the White Sox period.
One of them is one of the more respected players in the league, while the other is apparently the most hated player in the game amongst his peers.
Regardless, Paul Konerko and A.J. Pierzynski continue to produce at a high rate even though they are past what many would call their prime.
Konerko is 36, and Pierzynski is 35. However, someone forgot to tell them that they are supposed to be slowing down.
At the All-Star break, Konerko continues to be among the league leaders in batting average, at .329, while slugging 14 home runs and knocking in 42. If he can finish the season above the .300 mark, it would be the third-straight season that he has accomplished that feat.
That doesn't sound like a guy who is slowing down.
Then there's A.J., who is currently hitting .285 and leads all catchers in baseball with 49 RBI and is second with 16 home runs—but somehow wasn't able to make the All-Star team. 
Regardless, he is on pace to shatter his career highs in both of those categories and has also been near the top of the league hitting with runners in scoring position all season.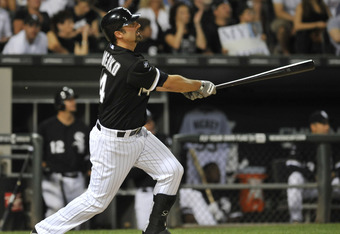 David Banks/Getty Images
Again, that doesn't sound like a guy who is limping into the end of his career.
The White Sox have certainly gotten contributions from just about everyone so far this season, and several have come from very unlikely sources, but the bottom line is that they wouldn't be anywhere without Konerko and Pierzynski.
The two veterans have been great examples for their younger teammates on how the game should be played.
Though they have many differences, they still have a lot in common.
Konerko made his major league debut in September of 1997 with the Dodgers, while Pierzynski debuted almost exactly a year later in September of 1998 with the Twins.
They both played for two teams before coming to the White Sox.
They both played a major part in the White Sox winning their first title in 88 years in 2005.
They are both synonymous with White Sox baseball. Konerko has been on the South Side for 14 years, while A.J. has now been there for the past eight seasons.
They have both been underrated defensive players who have anchored the middle of the batting order and provided a steady presence in the White Sox lineup for almost a decade.
Konerko has been the more prolific hitter, but Pierzynski has been terrific in his own right—especially this year.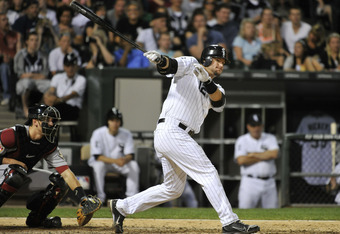 Brian Kersey/Getty Images
However, the reality is that as well as they have played, they still may not have much time left in a White Sox uniform—especially Pierzynski.
A.J. is playing in the last year of his current contract, and it remains to be seen if the Sox will bring him back. It seemed unlikely prior to the beginning of this season with Tyler Flowers waiting in the weeds, but with the way A.J. has played, you never know.
Konerko has one more year left on his contract, and if he keeps playing the way he has been, it would also be tough for the Sox to let him go—even at the age of 37.
It's hard to imagine a White Sox lineup without these two guys, but eventually it will happen—inevitably, it always does.
But for now, these two veterans are anchoring a young and exciting White Sox team that is surprising many people and turning some heads.
One thing that shouldn't be surprising, though, is that Konerko and Pierzynski are right in the middle of it.