NHL Draft 2012: Defining the Future of the Toronto Maple Leafs
June 14, 2012

Bruce Bennett/Getty Images
The Leafs, despite what most say, have been in rebuilding mode for four years now.
Since Brian Burke arrived, the Leafs have accrued many young players that were as close to NHL-ready as possible, not wanting to wait three years, in most cases, for a prospect to fully develop.
Brian Burke has looked all over in search of young talent. He has spaired no expense in terms of scouting, sending MLSE personnel all over the globe.
The Leafs have mostly added through the college route. Names like Ben Scrivens, Tyler Bozak, Simon Gysbers and Spencer Abbott have contributed nicely for the Marlies and, to a lesser extent, the Maple Leafs. 
If you indulge in rumours, like I do from time to time, Justin Schultz, Jake Gardiner's long-time friend and ex-teammate, is sure to be the next recruit added to the list.
I won't really mention the European free agents, as the only significant name to come out of the bunch was Jonas Gustavsson, although Marcel Mueller, Jussi Rynnas and Mark Owuya are working very hard to change that.
As an aside, Jonas Gustavsson is the same situation as Mike Smith was last season when he left Tampa Bay. Smith was thought to have promise, but some thought he may never realize it. If Gustavsson is signed and brought into the same situation, he may very well experience the same success.
The Leafs have also done their due diligence when it comes to the draft. With picks like Brad Ross, Greg McKegg, Stuart Percy, Matt Frattin, Tyler Biggs, Jerry D'Amigo, Jesse Blacker and Petter Granberg, the Leafs' future looks much brighter than it did during the pre-Burke era.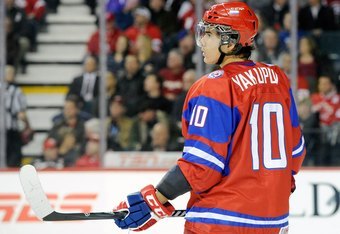 Richard Wolowicz/Getty Images
With all the work that has been done so far, no two days will be more important than that of June 22-23, 2012 for the Maple Leafs.
This year's NHL Draft in Pittsburgh will be crucial if the Maple Leafs want to secure a healthy, and most importantly, winning future. 
The Leafs have, in my opinion, enough talent on the NHL team. In terms of prospects, they must make the bold and necessary moves to get the players that they need.
I am referring to moving up in the NHL Draft while still holding onto their fifth overall selection.
Yes, bold, I know, but let me explain.
Edmonton is in need of some back-end talent, but they do not want to miss out on drafting a forward.
So here is my proposal: 
Leafs trade:
Luke Schenn
Carl Gunnarsson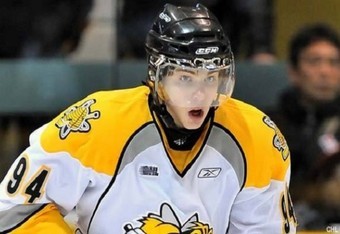 Nazem Kadri
TOR 2nd-rounder (35th overall)
To Oilers for:
EDM 1st overall pick
EDM 3rd-rounder (62nd overall)
With this trade, the Leafs can get the winger and center required to build a strong foundation for years to come—two players that have high-end skill and familiarity playing together.
Yes. I am talking about Nail Yakupov and Alex Galchenyuk. Burke surely knows that both of these players can play now and contribute to the Leafs.
This move will also allow Burke to move players such as Komisarek (if Schultz signs), MacArthur, Connolly, Lombardi or Armstrong for anything he can get while still having a competitive team.
What say you, Leafs Nation? Yay or Nay?
Too bold or not bold enough?