Comparing Michael Jordan's 1992 Threads to Russell Westbrook's 2012 Hipster Chic
June 14, 2012

Frederick M. Brown/Getty Images
When every great NBA player embarks on greatness, the first comparison is to that of the legendary Michael Jordan.
The same goes for winning championships. Now that we are in the NBA Finals, it's almost natural that Jordan's name will be brought up on more than one occasion during the next couple weeks.
Since Jordan is the natural comparison for everything NBA, I thought it only fair to include Jordan in this latest comparison when it comes to the latest trend in the NBA—fashion statements in postgame pressers.
Since we look at LeBron and other stars and often say 'MJ wouldn't have switched teams," or "Jordan wouldn't have done it like that," it's only fair to ask if Jordan would have ever done this to himself.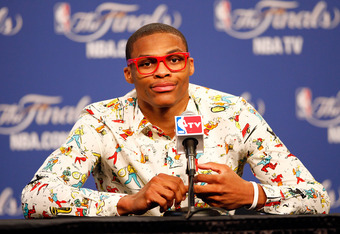 Mike Ehrmann/Getty Images
Russell Westbrook's statement of what looks to be a pajama shirt (watch that catch on, by the way) paired with a red pair of Urkel glasses isn't exactly something you would sport to your favorite restaurant for dinner, but he's making his statement.
If I could only figure out what that statement was I would probably be a lot better off but that's besides the point. The point is, would Jordan have ever rocked Westbrook's 2012 hipster look in his heyday?
I'm going to go with a solid no on that one. MJ often showed for pressers looking professional in a suit, but he's been known to don an interesting look or two when he's off the clock, as you can see from this video from Barcelona in 1992.
Comparing the two looks, the first thing you notice is that MJ is missing a pair of glasses. How a great basketball player like Jordan could ever dress well without a big pair of Urkel glasses is beyond me.
Actually the thought of Jordan wearing those glasses in 1992 is a comical image in its own. Who knows though, the glasses may have made him hit the baseball better, but that's another debate for another time.
Simply comparing the wardrobes, MJ pulls his off much better.
Even with the wide assortment of colors, Jordan looks as smooth off the court as he did on it. The hat and the chain add to the look as well. While the outfit isn't anything traditional, Jordan pulls it off without making himself stick out.
Westbrook, on the other hand, is all about drawing attention to himself. It has brightness and enough colors to make it look fun, but at the end of the day, the statement screams "look at me."
If that is what Westbrook is out to do, then he's doing a great job at it because people are talking about his wardrobe as much as his play on the court.
At the end of the day though, Jordan's look wins.
Basically I look at Jordan's attire and ask myself if Westbrook would ever wear something like that and I say sure he would.
Then I look at Westbrook's outfit and I say no way in the world Jordan wears that.
Therefore Jordan gets the edge when it comes to wearing the better wardrobe.
Although I still would like to see him sitting courtside at a Bobcats game sporting a thick red pair of Urkel glasses.
Follow Matt Shetler on Twitter for news, reaction and analysis from around the NBA.