Spotlighting the Pittsburgh Steelers' LB Position Heading into the 2012 Season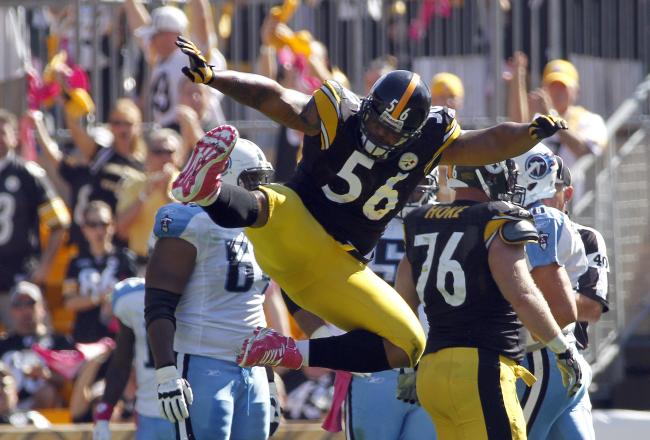 LaMarr Woodley is quickly surpassing James Harrison as the jewel of the Steelers' linebacking corps.
Justin K. Aller/Getty Images
The Pittsburgh Steelers. Just saying their name evokes a reaction, much like their division rivals, the Baltimore Ravens. It's a simple word association, really: Steelers equals defense.
While Pittsburgh has built itself quite the tidy little offense, it's still the defense that has turned them into a household name—especially their linebackers.
That linebacking crew has seen a change this year—gone is veteran James Farrior, likely to be replaced by one of their many other capable players. Let's take a closer look at the Steelers linebackers and see just what we can expect each of them to accomplish on the field this season.
James Harrison
James Harrison served a one-game suspension last season for this hit on Cleveland Browns QB Colt McCoy
James Harrison is the veteran leader of the Steelers' group of linebackers, with eight years of experience to his name. Though he missed four games last year with a broken orbital bone and served a one-game suspension for an illegal hit, he still notched 59 total tackles, nine sacks and two forced fumbles.
Sure, Harrison has slowed some as he's gotten older, but he's no less hard-hitting or intimidating. With a complement of younger linebackers around him, Harrison can be used effectively without being solely relied upon.
LaMarr Woodley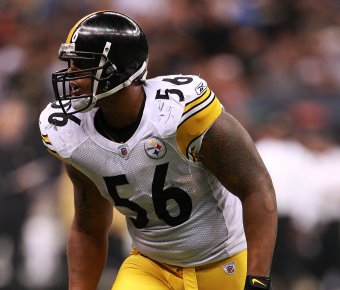 Karl Walter/Getty Images
Of those young linebackers, none assists out Harrison more than fellow outside backer LaMarr Woodley. During the four games Harrison was out with injury last season, Woodley stepped up in a big way, notching 7.5 of his total nine sacks during that period.
Woodley missed time of his own—six games, thanks to a hamstring injury. As a result, he had just 39 tackles and one interception last year. At full health, he's easily the most dangerous member of the Steelers' linebacking corps and will be the centerpiece of their pass rushing this season.
Larry Foote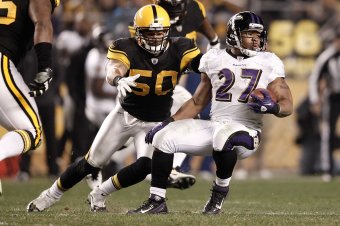 Jared Wickerham/Getty Images
Nine of Larry Foote's 10 seasons in the NFL have been spent with the Steelers (he was a Detroit Lion in 2009), and he spent most of them as the departed James Farrior's primary backup. Now, he'll be taking on Farrior's inside linebacker job as a starter this year, and he shouldn't have much trouble transitioning to a full time role.
In the Steelers' rotation last year, Foote had 47 tackles and 1.5 sacks. This year, with his responsibilities markedly increased, those numbers should increase—especially his tackles. Foote will be primarily a run-stopper in the Steelers 3-4 defense, and with Trent Richardson's Cleveland Browns and the Ravens' Ray Rice on the docket twice per season, his skills will be even more important.
Lawrence Timmons
Jared Wickerham/Getty Images
Unless something drastically changes, look for Lawrence Timmons to be the Steelers' other starting inside linebacker. He's in somewhat of a battle for the job—Stevenson Sylvester and even rookie Sean Spence could be in the mix, but one glance at Timmons' 2011 numbers shows he's clearly the favorite for the job.
Timmons played both on the inside and outside last year, racking up 93 tackles, two sacks, one interception and two forced fumbles. On the inside full-time in 2012, he should have a similar stat line when the season wraps.
Jason Worilds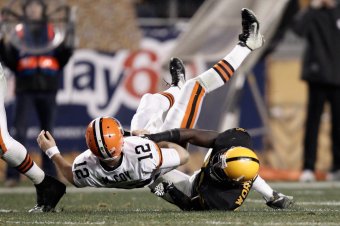 Jared Wickerham/Getty Images
Jason Worilds is primarily a backup outside linebacker, and as such, he had some time on the field filling in for both Woodley and Harrison while they missed time last season with their respective injuries.
Worilds is now dealing with an injury of his own, a wrist problem that resulted in surgery that could see him open camp on the PUP list—he expects to be sidelined a month. Barring any setbacks, however, he should be ready for the start of the season.
Worilds may get some situational work this year. Last year, in spot-start duty, he had 38 tackles, three sacks and a forced fumble. This season, he will again be the No. 3 outside backer behind Woodley and Harrison and projects to someday take over Harrison's job once he decides to retire.
Stevenson Sylvester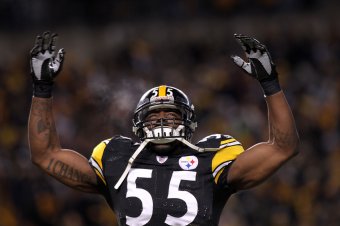 Nick Laham/Getty Images
Though Stevenson Sylvester is in the competition for Farrior's inside backer starting job, he'll likely lose out to Foote this year. But the third-year player is likely to be the 32-year-old Foote's replacement sometime down the line.
Sylvester played just 35 defensive snaps last year and was primarily active on special teams, logging seven tackles but forcing two fumbles.
Sylvester is but one member of the Steelers' defense of the future. He'll get situational work this year, but the inside backer show will likely belong to Timmons and Foote.
Sean Spence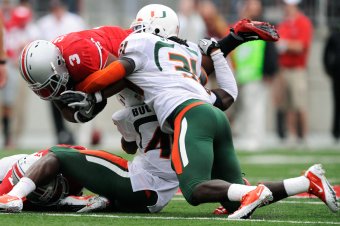 Jamie Sabau/Getty Images
Sean Spence is a versatile and speedy linebacker who will probably get a shot at an inside spot in a year or two, but for now, should spend the majority of his rookie season learning the ropes on special teams.
He's got the size of a strong safety (in the Troy Polamalu mold) and many of Polamalu's playing characteristics, which leads some (including myself) to believe he could be groomed to replace Polamalu at safety. But for now, the Steelers are content to get him prepared to be an inside linebacker.
Brandon Johnson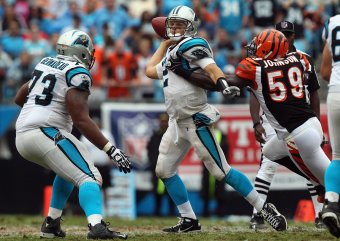 Streeter Lecka/Getty Images
The Steelers don't have a wealth of depth at outside linebacker, which explains why they signed free-agent veteran Brandon Johnson this offseason.
Johnson played on the inside and outside while with the Cincinnati Bengals, but has the build of a 3-4 outside backer. Though he's never been asked to do much pass-rushing, the Steelers apparently believe he has the ability to learn the position and eventually make a contribution.
At the very least, Johnson provides veteran depth at both inside and outside backer and will likely also contribute on special teams, an area in which he excelled in Cincinnati.
Mortty Ivy
Mortty Ivy spent his rookie season on special teams and bounced between the active roster and practice squad last year and saw action in two games. That resulted in just one special teams tackle.
It doesn't mean that Ivy has no worth to the Steelers. He'll just need more developing and will likely again alternate between special teams and the practice squad again this year.
Chris Carter
Chris Carter is another second-year linebacker who projects to remain on special teams with Ivy. He was placed on injured reserve at the end of the 2011 season with a hamstring injury after logging only three special teams tackles.
Carter is an outside linebacker, and the Steelers are thin at the position as far as depth is concerned. This, plus his special teams talents, could earn him a roster spot this year.
Here's a comprehensive look at Marshall McFadden's college highlights.
Marshall McFadden
Marshall McFadden was an offseason acquisition who the Steelers signed to a reserve/futures contract in January. He went undrafted in 2011, and if he sticks around, will be another young linebacker relegated to special teams duties.
Chances are, McFadden may be considered nothing more than a camp body. Little is known about him, and as such, his chances to stick around are relatively slim at this point.
Brandon Hicks
Brandon Hicks is in the same boat as McFadden—picked up earlier this year, signed to a reserve/futures contract and likely fighting it out for a roster spot on special teams or a practice squad job this summer.
Hicks went undrafted in 2011 and spent last summer with the Buffalo Bills before being cut. He can play both inside and outside, but projects to be an inside backer for the Steelers. With so many of them on the roster, the practice squad looks to be in his future.
Adrian Robinson
Adrian Robinson is a 2012 undrafted free-agent pickup. A former defensive end at Temple, he's slated to be an outside linebacker for the Steelers, which increases his odds of landing a roster spot. He'll be fighting it out with Chris Carter for positioning on the depth chart and should see a lot of special teams action if he makes the cut.
This article is
What is the duplicate article?
Why is this article offensive?
Where is this article plagiarized from?
Why is this article poorly edited?