Lingerie Football Video Game: Should Madden Franchise Be Worried?
June 14, 2012

No. 
We will now use the rest of your time and mine to explain why this is a horrible idea and one that will be swept under the rug as soon as the video game launches. 
It's official, the best league in all of lingerie and football has partnered with a Japanese developer to create a video game dozens of people will play. 
I am less than stoked.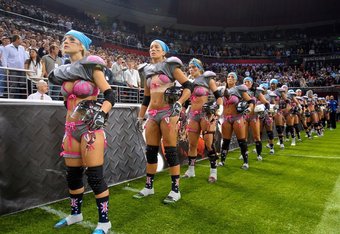 The official press release can be found over at the official Facebook page of the Lingerie Football League. 
(LAS VEGAS, NEVADA - Thursday, June 14, 2012) Officials from 'US' fastest growing sports league' (BusinessWeek), Lingerie Football League, LLC. (or 'LFL') announced moments ago that the LFL has teamed with Osaka, Japan based YUKE's Co. Ltd to design and develop the official LFL gaming platforms. 

YUKE's is a leading video game developer having produced popular sports gaming franchises such as 'Undisputed' for the Ultimate Fighting Championship (UFC) and 'Smackdown!' for World Wrestling Entertainment...
Yuke has made some fairly good games for MMA fans in the past. There is this lukewarm review of Undisputed 3 from Kotaku. 
Brash Games has some cutting thoughts on Yuke's SmackDown vs. Raw. In all, the developer seems to know how to put a good fighting game together, one that will garner fans to get their wallets out and head to GameStop or another brick and mortar. 
When it comes to sports games, Yuke's has experience in MMA, wrestling and little else. I am not convinced this first foray into football will have fans claiming a pure pigskin experience. 
Not that this is the point. 
YUKEs and the LFL will go into design and development of the official LFL gaming platforms with a focus on capturing the essence of the intensity, speed, beauty and on-the-field action of LFL football. The core global fan base of the LFL which consists of nearly 60 percent men 18-34 perfectly aligns with the gaming world's target demographic. 
Here we go. We get to the people that will actually look at Madden and LFL football on the rack and buy the lingerie version.
Essentially, you will want a demographic of young men who don't have an Internet connection to ogle women and would rather get their kicks in avatar form.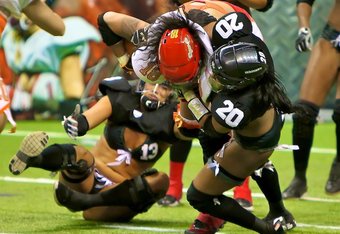 This game would have to be an over-the-top slugfest that features ridiculous NBA Jam-type play and the hardest of hits. 
Only then will it move units. I could be wrong. The thought of some video game simulated skin may be enough for some oddball gamers. 
I would rather deal with the frustration of computer assistance in Madden.
Follow me on Twitter for a funky good time.