NBA TV's Dream Team Documentary: Thoughts and Questions
June 14, 2012

Disclaimer: I realize that me being born in the same summer that this event was taking place doesn't bode well for my status as a "worthy critic." The only knowledge and perception I have of this event has come as a result of the interviews, commentaries, articles, highlights and, well, this documentary.
With that being said, I feel as if my maturity in and understanding of the game far surpasses my age. But, then again, what do I know? I'm only 20.
John Stockton's Invisibility
I thought it was hilarious how Stockton was able to walk down Las Ramblas without even being recognized. His 6'1" frame and white skin were probably responsible for that, but I think because of his ability to blend in, he had a completely different experience than say, Michael or Charles.
Stockton sarcastically said, "I can't go anywhere without being bugged…it's really not much different from Michael Jordan walking through here."
It's also amazing how such an average American, by physical standards, ended up being one of the top five greatest point guards of all time. I think that speaks volumes about his basketball I.Q., talent and intangibles as a player.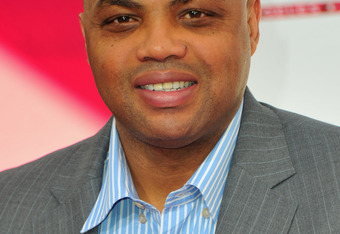 Alberto E. Rodriguez/Getty Images
Charles "The Ambassador" Barkley
I love how the outspoken and untamed Charles Barkley ended up being an ambassador for basketball and the U.S., despite causing a near public relations catastrophe and giving credence to an American generalization via the pre-Metta World Peace elbow.
International Impact
The Dream Team proved to be a great international relations move for the NBA. It's amazing to look at the influx of international players into the game after '92. It really broadened the borders of basketball and took the game to new heights.
Jordan and Pippen's Vendetta
I love the mentality of Jordan and Pippen to go after Kukoc after Bulls GM Jerry Krause spoke so highly of him.
Jordan said, "Krause was recruiting this guy, talking how great he was…that's like a father who has all his kids and now he sees another kid that he loves more than he loves his own. So we were not playing against Toni Kukoc. We were playing against Jerry Krause in a Croatian uniform."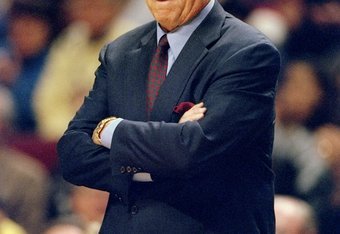 Jonathan Daniel/Getty Images
Pippen and Jordan proceeded to give Kukoc a rough introduction to the NBA.
Chuck Daly's Influence.
Chuck Daly couldn't have been a better fit for that team. Maybe Pat Riley, maybe Phil Jackson, but Daly was perfect. He dealt with all of the individual egos with such ease and class. He bonded and built a relationship with Jordan, despite the assumed level of hatred that the two individuals had for one another.
And his rigging of the Dream Team's first scrimmage against the college select team was ingenious and successful.
He also handled the Isiah Thomas situation very well. He never really spoke his mind on the issue. He talked about Isiah's obvious disappointment, and the fact that Thomas just flat out wasn't selected and left it at that.
Christian Laettner's Presence
What was Christian Laettner doing on that team? I don't care if he hit arguably the greatest shot in NCAA history or that he won two NCAA titles—he didn't deserve to even be the ball boy for that team.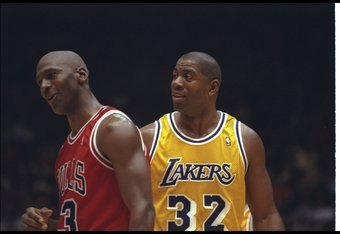 Getty Images/Getty Images
If he would've lived up to the hype and become a Hall of Famer then it would've added an extra dimension to the story and been a great subplot. Instead, this overrated guy ends up being one of the biggest busts in NBA history.
If there ever was a blemish on the Dream Team, that was it.
MJ's Hesitation
Why was MJ so hesitant on committing to the team when he was first asked? Was he really concerned about the quality of the players that he'd be playing with, or did he just flat out not want to go? I think it was probably because he didn't want to miss his tee times, but who knows?
Anyways, he was the only player who mentioned in the interviews that he wanted to make sure there were other talented and capable players around him before he committed.
Obviously I can't speak on behalf of the other players' thoughts or what they said behind closed doors, but based solely off of the interviews, none of the rest of them even contemplated that issue. It was a no-brainer for most of them.
Chris Mullin even said that he didn't care who else was playing. It was the first time that these guys had the opportunity to represent their country as professionals and that was enough.
I'm not questioning Jordan's allegiance or patriotism; I just want to know what his reservations were truly predicated on because the "who else is going to be on the team" question seems like an excuse and cop-out.
Transferring of the Torch
MJ took the torch from Magic and Larry in a single, notable instance. Although it was still a gradual transition, there is one defining moment that the basketball world can look back on as the passing of the torch: the practice scrimmage that took place after the team played the French National Team. Magic and Bird both conceded that it was Michael's throne.
The fact that MJ said afterward, "there's a new sheriff in town" was the icing on the cake.
I loved how:
a) This dethroning took place in a little-known practice scrimmage on foreign soil in the midst of one of the greatest socio-athletic experiments in the history of sports. It just adds to the greatness, prestige and legacy of the Dream Team's story.
b) The imagery of Bird on the sidelines watching Magic and MJ duke it out, acknowledging the idea that the tides were turning. Bird, at the end of the day, will always be considered second fiddle to Magic. (That's not knocking Bird in any way. The Celtics-Lakers rivalries of the '80s saved the NBA and basketball; Bird is due an innumerable amount of respect and praise for that. But it was Magic's crown to give away—not Bird's.)
Check Out: The Bench Review & Lakers Ledger