NBA Draft 2012: 5 Players Lottery Teams Should Avoid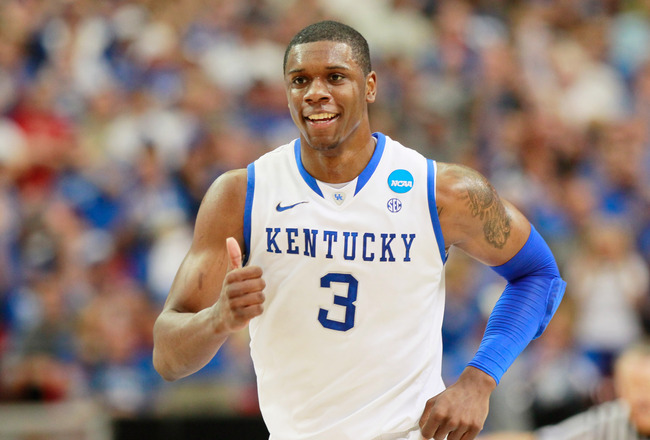 Kevin C. Cox/Getty Images
Kentucky's Terrence Jones has become the poster-child of a borderline lottery pick.
On the one hand, he's got arguably the most impressive mix of skills in the draft and the kind of front-line versatility that doesn't come around all too often. He's a lefty with a good inside-outside game, and his high-school days playing the point have made him a much better passer than most guys spending their time at the small forward and power forward spots.
He's also capable of making a defensive impact both in the paint and on the perimeter thanks to his athleticism and lengthy wingspan.
On the other hand, it's hard to know where Jones' head is at and whether he'll become the consistently tough fighter that stardom at the pro level necessitates.
Chances are that Jones probably does deserve a selection somewhere late in the lottery. He's already better than most high-upside prospects, and that upside is indeed high.
But, there are a few guys in similar boats who aren't worth the gamble. Here are five of them.
Jared Sullinger–PF, Ohio State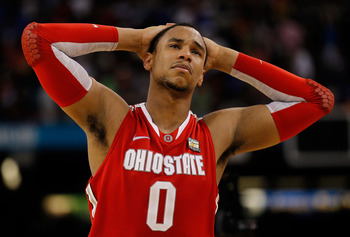 Chris Graythen/Getty Images
There's plenty to like about Sullinger's skill set and understanding of the game.
And, there are a few things to like about his strong frame. He'll battle for rebounds and can impose his will in the post, claiming position on both ends of the floor. That made him a fierce inside presence at the college level, but it may not pay quite the same dividends against the stronger bodies in the NBA.
That's especially problematic because Sullinger isn't especially tall–6'9" at best–and isn't nearly as athletic as a number of the big men in this draft.
Given Sullinger's intelligence and tenacity, he's certainly at less risk of becoming a flop than some of his more athletic counterparts.
But, he also doesn't have the same upside as some of those counterparts. While his draft combine results put to rest some of the more serious doubts about his size, his athleticism remains in as much question as ever when compared to similarly situated prospects.
In the best-case scenario, Sullinger could be the next Carlos Boozer. In the worst, he could be the next Glen Davis. It's far from clear which scenario is more likely, so anything beyond a very late lottery selection would be a stretch.
Meyers Leonard–C, Illinois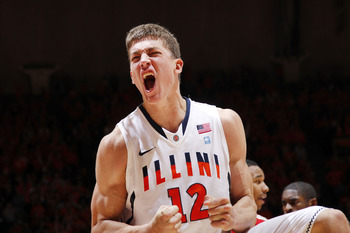 Joe Robbins/Getty Images
Leonard has tons of upside thanks to his size, explosiveness and above-average athletic ability.
Accordingly, he'll be a borderline lottery pick, but probably should fall in the 15-20 range. We've seen far too many promising big men struggle to develop their game in important ways, and Leonard could be the next.
Yes, he could also have a breakout pro season in another two or three years, but it will take a lot of work. You could say the same about a lot of guys, and obviously that's part of the risk that's inevitably associated with almost any draft pick.
But, teams inclined to take that kind of risk in the lottery are better suited going after guys like Andre Drummond early on or even a power forward like Perry Jones III a bit later.
If a team really needs a center late in the lottery, it's probably better off going with UNC's Tyson Zeller. His game is already more mature, and it's doubtful that Leonard has significantly more upside. So long as the safer pick is available, why gamble?
Moe Harkless–SF, St. John's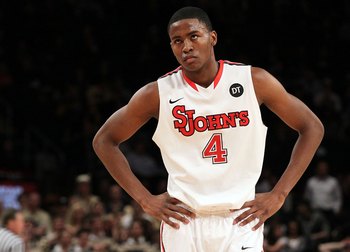 Jim McIsaac/Getty Images
Moe Harkless is an exceptional athlete with ideal size at the small forward spot. He excels in the open floor and at 6'9" can make a huge impact on the wing.
Unfortunately, he's raw in just about every important respect, from ball handling to shooting.
ESPN Insider Chad Ford explains:
If an NBA team can wait for Harkless' offensive skills to catch up to his athletic ability -- and it may take a year or two -- it could have a special player.

Harkless has an NBA small forward's body but a power forward's game. He played this entire season at St. John's as a post player because of the young team's lack of depth. But his lack of ball skills and his poor outside shooting also necessitated it. In fact, he shot just 20 percent behind the arc on 80 attempts. His ability to beat people off the dribble, especially going left, was inadequate.
That should conjure up images of a small forward prospect that received a heck of a lot more hype at the time: UNC's Marvin Williams. The Atlanta Hawks drafted Williams with the second-overall pick in 2005, and he's yet to come even close to justifying such a premium selection.
On the other hand, Harkless could always come closer to resembling someone like Luol Deng, but big small forwards with power-forward mentalities have a long history of short NBA careers. Buyer beware.
Arnett Moultrie–PF, Mississippi St.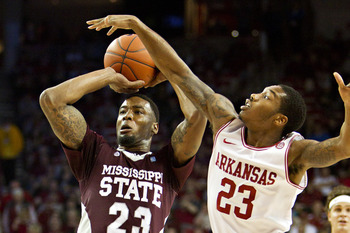 Wesley Hitt/Getty Images
Much like Meyers Leonard, the excitement surrounding Arnett Moultrie has a lot to do with his size and athleticism.
Leonard's offensive game may be slightly more appealing, though. In addition to his excellent hops, he already has a pretty solid perimeter game for a guy his size. Given how difficult it is to magically turn big guys into capable shooters, that can't be ignored.
The downsides are fairly serious, though–at least for the moment.
Moultrie doesn't defend well and hasn't shown the inclination to mix it up in the paint that you'd prefer to see from a guy his size. The perimeter ability is nice, but it seems to come at the expense of solid post play on both ends of the floor. His size and explosiveness should make him an intimidating shot-blocker, but so far that hasn't happened.
That should be a warning sign.
Dion Waiters–SG, Syracuse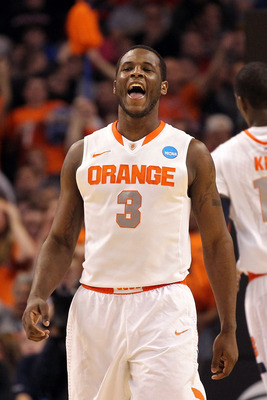 Jim Rogash/Getty Images
Dion Waiters is just about as controversial as anyone in this draft. ESPN Insider Chad Ford reports that some clubs see an incredibly high ceiling in the slightly undersized off-guard:
A number of NBA scouts who I really respect have been telling me for more than a month that the real sleeper in this draft is Syracuse sophomore Dion Waiters. One GM went even further. "There are really only two potential superstars in this draft. One is a sure thing -- freshman Anthony Davis. The other one is Waiters. He can be an electric scorer in the NBA. There's some Dwyane Wade in him."
That's obviously some pretty high praise. But, let's not get ahead of ourselves.
The path to NBA stardom is littered by flameouts who had "some Dwyane Wade" in them. As Ford goes on to explain, there are also some real concerns here:
The chorus from GMs about Waiters is always the same: Character? Defense? Body language? Coachability?
It should go without saying that turning into even a rough approximation of Wade requires each of those things, and lots of it.
Moreover, Waiters has yet to develop a consistent jumper, which could even jeopardize the parts of his game at which he excels. Without a perimeter game, his craftiness as a slasher won't count for a heck of a lot at the NBA level. Good defenders will know exactly how to play him.
Maybe Waiters will be the next big superstar, but you could say the very same thing about a lot of guys in this draft.
Keep Reading