Assessing the St. Louis Rams Upgrades at Defensive Tackle
June 14, 2012

Dilip Vishwanat/Getty Images
Strengthening the defensive tackle position was one of the main priorities for new head coach Jeff Fisher. Poor play at the interior of the line directly contributed to the St. Louis Rams' No. 22 defensive ranking.
More specifically, a soft middle led to a 31st-ranked rush defense. Veterans Fred Robbins and Justin Bannan struggled to hold up over the course of the season, and St. Louis were frequently overwhelmed in the trenches.
Fisher has been active via both free agency and the draft trying to fix the problem. He added solid pros Kendall Langford and Trevor Laws, and he used a first-round pick to select LSU linchpin Michael Brockers.
Yet it remains to be seen if this trio is dynamic enough to supplement the playmaking efforts of edge duo Chris Long and Robert Quinn. Langford played in a 3-4 front for the Miami Dolphins and is more of a 2-gapper, whose main strength is occupying, rather than beating blockers.
He has registered 7.5 sacks in four seasons and has some potential as powerful bull-rusher. Yet it remains to be seen if Langford can offer a consistent push in a 4-3.
A similar argument can be made regarding Brockers. The 6'5", 322-pounder is a big-bodied plugger in the middle. His true strength is the ability to draw and absorb double-teams.
He is not an elite pass-rusher, and given Fisher's history with players like Albert Haynesworth, it was a surprise that the Rams didn't target a more naturally explosive 3-technique like Fletcher Cox. However, Brockers' size, leverage and aggression give the Rams an obvious focal point to be rebuild their run defense around.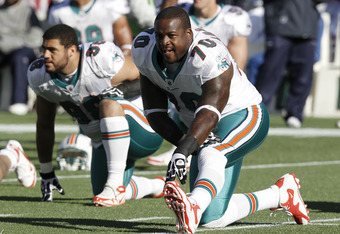 Winslow Townson/Getty Images
In fact, in a physical NFC West containing bruising runners like Frank Gore and Marshawn Lynch, a starting pairing of Langford and Brockers makes sense. The powerful duo should certainly keep star middle 'backer James Laurinaitis free from blockers.
Laws is the wild card in the mix. The 27-year-old can offer more interior pass rush than Langford and Brockers. He has notched five sacks in the past two seasons and could emerge as a starter at the 3-technique position in a more attack-minded, 1-gap front.
Fisher could use his new trio to field more 46-style packages this season. Both Fisher and de facto defensive coordinator Dave McGinnis have strong ties to the blitz-heavy 46 scheme.
The system is built on a "T-N-T" front, which covers both guards and the center with three aggressive, interior linemen. That would leave either Long or Quinn to act as the rush end, positioned in a wide-6 alignment on the weak side.
Although it is best known for its multiple blitzing, the 46 is an excellent run defense. That could make it the ideal weapon for a unit which yielded 152 yards per game on the ground in 2011.
While Fisher has not gone for dynamic athleticism at the position, he has recruited a young and aggressive tackle trio that could have a major impact on rebuilding defense. In particular, Langford and Brockers will be crucial to solidifying the run defense.
That has to be the priority when facing the San Francisco 49ers and Seattle Seahawks twice a season. However, given Langford and Laws' lack of big-play capability, there is a lot of pressure on Brockers to dominate from day one.