David Stern's Query into Flopping Is a Big Waste of Time
June 14, 2012

Ronald Martinez/Getty Images
The Truth & Rumors page on FanNation.com reported that during a pre-NBA Finals conference, commissioner David Stern said that the competition committee will look into the infamous phenomenon of flopping.
Fan Nation quoted Stern as saying: "'Flopping' almost doesn't do it justice. Trickery. Deceit. Designed to cause the game to be decided other than on its merits. We'll be looking at that."
As irritating as it is to see a player dramatically hurl himself into the ground in a way that is inconsistent with the amount of contact made, the time and energy that Stern and company are about to put into this issue will be a thoroughly wasted effort.
Even if this is a sincere attempt to try to curb one of the most annoying player offenses, there will be too many hindrances that will prevent the competition committee from being able to take any authentic or decisive action.
The most fundamental and most essential problem lies in the term itself: how does one define flopping?
A definition would have to be either clear and concise enough to give players and officials a coherent gauge for what constitutes a flopping violation, or the meaning would have to be so ambiguous as to allow referees to take an "I'll know it when I see it" stance.
Given the heat that the league has taken over that last few seasons about officiating and its rampant subjectivity, it's hard to see Stern going with the latter. That means that he and the committee would have to attempt to define flopping.
The attempt to define flopping will present its own difficulties.
Will it be confined to players attempting to draw an offensive foul, or will it also apply to offensive players trying to sell a defensive infraction?
Will it only be considered when there is a play on the ball, or will infractions away from the ball also be counted?
Will the flop be included in the list of things officials can review, or will it be a done deal after the whistle is blown?
Establishing the defined criteria would only be the beginning. There is still the requirement of creating an effective reprimand model that will help curb future instances.
If Stern and the competition committee are going to be sincerely dedicated to eliminating this supposed blight, they will have to come up with some sort of punishment to make it an authentic deterrent.

Suspensions would seem a bit too excessive and stiff fines would put the flop in the category of major violations such as technical and flagrant fouls. That hardly seems fair, seeing as how flopping doesn't involve endangering another player or disrespecting the officiating crew.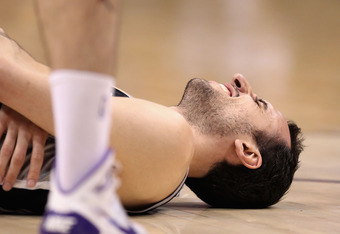 Christian Petersen/Getty Images
In fact, flopping doesn't really hurt anything or anyone at all.
Sure, a spectator may get irritated when Manu Ginobili or Derek Fisher whip their heads back and crash to the floor as if they just took an uppercut, but despite what Stern says, the effects don't go beyond a foul being mistakenly called.
When the entire athletic canon is examined, it becomes clear that every sport has their own variation of flopping.
The NFL has players faking injuries to get free timouts. The MLB has infielders using a matador-like sweeping arm motion to convince an umpire that a tag has been made.
These inconveniences are accepted as a part of the flow of the game, and since they have no real impact on a game's outcome, those other leagues have not decided to waste time in trying to categorize those actions as rule violations.
If and when Stern and the competition committee sit down to discuss flopping, they will soon see that any effort towards establishing and enforcing any kind of disciplinary policy will be tedious and, ultimately, fruitless.
In the grand scheme of things, a player taking a self-inflicted header after receiving glancing contact is the least of the league's worries.
No one, not even Stern, should expect any decisive action to be taken; the flop is here to stay.