Heat vs Thunder Game 2: Why Shane Battier Is Key to Miami's Title Hopes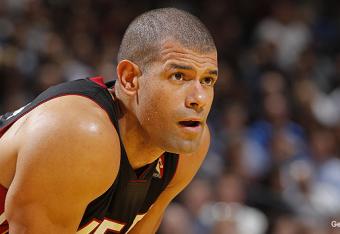 There's only one team in the entire NBA that can make the Miami Heat look slow.
Unfortunately for them, the Oklahoma City Thunder is just that team.
For the Heat, playing the Thunder couldn't have come at a worse time, as the battle between the two squads is on the biggest of stages: the NBA Finals.
Oklahoma City's 105-94 Game 1 victory Tuesday left Miami searching for answers. After grinding out seven games against a creaky Boston Celtic's squad, the Heat were thrown into the fire with an athletic, quick, fast Thunder team with three-time scoring champion, Kevin Durant, leading the charge.
You can use any superlative you want to describe how good OKC is, but the proof was in the pudding Tuesday: Durant when 12-for-20 from the field, Russell Westbrook played great and even though James Harden, representing the third brain of the three-headed monster, didn't even play that well in 22 minutes on the floor, the Thunder didn't miss a beat. Imagine when he gets it going.
What will it take for Miami to rebound? That depends on a couple of factors.
Two clear reasons why the Heat lost Game 1 include Dwyane Wade's shooting (7-of-19 shooting; 19 points) and LeBron James disappearing—once again—in the fourth quarter.
Though James and Wade are the leaders, it's up to others to contribute. The role players in this series have a larger effect than you think and they will determine the winner of this series, despite all the superstars.
The savior for Miami may come in an unflattering and surprising form: Shane Battier. (That's right, Shane Battier.)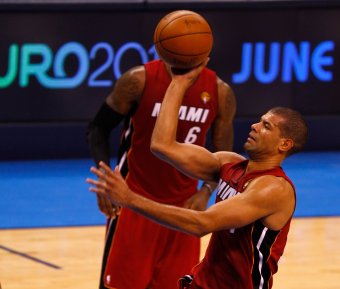 Mike Ehrmann/Getty Images
Here's why:
Battier's ability to shoot is asset for the Heat:
Battier's Game 1 performance was arguably his best of the season.
Battier shot 6-of-9 from the field Tuesday night, including 4-of-6 from beyond the arc, which is the bread and butter of his game. Although he didn't necessarily disappear in the second half, he wasn't nearly as effective once the Thunder made their second-half adjustments, which was a turn for the worst for Miami.
Battier wasn't the player at all during the regular season that Miami expected when they signed him during the offseason. During the year, he shot a very disappointing 33.9 three-point percentage—a career low.
His career 38.2 percentage from beyond arc is what the Heat hoped to gain when they signed him, as his ability to shoot opens up space on the floor for James and Wade to make plays at the rim.
For Miami, the fact that Battier came alive to contribute in the first half is a tremendous asset going forward in this series. If he can keep it up and put together a full game, then the pendulum may be slowly swinging in the Heat's favor.
Who do you feel is the most important role player for the Heat?
Battier's ability to cover Durant may be a difference:
All pure shooters are taught at an early age when learning the game of basketball that it's vital to not lose sight of the rim, remain locked in and to be aware of one's surroundings when pulling the trigger on a shot.
Kevin Durant took 14 jumpers in Game 1. Of those 14, he made eight of them. Of those eight shots, four of them were contested by hands flying in on his body. However, of those eight makes, none of them were contested by a hand near his eyes.
Battier, at times over the course of Game 1, was able to frustrate and throw Durant off with his innate ability to get his hands an inch away from the scoring champ's eyes, obviously disrupting his vision. Battier's talent of closing in on shooters and getting a hand in their eyes to block their vision is a really subtle advantage—something that seems so simple on the surface, yet so complicated for shooters to avoid when pitted against him.
He was able to frustrate Durant at times throughout the contest: He closed in on the OKC star in the first quarter on a three-pointer, again in the third and once more on a baseline jumper by Durant in the fourth.
It seems so simple, but Battier's ability to disrupt shooters with his hands can mean the difference between a three-pointer and a miss, a 12-foot jumper and a miss, and so on.
Look for Battier to continue his defensive play, and for the rest of the Miami's squad to capitalize on it.
This article is
What is the duplicate article?
Why is this article offensive?
Where is this article plagiarized from?
Why is this article poorly edited?

Miami Heat: Like this team?