Could Kendrick Perkins Be Back with Boston Celtics Next Season?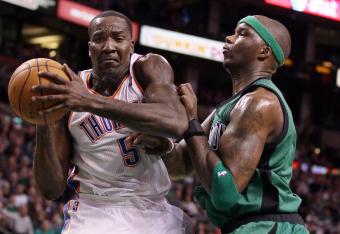 Elsa/Getty Images
You all remember what happened last February. The Boston Celtics looked to be well on their way to winning another title. They had the deepest frontcourt in the league with Kevin Garnett, Shaquille O'Neal, Jermaine O'Neal, Glen Davis and...Kendrick Perkins.
Then, Danny Ainge did the unthinkable. He dealt Perkins (along with Nate Robinson) to the Oklahoma City Thunder for Jeff Green, Nenad Krstic and a 2012 first-round draft pick. Just like all of you, I was absolutely stunned when I heard the news. With Shaq's health hanging on by a thread, how could Ainge deal the proverbial enforcer?
Needless to say, the trade hurt the Celtics, big time. Shaq's balky Achilles did not get any better for the playoffs, and with his absence plus the departure of Perkins, Boston was eliminated by the Miami Heat in the second round.
The C's clearly missed Perkins in that series, as the Heat were able to attack the rim relentlessly, something they certainly would not have been able to do with Perk patrolling the paint.
The trade hurt the Celtics this year, too. Not only was Perkins in Oklahoma City, but Green, the key piece in the deal, was forced to undergo heart surgery and missed the entire season (we're looking forward to having you back next year, Jeff [provided you re-sign]).
Then, once again, the postseason came around. Boston advanced all the way to the Eastern Conference Finals, but, once again, it fell to Miami, and you have to think that the C's would have beaten the Heat had Perkins still been in green.
Remember what Rajon Rondo said after Game 1 of that series? "They [the Heat] have to hit the deck, too." Now, who would have been the perfect player to follow through on Rondo's comments? Perkins.
Perkins is currently playing Miami in the finals, a place the Thunder may not have been without his services (the job he did against Andrew Bynum in the conference semifinals was unbelievable). Here's the catch, though: Oklahoma City may be forced to amnesty Perkins this offseason.
Why?
Well, think about it. The Thunder have to make commitments to James Harden and Serge Ibaka for the future, and they have already signed Russell Westbrook and Kevin Durant to lucrative long-term deals.
It's going to be extremely difficult for Oklahoma City to lock up one of Harden and Ibaka, and then when you throw Perkins' contract into the mix? It just makes for a very messy situation for GM Sam Presti, and his hand may be forced here when it comes to Perkins.
So, let's say the Thunder do amnesty Perkins this offseason. How silly would the Celtics be to not attempt to bring him back?
It is very evident that Boston gravely misses Perkins. No, he may not have the same type of mobility he did before tearing his ACL in Game 6 of the 2010 Finals, but he is still a big body and a great interior defender, something the C's sorely need.
Garnett may very well be the best defensive player in the league, but he is not an enforcer. Greg Stiemsma is a great shot-blocker, but that's about it.
The Celtics desperately need a player like Perkins to add some toughness up front, and if you pair him up front with K.G. (yes, I am fully expecting Garnett to be back next season), can you imagine the kind of defense that would be? Actually, you can, because we've seen it before.
If OKC and Perkins do indeed part ways, Boston must explore bringing him back. Of course, it would have to be at a reasonable price, but if that price tag is justifiable, I think the C's absolutely have to pull the trigger.
I realize that I am getting very far ahead of myself here, but for the sake of argument, let's examine the type of flexibility that Perkins would give the Celtics if he returns.
Assuming Boston brings Brandon Bass back, you would then have Bass and Green coming off the bench, automatically giving the C's one of the best one-two punches off the pine in the league.
You then take into consideration the Celtics' two first-round draft picks (one of which they received in the Perkins deal) and the fact that they will probably sign another free agent or two (maybe Ray Allen takes a pay cut to return?) to patch up some holes, and you have yourself an extremely formidable squad.
This is all just me speculating right now, but when you really think about it, the possibility is definitely realistic.
This article is
What is the duplicate article?
Why is this article offensive?
Where is this article plagiarized from?
Why is this article poorly edited?

Boston Celtics: Like this team?