Gary Kubiak: Why Houston Texans Made Smart Choice Extending Their Head Coach
June 14, 2012

Gary Kubiak received an extension today from the Houston Texans (per John McClain of the Houston Chronicle), an intelligent move by the reigning AFC South champions.
After years of being labeled the team merely on the cusp of being playoff caliber, Kubiak's crew finally broke through in 2011 despite losing star quarterback Matt Schaub to a serious foot injury down the stretch.
Kubiak was coaching for his job last season, but his team did enough for its coach to be removed from the proverbial hot seat, as his club was one of the most balanced teams in the NFL.
The Texans ranked 13th in total offense and second in total defense last year. The defensive transformation was in large part due to new defensive coordinator Wade Phillips, a guy in which Kubiak has a great deal of faith.
This extension displays the team's satisfaction with Kubiak's resolve after spending the last few seasons barely on the outside looking in on the postseason.
At this point, with their current standing atop the AFC South, continuity within the Texans organization is vital.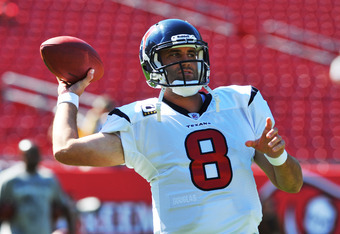 Al Messerschmidt/Getty Images
The AFC South is not nearly as competitive as it used to be, and Houston obviously has the most talented and deepest roster among its divisional rivals. 
Keeping Kubiak, in addition to his coaching philosophy and schemes on both offense and defense, was a must. With Schaub returning from injury and Andre Johnson having ample time to nurse his hamstring back to full health, along with one of the best defensive lines and rushing attacks in football, the Texans are equipped to make a legitimate run at the Super Bowl.
Kubiak has been there since 2006, when the team began building for a season like the one that is approaching. He has embodied the low-profile, underrated status of the Texans over the last five years.
If anyone knows how to coach through adversity and with the odds stacked against him, it's Gary Kubiak—a man deserving of the extension he was just granted.