NBA Rumors: Why Michael Kidd-Gilchrist Would Flourish with Kemba Walker
June 14, 2012

Ronald Martinez/Getty Images
It's almost draft time, and that brings rumors of which players will fall where.
Basically locked in at No. 1 will be Anthony Davis, the only "franchise changer" in this year's NBA draft.
But after Davis, the rest of the players could go almost anywhere.
Michael Kidd-Gilchrist is one of the best ballers in the draft, and he's almost certainly going in the top five, according to all the experts.
Exactly which team takes him is up in the air like a tip ball.
But Kidd-Gilchrist has already made it clear which franchise he wants to play for when he said he wants to ball out with Kemba Walker.
Rick Bonnell quoted Kidd-Gilchrist when he tweeted, "Michael Kidd-Gilchrist says he'd love to play with Bobcats' Kemba Walker, who he describes as a 'monster.'"
Kidd-Gilchrist and Walker could be dynamite on the floor with one another, especially considering all the upside both of the young, athletic players have.
Just before joining Kentucky last spring, head coach John Calipari said of Kidd-Gilchrist (per Kentucky's official website),
Michael is a flat-out winner. He was the leader on one of the best high school teams in the country, not because he's one of the nation's best scorers but because of his intangibles, intensity and passion. With his athleticism and length, he has the ability to be one of our best defenders. I'm looking for Michael to be the fire of this team.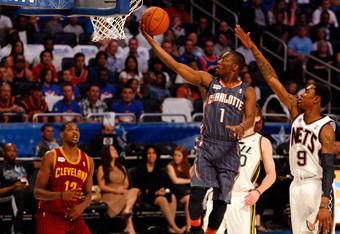 Ronald Martinez/Getty Images
The 19-year-old did just that in his freshman season, scoring 11.9 points and grabbing 7.4 rebounds per game in his 39 starts last year.
Kidd-Gilchrist played his best during the NCAA tournament, putting up 12.3 points and 6.5 boards per contest while helping his Wildcats to a college championship.
MKG has all the makings of being a big-time small forward in the NBA; he's 6'7", 232 pounds with room to add strength, he scores at a high clip while going after loose balls, and he knows how and when to assist teammates, dishing two dimes per last year.
He's got the perfect build, is incredibly athletic, plays solid defense and has a basketball IQ that is quite high for someone only playing one year at the NCAA level. Of course, he has things to work on—like shooting and ball-handling—but many scouts are secure in knowing Kidd-Gilchrist will be an impact starter right away.
Likewise, Walker has already proven he has what it takes to play point guard—the on-court-leader position in the NBA—scoring 12.1, with 4.4 assists and 3.5 boards per game last year, his rookie season. Walker played all 66 games last season with the horrendously bad Bobcats, and he's their lone shining star as far as talent is concerned.
Landing Kidd-Gilchrist to play alongside Walker could be a boon for the Bobcats if MKG continues to improve, because the rookie could likely step in and immediately impact the team—while earning that extremely valuable playing time and experience early on.
Kidd-Gilchrist cutting the lane and getting dropped dimes from Walker would be a thing of beauty for the Bobcats.
And while he may not be Anthony Davis talent-wise, Kidd-Gilchrist is one of the most talented players entering the NBA this offseason; he's one of the few that could develop into a star—exactly what Charlotte needs.
In a city where basketball is the third-biggest sport to NASCAR and NFL, even Michael Jordan can't find a way to make the Bobcats profitable. But, if they can land MKG and pair him alongside Kemba Walker, it could make for some entertaining, high-scoring and furiously fun basketball for many years to come as the two grow individually and together.
Plus, even though Walker just finished his rookie campaign, he's three years older than Kidd-Gilchrist, meaning he'll be able to mentor him a bit about what it means to be a blossoming star in the world's best basketball league, on the biggest stage.
Rich Kurtzman is a freelance journalist. You can follow Rich on Facebook and/or Twitter for links to articles, interesting retweets and breaking news.