Lance Armstrong: If the Cycling Legend Doped, Then I Don't Want to Know About It
June 14, 2012

Bryn Lennon/Getty Images
Seven-time Tour de France winner Lance Armstrong once again finds himself defending his name against fresh allegations of doping by the US Anti-Doping Agency (USADA).
Armstrong, as he always has done in the past, has denied the allegations. The American dismissed them as "baseless [and] motivated by spite."
As a cycling fan who has grown up watching Armstrong battle his way to a record seven consecutive Tour de France wins, these new allegations bring a feeling of apathy. Not only do I not care if Lance Armstrong doped—even if he did—I'd rather not know.
Armstrong is no ordinary sportsman, he stands for so much more than that. The story of a 25-year-old man diagnosed with potentially fatal cancer only to beat it and rise to the very top of his sport is a well-traveled tale.
However, it is not Armstrong's personal life which leads me not to care whether or not he doped.
Cycling during the years of Armstrong's domination was a sport riddled with cases of doping. This was evident at the time and with confessions is becoming more so as time goes on. Armstrong's record run of wins started in 1999 and ended in 2005. The winners of the biggest race in cycling before and after Armstrong tell a very clear story.
In 2006, a year after Armstrong originally retired, we had the very public case of Floyd Landis. Landis became the first-ever rider to be stripped of his Tour de France title after an unusually high ratio of the hormone testosterone was found in his sample following a stunning solo performance on stage 17 of the race.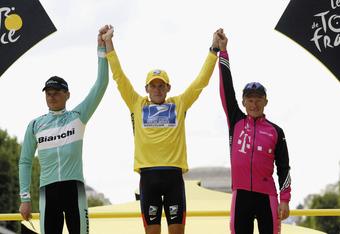 Robert Laberge/Getty Images
The three riders to win the race before Armstrong have all since been linked to doping in their careers.
1996 winner Bjarne Riis became the first Tour winner to admit to using performance-enhancing drugs. In 2007, Riis admitted that he had used the blood-booster EPO throughout his career, included his Tour victory.
The runner-up to Riis in '96 was fellow Telekom rider Jan Ullrich, who won the race for himself a year later. Ullrich was symbolically banned by the Court of Arbitration for Sport earlier this year due to blood doping. While not affecting his Tour win, the move means that all of Ullrich's results since May 2005 have been annulled.
The winner of the 1998 race, Marco Pantani, has been likewise linked to cheating. The year after he won the race Pantani was expelled from Giro d'Italia due to an irregular blood sample.
It was not just the overall contenders that were guilty of cheating. Sprinting legend Erik Zabel came out in 2007 and admitted to having taken EPO while riding for the Telekom team in 1996, the year of Riis' victory. Fellow Telekom rider Rolf Aldag also admitted to doping, telling the same press conference,
In 1994, I discussed with several teammates what was happening in cycling and I decided to actively seek out doping products. I began taking EPO in 1995.
These examples show that at the highest level, doping was prevalent in cycling before and after Armstrong. It is only recently that real measures have been put in place to catch cheats. Viewers can have confidence that the majority of the peloton is riding clean.
While Armstrong was making his record breaking run of Tour de Frances, this was not the case. Eight different riders achieved a podium place beneath Armstrong in his winning years. Every single one of these eight riders has at the least been linked with drug taking.
None of these riders have or had a profile even close to that of Lance Armstrong and so the consequences have been fairly minimal to the sport. Only Jan Ullrich's third place in 2005 has been stricken from the record.
The day before his suspension was announced, Ullrich had become a brand ambassador for a German hair product, which has the slogan, "Doping for the hair."
Throughout these years of widespread doping, Armstrong was the beacon of clean riding. Allegation after allegation were aimed at the Texan, but each one fell by the wayside. If Armstrong is stripped of his Tour victories then we have to accept that the sport we have followed has a ten year black hole where nothing we saw mattered.
Instead of this, I would rather remember those years for what they were—full of great moments.
Why remember Armstrong as a drug cheat when you can remember him powering up Mont Ventoux in 2002, cutting Richard Virenque's lead from seven minutes to just 2:20? Or crashing on the way up to Luz-Ardiden before storming past arch-rival Ullrich and taking the stage?
The people who are hell-bent on proving that Lance cheated need to ask themselves one question, why does it matter so much?
Like all of the previous allegations, more likely than not, these fresh ones will be thrown out. But each time these accusations are hurled at him, Armstrong's reputation takes a knock.
In 2008, Tour de France organizers reinstated Bjarne Riis as the winner of the 1996 race saying, "We cannot rewrite history."
Hopefully the US Anti-Doping Agency learns the same lesson and aborts its mission to strip Armstrong of his Tour victories.