NBA Draft 2012: Lottery Teams with Toughest Draft-Day Decisions
June 14, 2012

Jeff Gross/Getty Images
Not every decision in the 2012 NBA draft is as easy as, say, taking Anthony Davis No. 1 overall. In fact, there are no easy decisions beyond Davis' selection by the New Orleans Hornets.
There are a ton of potentially elite talents in this class, but none of them are guaranteed to succeed. Some have holes offensively, others have holes defensively, and some simply haven't been able to live up to their ridiculous expectations.
This poses a problem for lottery teams because, in most cases, these teams have a number of needs.
Here's a look at the teams whose decisions are most difficult in this year's draft.
Charlotte Bobcats
This really shouldn't be all that difficult, but the Bobcats are making it difficult. This team has no legitimate superstars to build around and they have a need at nearly every position.
There is talk of them possibly looking to trade down because they cannot decide between the likes of Michael Kidd-Gilchrist, Bradley Beal, Thomas Robinson and Harrison Barnes.
All four players are extremely different, but would help this team immediately. 
The Bobcats have to decide what direction they want to go in because who they select here will be one of the building blocks for years to come.
Sacramento Kings
Much like the Bobcats, the Kings need to decide what direction they want to go in for the immediate future. Part of that decision hinges on what they are going to do with Tyreke Evans and where they're going to play him.
That decision immediately impacts what they'll do with this pick. Drafting another big man like Andre Drummond to pair up alongside DeMarcus Cousins could be a huge mistake. This team has struggled to develop talent (look at what they've done to Evans for example) and Drummond needs to be coached.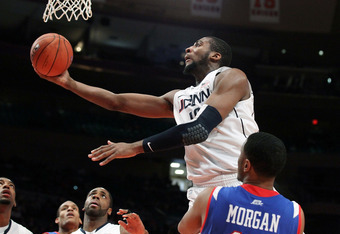 Jim McIsaac/Getty Images
A more sure thing like Thomas Robinson or even Jared Sullinger (although this is high for him) would make more sense.
This team has arguably the toughest decision to make.
Portland Trail Blazers
The rebuilding Blazers have two lottery picks to work with, and this selection directly impacts the direction they go in later on at No. 11. They have to decide whether or not to go after a player who can immediately help LaMarcus Aldridge and Wesley Matthews (and possibly Nicolas Batum) and push this team to the postseason or whether to take a chance on someone like Drummond or Damian Lillard.
A more immediate fit would be the likes of Harrison Barnes (if available) or a reach for Jeremy Lamb.
Dion Waiters and Austin Rivers, two kids with the clutch gene, scoring chops and potential, also fit the bill as possibilities here.
The Blazers will be flushed with decisions on talented kids at both picks, but to make the most of it, they have to identify what their identity will be this season and in the immediate future.