Tiger Woods: Why a Fast Start Is Essential to Tiger's U.S. Open Success
June 14, 2012

Ezra Shaw/Getty Images
In the wake of Tiger's infidelity scandal and subsequent fall from grace, Tiger Woods has found a new forte. He used to bring his A-game to every major tournament; if he was in the field, it was Tiger vs. everybody else. Who ya got? The numbers favored the latter, but only a fool would bet against Tiger Woods in a major.
In 2012, however, Tiger has found a new type of tournament to dominate: the tournament right before a major!
Tiger won the Arnold Palmer Invitational this March, right before the 2012 Masters. It was his first PGA Tour win since 2009. He was supposed to carry that momentum into Augusta, but he wasn't able to, finishing five strokes over par.
In like manner, Tiger won his most recent event before this weekend's U.S. Open, capturing the Memorial Tournament in Dublin, Ohio. And also in like manner, Tiger is expected to carry that momentum into San Francisco this weekend, and finally resume his quest for the most majors in PGA history.
And in order to do that, he needs to jump right out of the gate. Right from the first tee, we need to see Memorial Tiger, not Masters Tiger.
He can't play it safe out of fear that he might embarrass himself by missing the cut. He needs to walk out onto the first tee in one of those vintage Tiger zones––the ones where he genuinely believes every drive will land on the fairway, every iron shot will spin onto the green, and every putt will gracefully find itself at the bottom of the pin.
At the Masters, Tiger showed timidness and instability like we've never seen from him before. He was over-thinking every shot he took, and when it came off poorly (as the over-thought shots so often do) he would throw and kick his club around the green, like a petulant child on his first ever golf outing.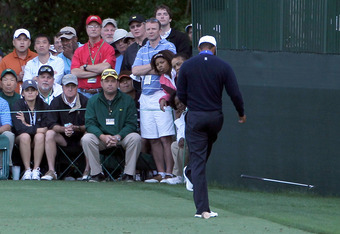 Jamie Squire/Getty Images
I don't know how it feels to be Tiger Woods, but I can't imagine it's easy. The pressure. The expectations. The entire world hanging on every swing you take. But the beauty of Tiger is that in his prime, he was able to block out all of those pressures on the biggest stages. He made the U.S. Open look like it was just another practice round on his local course.
A quick start could get him back into that cathartic state of mind for the following three rounds. He just needs to remind himself that he's capable of performing on this type of stage. All he needs is one good round, one evening where he looks up at the leaderboard in the clubhouse and sees his name. Because he's shown that his unparalleled resolve no longer exists, a poor performance in round one could derail his rhythm for the entire weekend.
Tiger's performance in Round 1 is gonna lead off Sportscenter no matter how it plays out. He could shoot a 50, a 90, or anything in between, and it would still be the biggest story of the day. But a poor performance out of the gate has proven that it's capable of rattling the once impregnable stoicism of Tiger Woods.
And if he chokes at Olympic this weekend, there's no way we'll be considering him a legitimate threat at the British Open later this summer––even after he wins the John Deere Classic the weekend before it.
Tiger Woods is playing with Phil Mickelson and Bubba Watson in Round 1. They tee off at 10:33 am EST.