Rory McIlroy: Why Patience Is Key for Golf's Youngest Star Heading into US Open
June 14, 2012

Ross Kinnaird/Getty Images
This weekend, 23-year-old golfing phenom Rory McIlroy will attempt to defend his US Open title at the Olympic Club in San Francisco.
But, the young Irish star won't have the winds of momentum filling his sails as play begins today.
It has been over three months since McIlroy edged out Tiger Woods to win the Honda Classic and since that win, he has missed three cuts (two in the US and one in Europe) and finished at a tie for 40th in The Masters.
The Honda Classic is his only win of this year, not exactly putting him in great position for a run like his at Congressional for last year's US Open.
But, it is important that Rory does not become discouraged at his recent shortcomings on the course.
I'm sure he will remember the fact that he only had one top-five finish on US soil last year before his dominating eight-stroke victory at Congressional.
If I were Rory's sport psychologist, I would remind him that momentum isn't everything and that each tournament is a new life.  
Just because he hasn't won in a while, doesn't mean he isn't one of the favorites to win it. (Just ask Bleacher Report's Ron Juckett.)
Favored or not, the winner will have done a number of things, both mentally and physically, to remain on top by Sunday evening.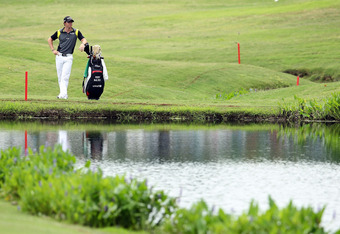 Andy Lyons/Getty Images
But, the No. 1 key to winning will be patience.  
In general, if you've played golf, you know that it can be a very, very frustrating sport.
You can put a nice swing on the ball, pick it cleanly off the turf, and drop it on the green—only to have it roll off into the water hazard.
At that point, all you can do is forget about your $4 Titleist Pro V1x drifting to the bottom of the drink, pull another out of your bag and move on.
Over the course of this season, McIlroy has dropped a few in the pond, both literally and figuratively (see: missed cuts at the Players Championship and Memorial tournament). 
So now, he just needs to call his Titleist rep, order a new box of custom balls, and swing away at the Olympic.
Of course, it won't be just that easy to win the tournament they call "Golf's Toughest Test." 
Masters Champion Bubba Watson was quoted by Doug Ferguson in the Washington Times, as saying he expects the winner to be somewhere around five-over par at the end of the week.
"What is par, 70?" Masters champion Bubba Watson said. "It's not really 70. It's over par. Five-over par at the end of the week, just like at Oakmont [in 2007], probably has a great shot at winning, unless something changes dramatically with the weather or something like that."
In the article, Ferguson also quoted USGA executive director Mike Davis as saying he expects winning year's Open to be a much more daunting task. 
"We want this event to be a real challenge," Davis said. "I think looking back, we identified the best player last year. [Rory]'s been a wonderful champion. But at the same time, I wouldn't want to go through every year where we have four days of wet, soft conditions because it doesn't … really embellish on what we're trying to do in terms of identifying a national champion."
In last year's US Open win, McIlroy laughed in the face of golf's "toughest test," storming to a 16-under weekend finish.  
To defend his title, McIlroy will have to weather the shock from playing at 16-under last year, to possibly being over par for the entire weekend this year—something that will undoubtedly take patience.
He has to know that he has what it takes to beat not only Tiger and Bubba, but the rest of the field as well.
But most importantly, he has to know that it will require a lot of patience for him to become the two-time defending US Open champion.