US Open 2012 Pairings: Top Can't-Miss Trios of Rounds 1 and 2
June 14, 2012

Jeff Gross/Getty Images
The 2012 U.S. Open promises to be a tournament to remember, possibly not for the finish, but definitely for the start.
A few of the pairings at the Olympic Club for rounds one and two are, in one word, epic.
This golf course, located in San Francisco, hasn't hosted a major PGA championship since the 1998 U.S. Open. The winner that year, Lee Janzen, was even par.
The course is extremely difficult with long, narrow fairways, deep rough, pesky doglegs and dangerous pin placements.
It's the type of course that could eat up and spit out even the best golfers.
So rather than risk losing potentially elite competition, the tournament has paired together some of the best golfers for rounds one and two.
Tiger Woods, Bubba Watson and Phil Mickelson (Round 1: 10:33 AM ET tee time)
One of the earliest tee times of the day, Tiger, Phil and Bubba offer possibly the most dangerous pairing of all.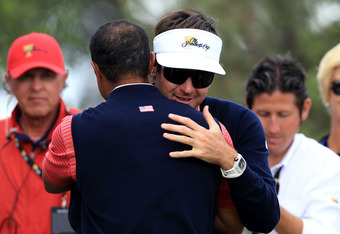 Quinn Rooney/Getty Images
Woods is coming off a win at Memorial, but he's also one of the golfers best-suited to handle the rigors of this course. While wayward shots off the tee are a distinct possibility, he's easily the best on tour at handling himself in precarious lies.
Bubba, meanwhile, is coming off a huge Masters win and has a ton of pressure on his back (this pairing doesn't help matters). That said, he's beyond excited and even tweeted:
Thinking about WDing from US Open cause I want to watch @TigerWoods & Phil on tv. But I forgot I got the best seat in da house!! #CrazyFan

— bubba watson (@bubbawatson) June 14, 2012
Technically Bubba won't be seated at all, but he'll have a firsthand look at Tiger and Phil as he plays through the first two rounds with the dynamic duo.
As for Phil, he's no stranger to playing alongside Tiger and won't be fazed.
These three will be fun to watch.
Martin Kaymer, Hunter Mahan, Justin Rose (Round 1: 4:25 PM ET tee time)
This trio simply oozes potential.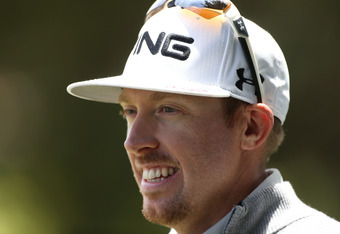 Andrew Redington/Getty Images
Kaymer is the only one with a major under his belt, but all three are capable of making a run. Mahan actually has a few experts tooting his horn this weekend, so it'll be interesting to see what type of start he gets off to.
Look for this group to all play well and they should be fun too watch too.
Rory McIlroy, Luke Donald, Lee Westwood (Round 1: 4:29 PM ET tee time)
And then there are these guys, the defending champion and the yet-to-wins.
McIlroy would have to defy ridiculous odds to repeat as champion, but we know he's going to give it a run.
Donald and Westwood, as always, continue their pursuit of that elusive first major championship.
For obvious reasons, this a group that will capture the eyes of everyone once Tiger, Bubba and Phil are off the course.