2012 NFL: Alex Smith, Robert Griffin III and Other Surprise Breakout Players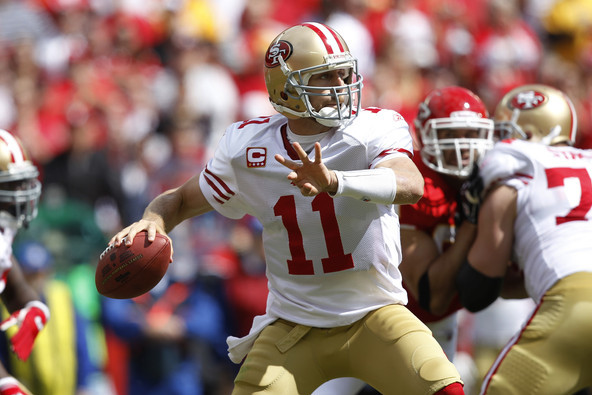 Ezra Shaw / Getty Images
As OTAs grind to a finish and mini-camps around the league begin to open up, the anticipation for the upcoming NFL season thickens. Some teams made blockbuster acquisitions others key draft picks to try and fill holes and reinforce strengths. However, for most teams the key ingredient has been there all along and with continued preparation throughout the summer, the fall will yield a break out season.
NFL analysts and fantasy football players alike are teeming to know who will be the surprise hit player of the 2012-2013 season. I have scoured rosters from offense to defense and here are some of the names that will have an impact on their team's success.
Follow Me on Twitter: @AlspaughZA
Begin Slideshow

»
Ezra Shaw/Getty Images

Darrius Heyward-Bey, the final Al Davis special back in 2009, was severally over-drafted because he could run fast — really fast. Heyward-Bey showed signs of becoming a threat in the passing game hauled in a personal best 64 receptions and 4 TD. Although not a standout quite yet, 2012-2013 could be a pivotal year for his career. Quarterback Carson Palmer took a liking to the speedy wideout towards the end of the season, and good rapport with the veteran quarterback could mean lots of balls headed in his direction.
Former offensive coordinator Hugh Jackson misused Heyward-Bey, buying into the Al Davis 4.2 40-hype by only using him as an over the top deep ball threat. However, as Heyward-Bey has demonstrated, he excels in short timing routes where he can burst past defenders for YAC. New coordinator Greg Knapp, who favors a west coast style pass attack of quick underneath routes will play toward Heyward-Bey's strengths. There is only room for improvement for the lightning fast and incredibly raw talent.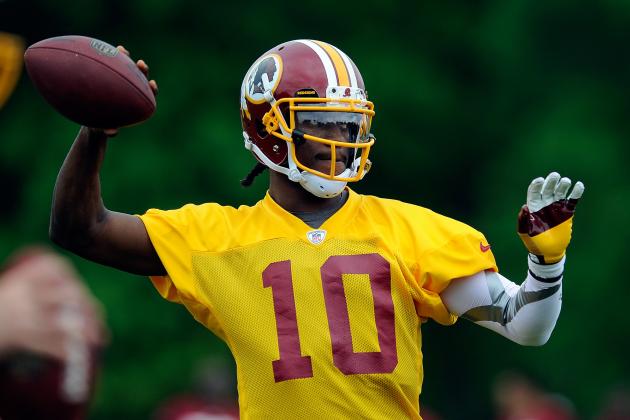 Patrick McDermott/Getty Images

Robert Griffin III was traded up for and brought to Washington DC for one very simple reason: to revitalize the dying Redskins franchise. He is the lifeline to Mike Shanahan remaining employed and the new face of the organization. The offense, all plays runs, offseason pickups, trades, and draft picks will all revolve around allowing RGIII to succeed as their starting quarterback.
RGIII brings some incredibly raw talent to the league. It is not a question of if but when he will become the NFL's newest superstar. At the college level he demonstrated some impeccable accuracy with a 72.4 passing rate with 37 TD and only six interceptions. Keeping the ball out of the opposition's hands, as obvious as it sounds, is a huge key to his success. No doubt he will misread coverages, underestimate the closing speed of defensive backs, and get flustered and force the ball to receivers who aren't open, but all of these are natural learning curves graduating to the NFL.
If Griffin can keep the turn overs to a minimum, he will escape the fate of previous Redskin QBs such as Rex Grossman and Jason Campbell. It will ask help that RGIII will have a wily and experienced receiver core in Santana Moss, Pierre Garcon, and Chris Cooley. Look for Griffin to try and beat teams over the top, Manning-style to Garcon.
RGIII's final and most crucial element is his ability to run. Considering Washington isn't a team known for its O-line and that teams in the NFC East, particularly the New York Giants will have their pass rushers coming full attack. His ability to negotiate the pocket, elude defenders and scramble for big gains will be his biggest advantage. Expect Shanahan to call a fair amount of plays with roll outs, particularly play action sets.
A lot of critics say he won't have Cam Newton type numbers but i say why not. He offers all of the same skill set with perhaps a better arm. Plus, unlike Carolina who has a fairly threatening run game, the Redskins are looking to RGIII to be both the passing and the run offense and pretty much everything else in between. He will have a breakout year only because he will have to. Believe the hype, RGIII will have a big year.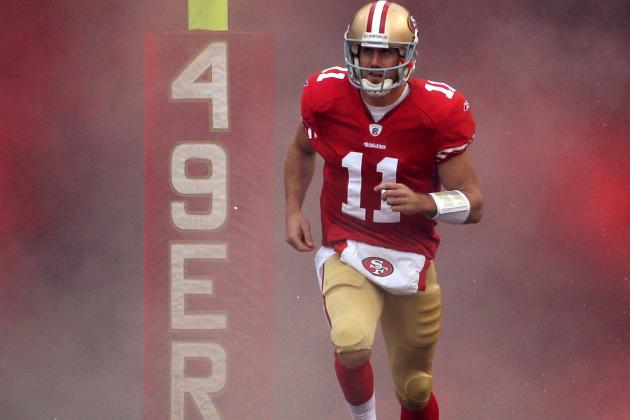 Ezra Shaw/Getty Images

This offseason is one of several firsts - he has continuity between offensive coordinator and the playbook, he actually exceeded last year's expectations, the organization has total confidence in him, and finally he is not in a quarterback competition for the starting spot.
Jim Harbaugh has made it very clear that Alex Smith is and will be the San Francisco 49ers starting quarterback. In fact, to help ensure some success, the front office spent the entire off season acquiring a whole new offensive arsenal for Smith to throw to starting with first round pick and speed oriented A.J. Jenkins, plus the experienced Randy Moss and Mario Manningham, added to the already threatening Vernon Davis, Michael Crabtree, and Delaney Walker. With this new receiving core the Niners promise to be a dangerous adversary through the air. And if that weren't enough, Trent Balke went ahead and added Brandon Jacobs and LaMichael James to add some relief to work horse Frank Gore, making the run just as worrisome as the passing game. Expect San Francisco to grind defenses down with a physical run game and then open things up with their new plethora of targets for Smith.
Smith was constantly criticized for being the 49ers weak point. However, finishing the year with a QB rating of 90.7 is no easy task. He did a good job of picking his spots and limiting turnovers (only throwing 5 picks all year). Yet the offense particularly Smith's passing game was paltry. In a Q&A with Niners' blogger Matt Burrows,Smith said, "We were so inconsistent when we had to throw the football. Third-and-mediums, third-and-longs, we weren't very good. Red zone, we weren't good at times. We've got to get better there."
Smith last season demonstrated he could pilot the offense. Like a sixteen year old student driver he was slow, cautious, deliberate and always used his turn signals. This time around, Balke and Harbaugh have bought him a brand new Porsche, tossed him the keys and said let her loose. Alex Smith, coupled with a strong run game, will pick apart defenses. Expect a new and improved offense to match their fierce defense.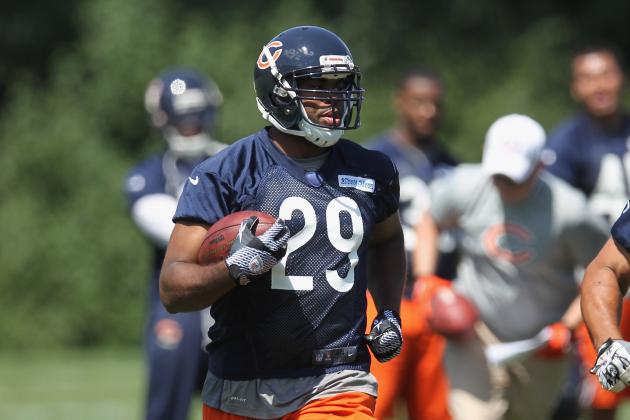 Jonathan Daniel/Getty Images

The former Raider tailback was brought to Chicago to supplement carries with franchise player Matt Forte, who suffered a sprained MCL last season. Bush is the perfect second back for the Bears because if Forte goes down, they won't skip a beat, unlike last year when critical injuries ended any hope for the team to reach the postseason. Of course, the Bears are still waiting for Forte to sign.
Bush will bring the physical yin to Forte's agile yang. He runs with a full head of steam, doesn't avoid contact, and can block well too. So far he has fit in nicely with the Bears' system. Jay Cutler told the Chicago Sun-Tmes (h/t CBS Sports) this about his new running back, "He's such a pro. He does things the right way. He comes ready to work. He's a smart guy. He picks up the system quickly." He, Mike Tice, and Lovie Smith are excited to see the combination of Bush and Forte in full swing come this fall.
Michael Bush who finished just shy of 1,000 yards (977) will surpass the millennial mark with ease. Chicago will be the city Bush transforms himself into an elite running back.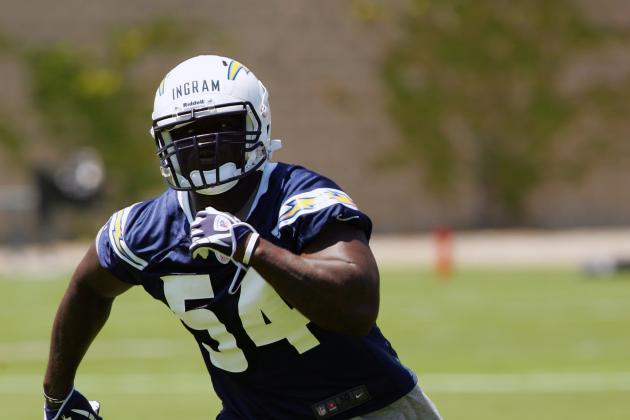 Kent Horner/Getty Images

From Aldon Smith in San Francisco, to James Harrison with the Steel Curtain, to Jason Pierre-Paul, Osi Umenyiora, and Mathias Kiwanuka and New York's NASCAR package, speed rushing is quickly becoming the hottest and most effective trend for defenses. Former South Carolina outside linebacker and first round pick to the San Diego Chargers Melvin Ingram will become the leagues newest premier pass rusher.
At 6'1" and 276 lbs with great agility and the ability to keep a low center of gravity, Ingram will be a challenge for eve tackle in the league. San Diego will line him up in their 3-4 set most likely as a backer and send him off of the edge to terrorize passers. He has the athleticism to cover the flat and is effective against the run. He has a raw upper body strength which he will use to shed blocks and wrangle in running backs.
If properly used, Ingram can rescue San Diego's horrid pass rush which ranked 23rd with just 32 sacks.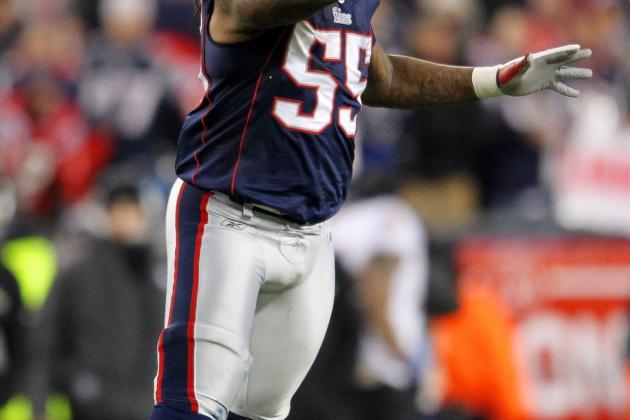 Jim Rogash/Getty Images

The former Florida linebacker made a name for himself in New England when he went on an absolute defensive tear during the playoffs. He had 26 solo tackles and 13 assisted, half of his regular season totals in just three games. He highlighted the postseason with a monster sack against Denver, a one handed interception against Baltimore pictured above) and a forced and recovered fumble in the Super Bowl.
If Spikes plays anything like he did in the postseason he will be a force to be reckoned with. His regular season was cut short with a knee sprain and while he sat out the Patriots defense depended on Tom Brady outscoring opponents rather than making stops. He will be a central figure in New England's defense, and a ferocious opponent.