New York Jets: Which Players Will Surprise the Most This Season?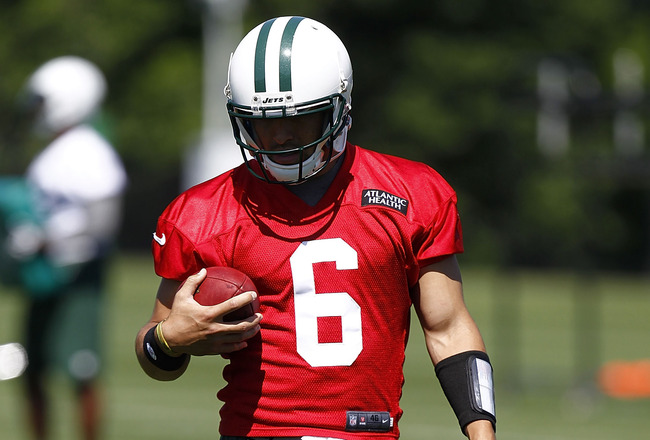 Jeff Zelevansky/Getty Images
The New York Jets failed to make the playoffs this past season. With huge changes in the roster occurring in the offseason, like trading for former Denver Broncos quarterback Tim Tebow, there is much more that has to be done in order to have success during the next season.
Players will have to step up and work harder to guarantee a playoff run for next season. The Jets have gotten so close to playing in a Super Bowl the past few years, but have continued to fall short.
Which players will surprise the most this season for the Jets? Here's a few.
Tim Tebow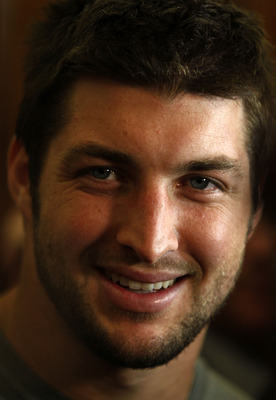 Jeff Zelevansky/Getty Images
It's been debated for a while as to what impact Tim Tebow will have on the Jets. Will he run the wildcat, will he share the snaps with Mark Sanchez or will he watch from the sidelines and cheer his team on with his consistently positive attitude? Who knows.
What we do know is that Tebow will be a New York Jet, and he will be one of the biggest surprises on the squad next season. What the Jets coaches need to realize is that Tebow is a runner. Denver was one of the top running teams in the NFL and if they let Tebow take a few snaps, he should be able to add some yards per carry.
One thing is clear, Mark Sanchez is the Jets starter, but Tebow needs to be ready to be thrown onto the field in case Sanchez should have an off-game or if the running backs aren't contributing. Tebow will be one of the biggest surprises this season because he'll be willing to do what he must do in order to contribute positively to his new team.
Quinton Coples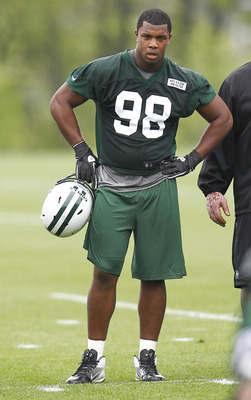 Jeff Zelevansky/Getty Images
Quinton Coples was drafted 16th overall in the first round of the 2012 draft by the New York Jets.
He's a great pass rusher, he has the height and the body type, he's a dominant athlete and he was by far one of the best players in the draft.
In four seasons at North Carolina, Coples had 24 sacks and he is expected to be a great pass-rusher for the Jets.
He should be expected to play on the defensive line with Siona Pouha, Mo Wilkerson and Mike DeVito, simply adding to a core of great players. As the Jets new defensive-end, he will bring pure talent and may surprise some critics this upcoming season. If he plays up to par, he should be an important addition to the Jets' roster.
Mark Sanchez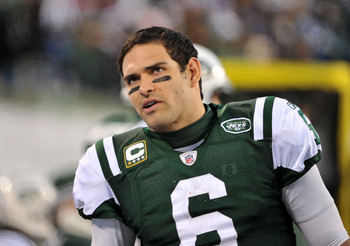 Christopher Pasatieri/Getty Images
The offseason has been bizarre in relation to Mark Sanchez. First Jets fans wondered if No. 6 would be back or if Peyton Manning would be taking his place. Once it was clear that Manning wasn't coming to New York, Jets fans again rallied behind their quarterback that led his team to two AFC championship games in three years.
This may sound like a surprise to some non-believers, but this may just be the year Mark Sanchez has been waiting for. Yes his talents are being shadowed by the Jets acquiring Tim Tebow, but Sanchez is still the Jets' quarterback and with all of the critics and commentators questioning his strengths, I think he'll come out and have a stand-out season.
Sanchez signed a three-year extension at $40.5 million. He has a lot of pressure on him to perform well this season, especially with Tebow on the sidelines aching to get onto the field. However, Sanchez should step up and do well this season with all of the pressure that has been put on him in the offseason.
Dustin Keller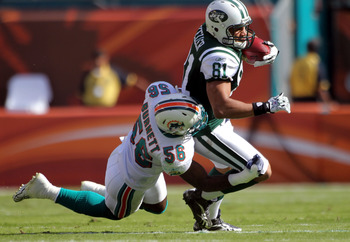 Marc Serota/Getty Images
Dustin Keller is the go-to guy for Mark Sanchez in clutch, third-down situations. The tight end finds pockets for receiving and leaves himself open during important plays.
In 2011, Keller led the Jets with 65 receptions and 815 receiving yards. Despite his statistics, he only managed to score five touchdowns last season. However, with the entire offseason to improve his game, Keller should come out of the gates tough and ready to score some touchdowns.
Sanchez should work on throwing the ball to Keller more and once again making him a primary receiver.
Keller is the only receiver or tight end who has played with Sanchez for the quarterback's entire Jets career and he will hope to make next season one that stands out.
Shonn Greene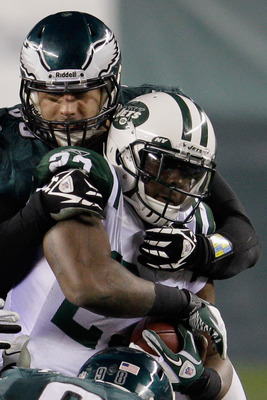 Rob Carr/Getty Images
The New York Jets haven't been known for their rushing game in recent years. Last year they were ranked 22nd in the league and this year they're looking to improve in the department.
Running back Shonn Greene rushed for 1,000 yards in 2011, but he didn't stand out much in games. With expected future Hall-of-Famer LaDainian Tomlinson out of the mix, Shonn Greene will have to step up and improve the Jets running game.
Greene set career highs last season with 253 carries, six touchdowns and 1,054 yards.
Shonn Greene had played injured a couple of times last season, so it's clear he's tough-minded, physically strong and ready to have a more successful season this year with the Jets. He will be one of many Jets players who will be a pleasant surprise on the field next season.
Keep Reading

New York Jets: Like this team?