Boston Red Sox: Are They Actually Deeper Than We Thought?
June 26, 2016
J. Meric/Getty Images
The Boston Red Sox may be in last place, but one thing we have learned in the first third of the season is they are much deeper than we thought.
The Red Sox have suffered from numerous high-profile injuries that have caused first-year manager Bobby Valentine to create a patchwork lineup.
Between players hurt this year and injuries that have carried over from last year the Red Sox (via Baseballrealitytour.com) had over $80 million on the disabled list which is more than 10 team's entire payrolls at one point in May (via USA Today).
Valentine, for all the criticism he has received, has yet to have the option of putting Jacoby Ellsbury and Carl Crawford back to back in the lineup. While Crawford hasn't had a single at bat this year, Ellsbury suffered a shoulder injury in the seventh game of the season and Valentine and the Red Sox lost baseball's best leadoff hitter.
Outfield has gone above and beyond the call of duty
Even though the Red Sox are without Ellsbury and Crawford, their outfield hasn't let them down. Daniel Nava, who made headlines two years ago when he hit a grand slam off the first pitch he saw during his major league debut, has stepped in and been a presence in the lineup.
Though Nava isn't as flashy as Ellsbury and Crawford, his defense has improved. and he is hitting .298 with a .429 OBP.
Newcomers Cody Ross and Ryan Sweeney have also played above expectations. Ross has given the Red Sox some much-needed pop from the right side by hitting eight home runs before he fractured his foot on May 18.
Sweeney has been better than advertised. Not only has he been great defensively, but he has been one of the best hitters on the team. Though he's cooled off after his hot start where he hit .373 with 11 doubles in April, Sweeney has been a major reason why the offense is second behind only the Texas Rangers in the AL (per ESPN).
Even backup Darnell McDonald got hurt, forcing the Red Sox to trade for Marlon Byrd and later Scott Podsednik when Ross and Sweeney were hurt.
As great as the Red Sox's outfield has been, this was not the plan entering the season. Ross and Sweeney were supposed to platoon in right field at best. Nava was intended to be an emergency call-up, and Ryan Kalish was meant to fight for a spot on the major league roster but hadn't recovered from offseason surgery on both his neck and shoulder (per the Providence Journal) and was placed on the 60-day DL.
Injuries affect the infield
While the Red Sox's infielders haven't suffered nearly as much as the outfielders, they haven't gone unscathed either. Kevin Youkilis went on his annual DL stint and Dustin Pedroia suffered a thumb injury that he has been able to battle through.
Thankfully, in Pedroia's case he only missed a week, but Youkilis was out for over three weeks. Fortunately for the Red Sox, high-profile prospect Will Middlebrooks was able to step in and has shown that he is ready to be a major leaguer.
Though Middlebrooks was forced to the big leagues earlier than expected, he has shown fans why he was considered the Red Sox's top prospect. Though he still has room for improvement defensively and he could learn a little from Youkilis' plate discipline, Middlebrooks' talent is unquestionable.
Pitching staff suffering from new and old injuries
The Red Sox traded for Andrew Bailey and expected him to be the replacement for Jonathan Papelbon, but after suffering a thumb injury that required surgery (per MLB.com) he hasn't been able to take the field.
Though the bullpen has been relatively healthy aside from the Bailey injury, the starting rotation lost a potential arm in Aaron Cook when he hurt his knee during a collision at home plate (via NESN.com).
Even though they didn't expect a lot from Cook, it was another bump in the road for the team.
However, the biggest loss for the Red Sox's rotation may be the injuries suffered by Daisuke Matsuzaka and John Lackey last season. While both have underachieved in Boston, if either was healthy and in the rotation it would have allowed the Red Sox to keep Daniel Bard in the bullpen and improve their late-inning options.
While you may scream at the thought of Lackey in the rotation, when healthy he regularly goes deep into games and preserves the bullpen. He has failed to live up to his contract and never will, but he could have helped the rotation in 2012.
Matsuzaka has returned, and was somewhat promising in his first start back after having Tommy John surgery last year. Maybe he will have better results under Bobby Valentine, who managed in Japan and understands Matsuzaka better than anyone in the Red Sox's organization.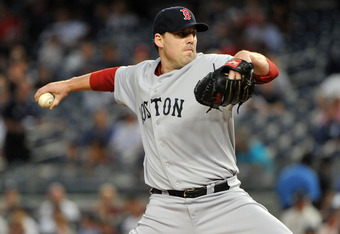 Christopher Pasatieri/Getty Images
Overall, the Red Sox have been a major disappointment in 2012. However, due to the slew of injuries that they have suffered to high-profile players they are lucky to be where they are now.
While fans can and should be mad that a team that the second-highest payroll in baseball is in last place in the AL East, one thing they should take away from the first third of the season is that the Red Sox are much deeper than we thought.
When starters return from injury, the team will have a deeper bench, farm system and will have potential trade bait to bolster the team for the stretch run.
The Red Sox may be in last place, but it is a long season and there is still plenty of time to turn things around.