New York Jets: 3 Headlines Gang Green Doesn't Want to Read in 2012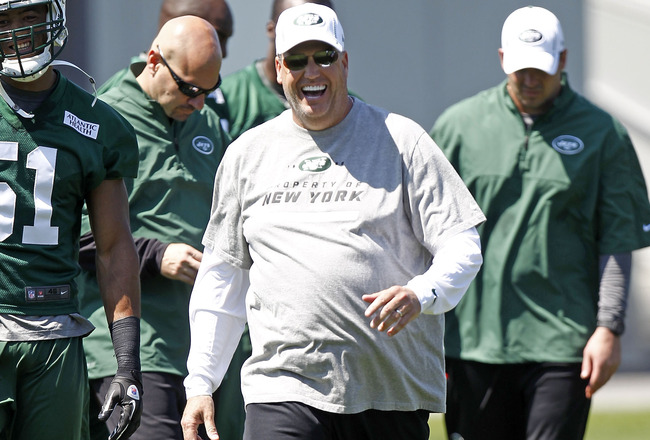 Jeff Zelevansky/Getty Images
After missing the playoffs last year with an 8-8 record, the New York Jets are looking to regain some footing in the AFC East.
As OTA's have begun, the media has become interested in the Jets and several storylines have emerged.
As preseason progresses and Rex Ryan and company get ready for the regular season, they will have to avoid this issues to stay focused making a run to the playoffs.
Darrelle Revis and His Contract Woes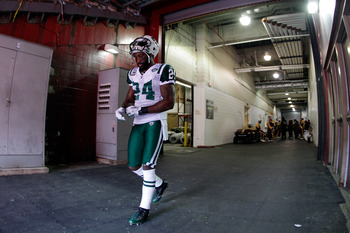 Rob Carr/Getty Images
Darrelle Revis is angry. He is now trying to renegotiate a new contract, however the Jets front office has yet to do anything.
Stefan Bond of the New York Daily News reported Revis is upset with his current contract.
Bond said in his article, "The CB said Wednesday he wants to retire with the Jets, and he's made it clear to Mike Tannenbaum and Woody Johnson. But that doesn't mean he'll report to training camp."
Two years ago, Sean Leahy of USA Today wrote about Revis's hold out for 35 days in response to his dissatisfaction with his then contract.
The same thing is happening and has become a media focus this offseason.
As Rex Ryan and company try to teach a new offensive and defensive scheme, Revis's potential holdout could become one big monkey wrench for the Jets.
According to Bond of the Daily News, Ryan was not willing to talk about Revis's contract, saying "I'm not going to get into the contract," Ryan said. "I can say this, everybody knows how I feel about Darrelle. Any contract talk, that's going to Mike Tannenbaum."
Revis's hold out is coming on the heels of last season's collapse in the final few games along with the alleged feud between Mark Sanchez and Santonio Holmes.
If the Jets want to avoid a potentially large headache, Tannenbaum needs to sit down with Revis and rework his contract.
Tim Tebow and Mark Sanchez: Are They Actually Competing for the Starting Job?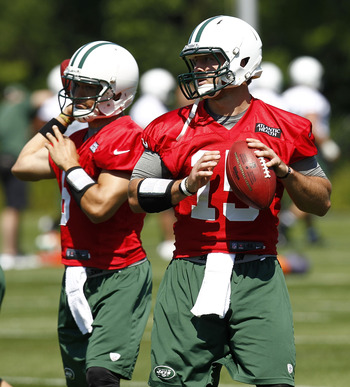 Jeff Zelevansky/Getty Images
After the blockbuster trade with Denver this offseason, Tebow will be running the team's Wildcat package as well as punt-protection duties this season while Mark Sanchez will oversee the rest of the offense.
During this time, both quarterbacks have been highly scrutinized as the media tries to cover the alleged quarterback competition.
News flash: there isn't one.
Tebow was brought in as another weapon to be used in the Jets arsenal, not as a replacement for Mark Sanchez, the Jets 2009 first-round pick.
Sanchez is the face of the franchise and Tebow is not being groomed to kick him out.
It has not been proven that Tebow can handle all the offensive duties of a quarterback; he has shown he is a great motivator and can run through traffic as well as in the open field. That is about it.
This season will be just like Tebow's freshman season at the University of Florida; he will be brought in for goal line situations and the occasional pass but not much else.
He has proven he can occasionally throw the ball but he is not consistent enough with his approach in the pocket to pick out coverages and avoid defenders as he makes the pass.
He is inconsistent and inaccurate.
Whether or not he becomes a more elite quarterback is a different story; for now, he is just running the Wildcat and Sanchez's job as starter is not in danger.
Santonio Holmes Pulling out of Practice a Bad Sign?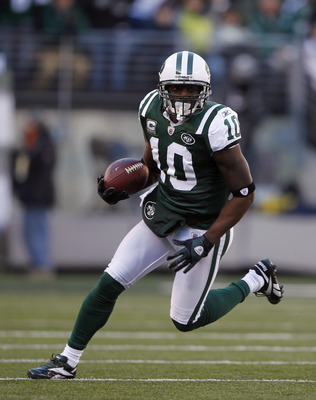 Rich Schultz/Getty Images
After last year's season ended in a firestorm and allegations came out about an apparent feud in the Jets locker room between Sanchez and Santonio Holmes, Holmes has had a quieter offseason.
As reported by Joe Caproso of the blog Turn on the Jets, Holmes has been traveling all over the world for various fundraisers but the media so far has fixated on Holmes's withdrawal from OTA's last week.
As he pulled himself out due to fatigue from having returned from Germany where he visited with troops, reporters have been quick to point out how Holmes has become a negative fixture at practice.
The wide receiver has received some bad press lately and it all isn't without merit.
The feud last season with Sanchez was so bad he was eventually benched in the Jets final game of the season.
As of now, he has made amends with Sanchez after the QB had flown down to Florida so they could smooth out the rough patches.
His withdrawal from OTA's last week is not a major issue. It's not even July yet but he is being scrutinized over running too few reps?
Give him a break; he has been on a whirlwind tour doing some good and trying to change his attitude but due to the fact he has a bad history with the team, he is being cast in a negative and critical light.
Come the first game of the season, this will be a non-issue and forgotten by fans and reporters alike.
As for now, the spotlight falls harshly on Holmes as he tries to clear out his reputation and become more of a team player as the Jets prepare for this upcoming season.
Keep Reading

New York Jets: Like this team?