Matt Cain: Ranking the Top Regular Season Perfect Games in MLB History
June 14, 2012

Jason O. Watson/Getty Images
Even though every perfect game is an impressive feat, they are not all created equal. San Francisco Giants ace Matt Cain proved that on Wednesday night with one of the most dominating performances in baseball history against the Houston Astros.
There have been a total of 21 regular season perfect games in the history of Major League Baseball. To get a better idea where Cain's outing ranks among those amazing pitching achievements, let's take a look at the top three. As you will see, Cain put himself in elite company with his gem.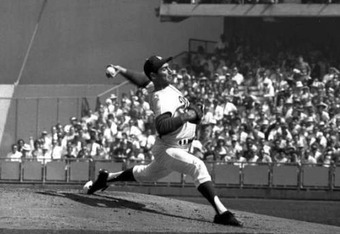 1. Sandy Koufax: September 9, 1965
One of the greatest pitchers to ever grace the mound, Koufax received a challenge for the top spot from Cain, but he retains it for now. He struck out 14 Chicago Cubs for his perfecto in a game that lasted less than two hours.
What gives Koufax the edge is the lineup he faced. The heart of Chicago's order featured Billy Williams, Ron Santo and Ernie Banks. He retired that trio a total of nine times, with six of them coming by strikeout, including all three of Banks' at-bats.
Another factor was the fact that the Los Angeles Dodgers offense was only able to muster a single run in the game. That means Koufax was pitching under immense pressure throughout the game, especially in the late innings, making it the best perfect game to date.
2. Matt Cain: June 13, 2012
Cain was dealing from start to finish against the Astros. Like Koufax, he struck out 14 batters, which accounts for more than half of the outs he needed. It's a game that should finally allow Cain to get the respect he deserves after eight strong seasons in the big leagues.  
Not only did he strike out a bunch of batters, but even the ones who managed to put the ball in play rarely did so with any type of authority. Aside from one tremendous play from Gregor Blanco, it was a pretty routine night in the field.
The main reason he isn't able to pass Koufax is Houston's lineup. The Astros lineup had five players who had batting averages below .250, so he wasn't exactly facing a murderer's row of sluggers. Still, it was one of the best starts ever.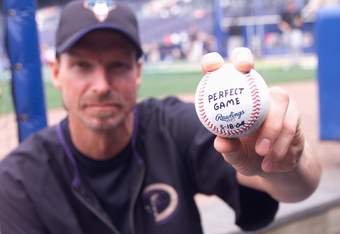 Scott Cunningham/Getty Images
3. Randy Johnson: May 18, 2004
The Atlanta Braves were baffled by Johnson eight years ago. The intimating left-hander had his legendary fastball and slider combination working to full capacity that night en route to 13 strikeouts and, of course, a perfect game.
Given his amazing stuff, it's actually quite surprising that Johnson did not throw more no-hitters during his career. That really shows how difficult it is to get 27 hitters out without allowing at least one ball to find a hole or drop in no-man's land. 
While the Braves did have a couple of big names in the order, most notably Andruw and Chipper Jones, the team's offense only had one .300 hitter at the time. With Johnson finding a groove, they were in trouble from the start, and the "Big Unit" didn't let them off the hook.