Euro 2012: What France Must Do to Escape Group Stage
June 14, 2012

Scott Heavey/Getty Images
France has already disappointed at UEFA Euro 2012.
Les Bleus dominated their opening Group D match with England, but couldn't score more than once. To make matters worse, they allowed the only English shot on goal to find the back of the net.
The stat line is actually quite striking. France had five times the amount of shots on goal (15) than England had all together (3). The French held the ball for 60 percent of time, won 11 corner kicks and weren't even caught offsides.
But the only goal they scored was on a nice piece of footwork from Samir Nasri as he created enough room to send one near post on English keeper Joe Hart. And Hart, who saved six balls and is coming off a brilliant campaign with Barclays Premier League champions Manchester City, was a half-second slow almost the entire night (minus the big save on the Alou Diarra header).
Yet France couldn't capitalize more than once.
This squad has now failed to win any of their last eight games at major tournaments. The draw with England was a result of missed opportunities and a well-executed English game plan. The Three Lions were playing simply to steal a point from their European rivals.
Now the pressure is on Les Bleus to make something happen. They're easily the most talented nation in Group D, but Ukraine is coming off a stunning win over Sweden and they have home-field advantage everywhere they go.
And the Swedes, led by Zlatan Ibrahimovic, are always dangerous.
In order for the French to "escape" this trap of a group they must simply capitalize on the opportunities they create.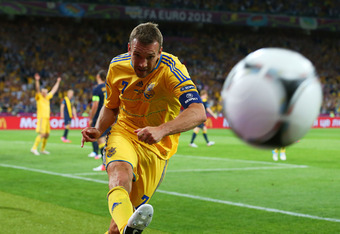 Alex Livesey/Getty Images
Both Sweden and Ukraine showed vulnerable back lines and France has a distinct advantage in overall talent. Nasri cannot be the only one asserting himself in and around the 18-yard box. Karim Benzema has to be better. Franck Ribery needs to put more pressure in from the wing to the inside. Yohan Cabaye needs to be given opportunities to let rip and Florent Malouda needs to get involved.
The French defense (minus Philippe Mexes) is relatively strong all around. If their attacking third takes care of business the way they should, advancing shouldn't be any problem.
Les Bleus haven't been struck with disaster yet, they earned one of three possible points, so there is no reason to panic. They have two extremely winnable matches on the horizon and they simply need to play their game and capitalize on opportunities. 
If they can make that happen they could find themselves playing deep into this tournament.