Rory McIlroy at US Open 2012: Highlights, Updates and Review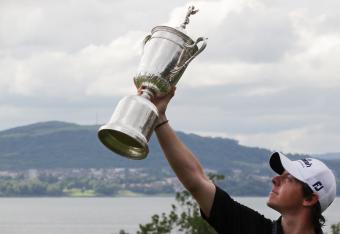 Peter Macdiarmid/Getty Images
McIlroy +4 thru 9 (Leader: Michael Thompson -4 F)
With all the attention on the marquee pairing of Phil Mickelson, Bubba Watson and Tiger Woods, it might be easy to forget about the defending champion and his own All-Star group.
Rory McIlroy enters Olympic Club with pressure of his own. Despite four top-three finishes this year, including a win at the Honda Classic, McIlroy knows that his career is now going to be defined by majors.
If he wants to be the future of golf, it means being able to tame some of the most difficult golf courses in the world, and this week provides a suitable test. This will not be Congressional where the playing conditions were almost comically benign compared to past U.S. Opens.
If McIlroy were to become the first golfer since Curtis Strange in 1989 to repeat as champion, he would solidify himself as a true champion and a threat towards greatness.
That journey begins on Thursday when he tees off with Lee Westwood and Luke Donald. All three men have been ranked No. 1 in the world rankings at some point in the last 12 months, and each could reclaim that spot with a victory this weekend.
While you cannot win the tournament today, you can most assuredly lose it.
How will McIlroy handle the pressure of being the defending champion?
Let's find out!
McIlroy +4 9
Westwood +4 9
Donald +4 9
McIlroy hits a bad drive, finds the bunker and visibly shows the frustration bubbling up inside of him. His chip lands short and does not release to the hole, leaving him with a 10-15 footer for par that he could not convert.
Westwood hits his approach into the green-side bunker along McIlroy and rolled past the hole so much so to give him a testy and speedy par putt that he simply could not keep on line with the pace. His bogey leaves him at +4.
Donald, on the other hand, has a mundane hole with a fairway and a green in regulation. Still, with so much drama on the other eight holes, he deserved a stress free hole. He needs a resurgence on the back nine.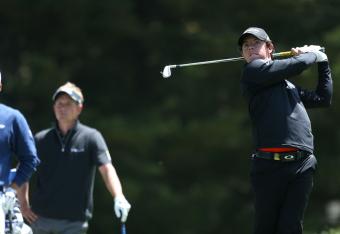 McIlroy +3 8
Westwood +3 8
Donald +4 8
All three men show some short game prowess and keep their rounds afloat with pars.
Luke Donald has only hit one fairway today and has been scrambling for his life. In a way, hitting four over is pretty impressive considering.
McIlroy has really gotten nothing out of his round so far, but he still has opportunities in front of him. He really needs to make a putt to give him confidence because he, and his playing partners, look nervous and unsettled.
McIlroy +3 thru 7
On the par 3 eighth hole, all three men will have to work to get their pars. Both Westwood and Donald are well back, on the other side of the massive green.
McIlroy is in the rough on the right, putting himself at just three-of-eight in terms of greens in regulation.
Three bogeys in a four hole stretch could really start to take the round off the rails.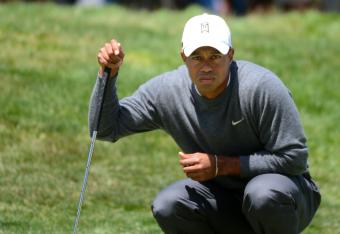 FYI, here are the scores of the big three morning pair through holes 1-7.
Tiger Woods -1
Phil Mickelson +2
Bubba Watson +3
McIlroy +3 7
Westwood +3 7
Donald +4 7
McIlroy, in the deepest rough we have seen through seven holes blasted the ball into the bunker over the green. The flier lie took him from entering the seventh thinking birdie to leaving with a bogey.
The defending US Open champion could not reach the green of a 256-yard hole in three shots.
Undeterred, Westwood made the first birdie of the entire pairing. Donald appeared to be about to follow in his footsteps but missed his putt to the left and continued his frustration.
Two bad holes in the past three for McIlroy and he has to be careful. As frustrated as he is, he is still in the tournament.
However, an angry swing or a loss of focus could really throw him into a world of trouble.
McIlroy +2 thru 6 (7th Hole: 256 yard par 4)
Finally, someone hits a great shot!
Westwood knocks his tee shot on the green to give himself a possible eagle and get his round back in the right direction.
Donald is just short of the green on the short grass but McIlroy missed to the left in the trees, the one place you cannot hit the tee shot.
McIlroy will have a tough time getting up and down now, but maybe he can be inspired a bit by Westwood's magical shot.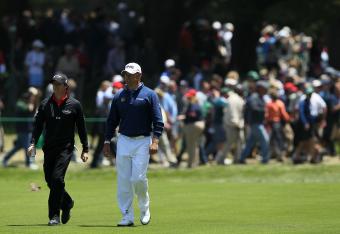 McIlroy +2 6
Westwood +4 6
Donald +4 6
Luke Donald and Lee Westwood both miraculously found the only fairway bunker on the entire golf course. Donald's shot hit the rim of the bunker and left him scrambling for a bogey.
Westwood and McIlroy both thought they had made their putts but missed them both by a mere inch on opposite sides of the hole.
Jane Krafter on the online coverage referred to the karma in this group like a virus. The bad luck and bad feelings seem to spreading as more and more opportunities fall by the wayside.
The seventh hole is an oasis on this course though, the second easiest at Olympic Club.
This also means pressure moving forward since this is their best birdie opportunity on the front nine and all three men desperately need one.
McIlroy +2 thru 5 (6th Hole, 485 yards)
Westwood hits his drive into the right fairway bunker.
McIlroy gets a bit lucky with the ground fade that brings his ball back into the fairway. He has really looked good off the tee, minus one major miss on five.
Donald faced bad luck again as his drive looked destined for the fringe of the fairway before the downward slope pulled the ball into the fairway bunker as well.
They say it is better to be lucky than good.
For Donald, who is 176th on tour in driving distance, accuracy is vital if he is not going to be able to bomb his way towards the top of the leader board.
McIlroy +2 5
Donald +3 5
Westwood +3 5
All three men hit pretty good chips but McIlroy leads the class with an excellent curling chip to give him the easiest par putt of the group. However, too much speed and McIlroy's ball spins out and left him with a longer putt than when he started for bogey. He shows poise in being able to make the second one, albeit in the left corner.
Donald's putt rimmed out of the right side of the cup, pushing him back down to three over and only adding to frustration of a round that has not seen any breaks go his way.
Westwood survives with his par putt to reach and the top three golfers in the world reach the final hole of the gauntlet starting six at Olympic Club.
McIlroy's putter has cost him so far, but if he can survive six with a par he has a golden opportunity at the short par four seventh.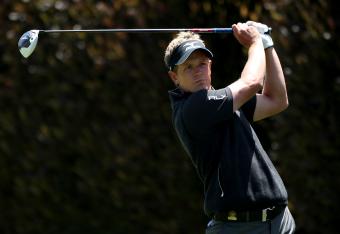 McIlroy +1 thru 4 (5th Hole 498 yard par 4)
With thick rough and a bad angle, McIlroy's approach landed short and left in more rough. With plenty of green to work with, at least the young man left the ball in the right position.
Westwood hit a good approach that landed just short on the collar.
Donald's approach was hindered by a tough lie and you could see the exasperation on his face.
Welcome to the US Open gentlemen! It is the most mentally draining experience a golfer can face and right now you can tell that is exactly what all three men are thinking.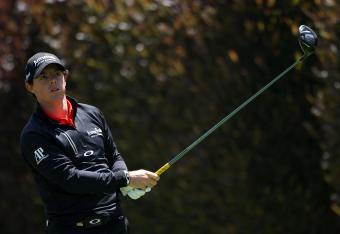 McIlroy +1 thru 4 (5th Hole 498 yard par 4)
The first errant drive of the day. McIlroy hits his drive so far right it hits a tree and lands abruptly in the rough.
Donald hits probably his best drive of the day but skirts past the fringe into the primary cut of rough. He has truly been a bit snake bitten so far this round.
Westwood misses out left, nearly hitting ESPN's walking crew.
Definitely not the best start to this hole for any of these players.
Rory McIlroy +1
Luke Donald +2
Lee Westwood +3 thru 4
Westwood goes first and hits a good putt from off the green into gimme range, avoiding stress for one hole.
Donald has good speed for such a long putt but leaves himself an uncomfortable comeback putt of about four feet for par. He makes it to keep the round going.
McIlroy does not put the best stroke on the putt and the ball pulled right, never really threatening the hole but leaving a straightforward par putt.
Westwood and Donald stanched the bleeding a bit on this hole but McIlroy seems upset at his putting so far.
How will he handle things on five?
McIlroy +1 thru 3 (4th Hole 438 yards)
Donald gets a bit unlucky with his approach. Hitting out of the deep rough the ball lands about 20 feet from the hole but hits hard right and rolls further and further away for a long birdie opportunity.
Westwood, near a water sprinkler head, gets relief after a discussion with a rules official and pulls off a much better lie after the drop. He rewards himself with a poor shot that lands short of the green but sets up for a straightforward up-and-down opportunity.
McIlroy, playing last, hits a spectacular iron and although it does not roll up to the pin as much as he would like, this is his first realistic birdie shot of the day.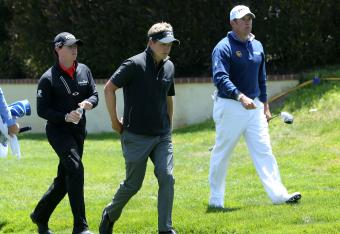 McIlroy +1
Donald +2
Westwood +3 thru 3 (4th Hole 438 yards)
All three players hit their tee shots to the right, McIlroy is in the best position by only being in the fringe and Luke Donald is in the worst shape in the deep rough.
Donald could really use a break at this point, missing in places that are only taking years off his life. Westwood has to be mentally frayed a bit with his short game costing him two strokes already.
McIlroy just has to stay patient, a tall task for any 23 year old.
McIlroy +1 through 3
McIlroy hits his tee shot over the green at this 247 yard par three, leaving him a tricky chip shot across the green that required him to study his yardage book for quite some time.
All that preparation paid off though because his chip landed within a few feet for a stress-free par.
While McIlroy may not be thrilling the crowd with these pars, he is doing what has to be done at the US Open.
Unlike his playing partners who are a combined +5, McIlroy is making good shots and avoiding mistakes. If he continues to do so he will be near the top of the leader board by the end of the day.
McIlroy +1 through 2
A two-putt par and McIlroy survives the hardest hole on the golf course.
Westwood survives as well but Luke Donald bogeys to join Westwood at 2 over through 2 holes.
McIlroy is doing what he has to do so far. By hitting fairways and greens, he will put himself in position to compete.
Still, he has to be biding his time for the driveable 256-yard seventh hole.
McIlroy +1 through 1 (2nd Hole 428 yard, par 4)
With an iron in hand, McIlroy hits about as good an approach as possible considering how firm the second green is. He is the only one in his group to be on the green after two shots.
While he has a sizable putt on his hands, he could be able to sneak in a birdie here.
Tiger Woods, by comparison, parred holes one through three before consecutive birdies on four and five.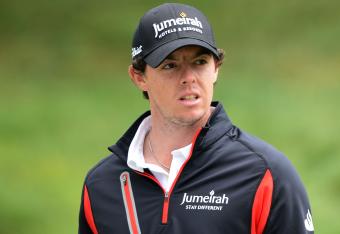 McIlroy +1 through 1 (2nd Hole 428 yard, par 4)
Laying up with a fairway metal, McIlroy finds the fairway again. Considering this is the hardest hole on the golf course, finding the fairway is critical.
Hopefully he will make more of the situation than he did on the first when he missed the green right.
Luke Donald continues to struggle. He and Westwood are a combined 0-for-91 in majors.
McIlroy +1 through 1
The US Open can play mind games with you and really lead to questionable decisions.
Lee Westwood knows all about that after making a double bogey on the first hole after hitting the best tee shot of his entire pairing.
McIlroy was able to get his chip shot on the green but missed his par putt low and to the left. Certainly not the start he wanted, particularly after the tee shot and a good chip but McIlroy is playing the hardest stretch on the golf course.
The top three players in the world were a combined +4 on the hole!
Let's see how McIlroy responds on number two.
McIlroy E -- (1st Hole: 520 yard, par 4)
After Luke Donald had to lay up from the right rough, McIlroy's approach lands just short of the green and bounces off the right mound into the side rough.
It will not be an easy up-and-down and although it was a bit unlucky, McIlroy certainly did not take advantage of a perfect tee shot and one of the few flat lies he will probably have all day long.
Fortunately for him, misery loves company as all three players are just a few feet apart from one another.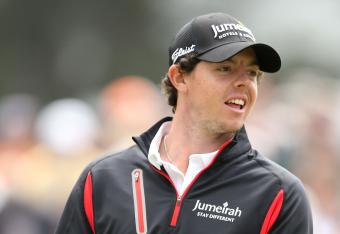 McIlroy E -- (1st Hole: 520 yard par 4)
A beautiful tee shot by Rory McIlroy at the first, almost precisely in the middle of the fairway and well enough down there to give him a good iron in his hand.
Luke Donald looks nervous out the gate with a shot in the deep rough on the right near a tree and Lee Westwood just edged by McIlroy's drive in the fairway.
The weather may be getting colder but I think that plays to the advantage of these Europeans who are used to colder, windier conditions. They also have experience playing with each other.
They should really be comfortable with one another but no one is going to believe that a U.S. Open round can be anything more than a good walked spoiled.
Moments away from teeing off, the theme of the day seems to be experience.
If you look at the top of the leader board, you see names familiar with this golf course.
The leader Michael Thompson competed in the US Amateur at Olympic Club. Michael Allen is hovering around even par and has been playing this course as a member since his teenager years.
Of course, Tiger Woods and David Toms are two of the veterans on tour and both played here in 1998.
This could prove difficult for Rory McIlroy. His success today will probably hinge on how he handles the greens.
NBC analyst Johnny Miller has mentioned more than once the importance of being able to read these putts.
How will the young phenom fare? Let's find out!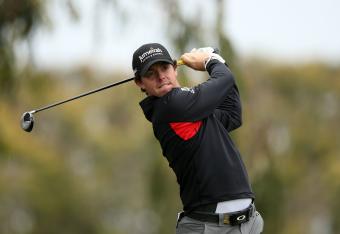 Here are some statistics about the first six holes McIlroy and company will play in just under half an hour.
1st: 520 yard par 4, third most difficult (3 birdies, 41 pars, 31 bogeys, 3 doubles and other)
2nd: 428 yard par 4, most difficult (3 birdies, 43 pars, 22 bogeys, 10 doubles and other)
3rd: 247 par 3, sixth most difficult (3 birdies, 42 pars, 28 bogeys, 3 doubles)
4th: 438 yard par 4, 11th most difficult (5 birdies, 47 pars, 19 bogeys, 1 double)
5th: 498 yard par 4, fourth most difficult (3 birdies, 36 pars, 23 bogeys, 4 doubles and other)
6th: 489 yard par 4, second most difficult (2 birdies, 28 pars, 28 bogeys, 2 doubles)
Good luck!
Rory McIlroy's opening rounds in the recent majors:
2012 Masters: -1 (t-14th)
2011 PGA Championship: E (t-20th)
2011 Open Championship: +1 (t-53rd)
2011 US Open: -6 (1st)
2011 Masters: -7 (t-1st)
2010 PGA Championship: -1 (t-19th)
2010 Open Championship: -9 (1st)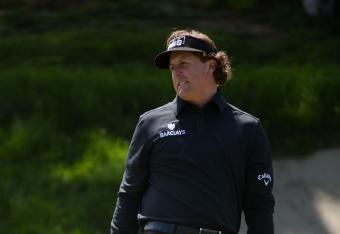 McIlroy E -- (Leader: Michael Thompson -3 through 15 holes)
We are still about two hours away from McIlroy teeing off the first tee and getting his round going. Yet we already have seen two polar opposite rounds from his biggest rivals Tiger Woods and Phil Mickelson.
Mickelson has continued his struggles from when he withdrew from the Memorial after a first round of 79. He has proven, once again, the fundamental necessity to find fairways and greens on a US Open course.
With six of 12 fairways and seven of 15 greens, Mickelson is not giving himself many opportunities to right the ship. When he does get a chance he has not taken advantage with the putter either.
Woods, on the other hand, is one stroke off the lead thanks to hitting nine of 12 fairways and 10 of 15 greens. Not having to scramble around has helped ease the amazing amount of pressure on him.
McIlroy has been sporadic this past month with his driver. Accuracy will be important, particularly on the front nine that features some of the most difficult holes on the golf course.
This article is
What is the duplicate article?
Why is this article offensive?
Where is this article plagiarized from?
Why is this article poorly edited?