Manchester United: Shinji Kagawa Is United's Mesut Ozil
June 14, 2012

Hiroki Watanabe/Getty Images
It seemed like the first real transfer saga of the summer would rumble on forever, as Manchester United fans eagerly woke up every day over May and early June to discover whether there had been any further announcements regarding the possible signing of Japan international Shinji Kagawa.
Finally, on June 5, the wait was over. It was announced that a deal in the region of £17 million had been struck between Dortmund and the Red Devils for Kagawa.
There have been many critics of the signing, suggesting that the introduction of a Japan international is simply a ploy to boost shirt sales in the land of the rising sun.
Some narrow-minded footballing followers have also come out and claimed that Kagawa isn't really a "big-name" signing, and will eventually wind up becoming another squad member like Ji-Sung Park.
These people are perfectly entitled to that opinion, but they couldn't be further from reality.
Unlike Park, who was always brought in to be a squad player much more than a first-team regular, Kagawa has arrived at Old Trafford with a monumental duty to uphold.
Kagawa will be coming in to eventually replace United hero and legendary figure Paul Scholes, who is almost guaranteed to retire at the end of the next Premier League season.
Although he fills a substantially different role to the "Ginger Ninja" in terms of style of play, Kagawa will adopt the same position and play-making potential that Scholes has become famed for.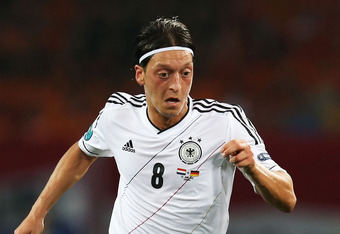 Joern Pollex/Getty Images
United fans should still expect to see crisp and immaculate passes from the Japanese star, but with a much more attacking, gung ho style, as opposed to the sensible "keep the ball" tactic that Scholesy employs.
Both types of play are fantastic for any side—if you have the right kind of players pulling them off.
Perhaps the best comparison one could make to what United will be hoping for from Kagawa is Germany and Real Madrid superstar Mesut Ozil.
Ozil shows for both his national and club side an amazing ability to find a pass through the centre of any given defence, as well as boasting his own attacking potential when going forward.
On top of this, he isn't afraid to have a pop from distance, as was evident last night when his first-time volley from a deflected cross struck the Dutch post.
Kagawa could be United's Ozil, assuming he progresses at the same rate that he currently is.
I'm not going to claim that Shinji will definitely ever be as good as the "German Messi." In fact, with the level that Ozil is at right now, that could be a very long way off. However, he can certainly play that same role to a fantastic standard for the Red Devils if he harnesses his full potential.
With the clinical finishing of Wayne Rooney and the ever improving talents of Danny Welbeck and Javier Hernandez to feed into going forward, Kagawa could complete one of the best attacking United sides in recent memory.
What United will be lacking in the centre of midfield when Scholes does eventually retire is somebody who is able to hold the ball up and pick out the "right" pass in an attacking sense.
Kagawa can without a doubt be this man, but in a completely different manner to how Scholes was.
Who knows, perhaps we'll be referring to Kagawa as the "Japanese Messi" come this time next year.