NHL Draft: 9 Studs at 3 Positions the San Jose Sharks Should Target on Draft Day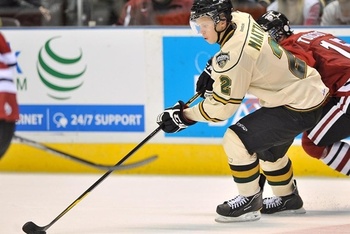 The San Jose Sharks have finished near the top of the regular season standings for years. While this is the goal of every franchise, the Sharks have paid in one small way:
Low draft picks.
Coming off a 96 point season—above average for most teams but below par for San Jose—the Sharks find themselves with the 17th overall pick in the 2012 Amateur Draft.
Last season, the Sharks used the 28th overall pick to help them bring in Brent Burns. Considering General Manager Doug Wilson's tendency to move his picks and the rumors linking San Jose to several high-profile players, a repeat is not out of the question.
However, drafting at No. 17 is not something that this franchise wants to be doing yearly, so taking advantage of an abnormally high pick—in an abnormally deep draft—would be wise.
Given that, the Sharks have too much talent to take a "best player available" approach. They have specific holes, both short and long-term, that need addressing, and June 22 will be an excellent time to start doing so.
Center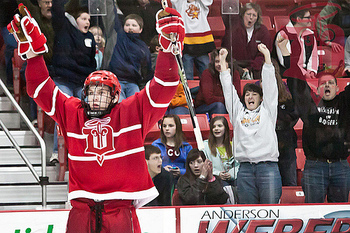 A year ago, the Sharks boasted the best top three centers in the NHL. Joe Thornton, Logan Couture and Joe Pavelski were all among the best in the game compared to other centers on similar lines.
However, after moving Devin Setoguchi and Dany Heatley to Minnesota, Joe Pavelski was forced to become a top-six winger, leaving San Jose weak at third line center.
Adding a top-six winger would allow the Sharks to properly re-slot Pavelski, but it's only a matter of time before Joe Thornton begins to decline. Once that happens, San Jose will be weak down the middle, as neither Logan Couture nor Joe Pavelski will become elite playmakers.
Zemgus Girgenson
This would be a smart long-term pick, as Girgenson's big frame, good hands and two-way skill could make him Joe Thornton's heir-apparent.
The biggest question here is simply if Girgenson will slip to No. 17, as most mock drafts slot him somewhere between 10-14.

Brendan Gaunce
Gaunce would be a great pick who would help San Jose in the very near future. His size, skating ability and hockey IQ make him a candidate to be fast-tracked to the NHL.
Gaunce will likely be a third-line center by 2014, but like Girgenson may be gobbled up before No. 17.

Scott Laughton
If there was ever a combination of Joe Pavelski and Ryane Clowe, it may be Scott Laughton. He's physical and nasty on the ice, but is also a very cerebral player and is always hustling. He plays well on special teams and could become the third-line center every team craves.
His chances at becoming a top-six forward are very low, but that's why he'll likely be available to San Jose at No. 17 if Girgenson and Gaunce are not.
Defenseman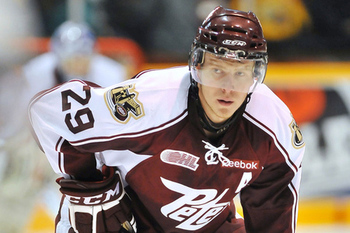 With the likely return of Brad Stuart, San Jose has assembled what is possibly the best blue-line in franchise history.
Dan Boyle is still among the best offensive defenseman and power play quarterbacks in the NHL. Brent Burns is a two-way force. Marc-Edouard Vlasic is a defensive wizard. Brad Stuart is physical, experienced and plays well on both ends. Douglas Murray and Justin Braun could form one of the best third-pairings in the NHL.
However, Murray, Boyle and Stuart are all on the decline. If the Sharks keep this group together, it will no longer be elite in two or three years.
Even though San Jose does have some decent defensive prospects, the No. 17 pick in a defenseman-strong draft class presents a rare opportunity for the Sharks to grab a potential future cornerstone.
Olli Maatta
Maatta is a solid two-way defenseman whose game seems to be so well-rounded that it's hard to imagine him being a bust. His defensive game is similar to that of Marc-Edouard Vlasic's, but his offensive skill set is broader.
He wouldn't replace Dan Boyle as the franchise defenseman, but he would likely become a staple of the second pairing should he fall to the Sharks.

Derrick Pouliot
If the Sharks want to find the next Dan Boyle, this could be their guy. Pouliot is slightly small (6'0", 192 lbs) and not incredibly strong, but his puck-moving ability is exceptional.
Pouliot is a better skater and more accurate passer than several of the defenseman that will be drafted ahead of him, so selecting him at No. 17 would mean grabbing a potential top 10 pick in other years.

Slater Koekkoek
Koekkoek has the highest ceiling of any defenseman projected to be available at No. 17. His hard shot, crisp passing, physical defense and skating stride screams future all-star.
His weaknesses are his hockey IQ and being injury prone, but with several "safe" defensive prospects in the organization, San Jose should roll the dice on a potential future stud.
Right Wing
While the Sharks seem to have their strongest defensive unit in recent memory, they also have what is likely their weakest group of wingers since the lockout.
Patrick Marleau, Martin Havlat and Ryane Clowe are good players, but don't terrify the opposition. Beyond that, San Jose has natural centers (Joe Pavelski, Torrey Mitchell, Daniel Winnik, Tommy Wingels) playing on the wings.
The biggest weakness is at right wing, where only Martin Havlat is a completely natural fit. Without much organizational depth there, San Jose's number one priority this offseason has got to be improving at right wing, and draft day is an obvious time to start doing that.
Sebastian Collberg
While his defensive game needs work, Collberg is one of the best goal-scoring prospects in this year's draft. His speed, puck-handling skills and wrist shot make him appear destined to be an NHL top-six winger.
While worse-off teams drafting ahead of San Jose will choose better all-around players, the Sharks will have the luxury of stealing a goal-scorer who's defensive shortcomings will be covered up by San Jose's strong corps of defensive forwards.

Tom Wilson
Should the Sharks not land their power forward of choice this offseason, Tom Wilson wouldn't be a bad plan B. His 6'4" frame, strength, board play and defensive tenacity add up to create a player resembling Ryane Clowe.
His offensive game is not explosive and his skating is mediocre, so Wilson should not be picked as a franchise savior. Rather, if San Jose adds an explosive NHL winger, Wilson would be a good safe pick as a healthy part of a complete offseason.

Rick Nash (LW)
Before you throw your arms up, hear me out. I know that Doug Wilson has depleted San Jose's farm system by trading away first round draft picks. But the beauty of first round picks is that other teams really, really like to acquire them.
The fact is that a No. 17 pick will usually turn out to be a solid role player. So if Ryane Clowe—an elite role player—is a no-brainer in a Nash deal, why not an uncertain draft pick? Wilson has a history of mining the late rounds and screwing up early anyway, so why not trade for a first-rounder gone incredibly right (Nash) and find some more late-round gems?
Keep Reading

San Jose Sharks: Like this team?