US Open Golf 2012 Live Stream: Online Viewing Info and More
June 14, 2012

Ezra Shaw/Getty Images
There is no shortage of intrigue at the 2012 U.S. Open. For the first time since 1998, the Olympic Club in San Francisco will host a major championship meaning few, if any, players remember the course from the last time it was played.
The 1998 U.S. Open champion, Lee Janzen, shot even par and only the late, great Payne Stewart was close at one-over. Everyone else at the tournament was at least four shots back or much, much worse.
Three-time U.S. Open champion Tiger Woods is the betting favorite at this year's event, but the former world's No. 1 comes into the tournament off a come-from-behind win at the Memorial that some think will be more of a problem than a momentum builder.
The long, narrow fairways and deep rough at the Olympic Club pose a huge threat to a number of golfers in the field, including defending champion Rory McIlroy.
We'll get a chance to see Tiger early as he is one third of a superstar trio pairing along with five-time U.S. Open runner-up Phil Mickelson and reigning Masters champion Bubba Watson.
These three superstars will play the opening two rounds together hoping to all make the cut at a difficult, yet exciting course.
Live Stream and Online Viewing Info: ESPN3.com
Thursday, 11:30 a.m. ET: Marquee Group 2 (First Round)

Thursday, 12 p.m. ET: First Round (Part 1)

Thursday, 12 p.m. ET: Holes 8 and 18 (First Round)

Thursday, 5 p.m. ET: First Round (Part 2)

 

Friday, 11:30 a.m. ET: Marquee Group 2 (Second Round)

Friday, 12 p.m. ET: Second Round (Part 1)

Friday, 12 p.m. ET: Holes 8 and 18 (Second Round)

Friday, 5 p.m. ET: Second Round (Part 2)
Live viewing is also available at the U.S. Open website for marquee group 1 (10:33 AM ET) and marquee group 2 (4:29 PM ET).
Predicted Winner: Tiger Woods
Call it what you will, but Tiger's ability to make ridiculously got shots after poor tee shots gives him a huge advantage here. While he'll struggle to hit these narrow fairways at times, nobody can battle out of trouble and cabbage the Woods can.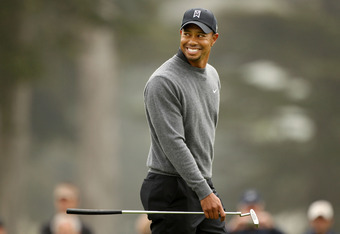 Andrew Redington/Getty Images
Furthermore, holes 15, 16, 17 and 18 offer great chances for golfers to make up some ground, or push a lead.
The par-3 at 15 isn't necessarily easy, but it's the easiest birdie opportunity of all the threes in the tournament.
Hole 16 is a treacherously long par-5, the longest in U.S. Open history in fact, while 17 is a super-short par-5 that was typically played as par-4.
And Olympic Club's signature hole at the par-4 No. 18 offers a chance for birdie.
Look for Woods to hang around just long enough during the day to make late charges into contention and, eventually, a win. If he's on his game, these four holes could easily be where he pushes the lead to an insurmountable number.