Manchester United Transfer: Could Sneijder's Move Be Revived by Anderson?
June 14, 2012

Julian Finney/Getty Images
It may come to few as a surprise that Anderson could leave Old Trafford this summer. In a previous article he was trailed as one of the most likely to leave in what is expected to be a substantial clear-out.
The interest, however, is coming from the two Milan clubs and this may give United the lever they need to revive a deal for Wesley Sneijder.
Inter would no doubt want at least £25 million for their world class playmaker, but Anderson would fit well in Italian football. With his transfer value, a part-exchange deal might well be achieved at a net cost of £15 million to United.
Do not rule out the value of Dimitar Berbatov in a part-exchange deal, either. He could be at least as effective as Ibrahimovich in Italy.
The Dutch midfielder has been one of the few standouts in a woeful Dutch showing at UEFA Euro 2012. It will also have encouraged Sir Alex that his all-round contribution and energy levels have been impressive. Kenny Dalglish has raved about him.
Sneijder has only played 28 games in total in what has been described as an "injury-ravaged" season of 2011/12.
United can do without another Anderson saga or, worse still, Hargreaves. So they will be doing their homework on whether Sneijder is likely to be fit to play in the intensity of the Premier League.
He is also now 28 in the last few days and that is seemingly beyond United's normal cut-off for buying players, with few exceptions.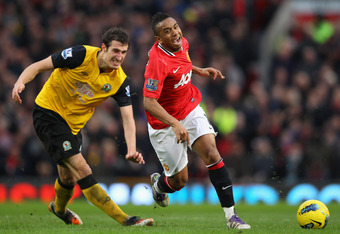 Alex Livesey/Getty Images
While the player's contract runs to October 2015, his experiences of last season and his contribution to the Dutch campaign may lead to him seeking an extension beyond that date. For him and his wife, it may well come down to where he wants to spend the next five years of his life.
From United's point of view, if their interest in Modric were to break down, Ferguson will still want a marquee signing to placate Wayne Rooney, let alone United fans. Scholes may have been a saviour last season but Kagawa is not the new Paul Scholes.
Whereas Ferguson can build his next team around Wayne Rooney and Wesley Sneijder or Luka Modric.
Assuming he passed a medical, his own expectations and those of Scholes could offer Ferguson an ideal scenario. 
As with Michael Owen and indeed Scholes, the young players the manager has signed and that he is bringing through would be in awe of and strongly influenced by Sneijder or Modric.
The presence of Sneijder would not necessarily inhibit the development or prospects of the likes of Cleverley and Powell either. Eden Hazard in his post Chelsea signing statement implicitly referred to the depth of the United squad in saying he had a better chance to play at Chelsea.
Shinji Kagawa has also referred to it, but he saw it as a challenge he was prepared to take on:
"They're one of the biggest clubs in the world, and I was given a chance to play for them. I took a lot of things into consideration, like the fact that they've got a deep squad, their style of football and it wasn't an easy decision."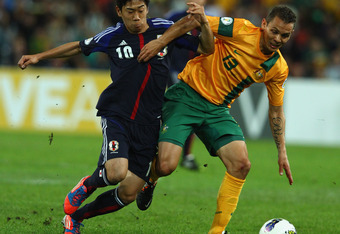 Robert Cianflone/Getty Images
I still believe United will sign another central midfielder and that Kagawa will be used in a variety of roles as needed, including left and right wing, "trequarista" and "in the hole" as he desires. The latter is Sneijder's preferred position also.
He has aquitted himself well there when needed and was arguably the pivotal player in Inter's winning the Champions League a couple of years ago.
The thing is that Ferguson demands flexibility and adaptability both from his players and the entire squad. Irrespective of the massive injury problems last season, United were lacking inspiration in Europe and need more players who are au fait with a European style.
The next few days will determine whether the Netherlands make any further progress in the Euros. If they don't, their anonymous performance may hide Sneijder being the stand-out player.
For example, Arshavin, who has been awful at Arsenal, has come to centre stage because of the Russian success, and Sneijder is an immeasurably better player.
For the time being, Luka Modric would seem to be Sir Alex's first choice target. The departure of Harry Redknapp may make it easier to sign him if his successor demands a transfer pot. On the other hand, depending on who the new manager is, Modric may be prepared to give him a chance.
The latter is unlikely because the Croat has made clear he wants Champions League football. Sir Alex would tell him he will build the team around him, but that would equally be true of Sneijder.
Ferguson will not want another Berbatov type saga, culminating at midnight on the transfer deadline. If Daniel Levy demands too much or he gets messed around, either by Spurs or PSG, for example, the Scot may move on.
Clive Mason/Getty Images
United always have a multitude of targets to pursue. What makes Modric or Sneijder unique is the pivotal contribution they can make.
Modric can definitely fill Scholes' boots, but Sneijder can be the new Cantona. At 28 he is at the wrong age, theoretically but, as his Dutch influence has shown, he could bring back the Champions League to Old Trafford.
He would not play 50 matches a season, being reserved for the most important and every ECL tie that is not a dead rubber. That still leaves room for Cleverley, Powell and of course Kagawa to get game time.
There are few players in world football who would be welcomed into the United squad more readily and to whom they could pay £200,000 a week without malcontent among the troops.
Players like Rio Ferdinand and Ryan Giggs—legends themselves—are in awe of Paul Scholes. They would similarly fete Wesley Sneijder who could be the key that unlocks both the EPL and ECL.
Inter's interest in Anderson could equally be the key that unlocks the deal to buy him.