3 Ways LeBron James' Followers Rub Others the Wrong Way
June 14, 2012

Mike Ehrmann/Getty Images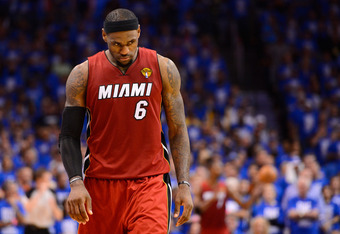 Ronald Martinez/Getty Images
I used to like LeBron back in high school.
I used to root for him all the time.
Until Game 5 and 6 of the Cleveland Cavalier series against the Boston Celtics in 2010, which showed me that he was not strong enough mentally to lead a team, so I proceeded to step back some.
Fast forward to now. I don't hate LeBron James at all, and actually pegged the Heat to win the NBA title before the season began, as all signs pointed to them dominating the competition.
For the most part, minus Tuesday's setback, LeBron has showed his hunger and determination throughout the 2012 playoffs by mostly playing at a high level.
But I'm not going to sit and praise him every time he does what his talent allows him to do on a near routine basis.
Sadly, that has been left up to the LeBron "Stan's."
Not fans, "Stan's."
You know, like the crazy psycho dude who was the protagonist of the music video and the title character in Eminem's legendary "Stan" song?
Yes, indeed. Just like him.
Sadly for their case, it's like that win or lose for Heat fans. And, in my opinion, that is tolerable to a certain extent.
But there are three chief things about LeBron fans that just bother me so much because you can't hold a conversation with them regarding his or her favorite player.
1. Taking Up For a Grown Man
I will never, go out of my way, to explain and/or justify the actions of my favorite player, coach, rapper, actor, or singer. Ever.
I will always root for or listen or watch them, but if they mess up, criticism is going your way.
Michael Jackson is one of my favorite artists ever, and I'll be the first to tell you he should have left the kids, the plastic surgery, and the skin altering crèmes alone.
Nas favorite rapper) makes inconsistent albums, and Pharrell (favorite producer) has fallen off, production-wise, since "Money Maker."
A real fan to me recognizes their favorite player or whomever for their accomplishments or failures and can readily admit when they are great or horrible.
Ask my friends if I thought Terrelle Pryor, formerly of my beloved Buckeyes, was NFL ready after his junior year. Everyone would tell you no.
For LeBron fans, I've actually seen them defend this man from how he got his title "King James," to him leaving Cleveland, to him missing huge shots, his disappearing acts, and even what he says in the media.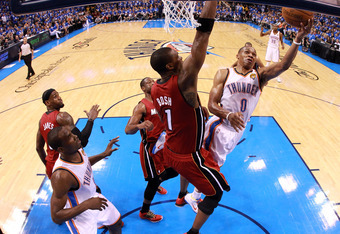 Ronald Martinez/Getty Images
Unless you're Gerald Ford, I don't think there should be any pardoning of another grown man on a consistent basis. Especially if you're not getting paid or paying LeBron yourself.
I personally don't believe people want to see LeBron lose just because of his past indiscretions but I now believe they want to see LeBron fans go into a frenzy.
2. Hugely Oblivious
I watched the whole Heat-Celtics series with my brother, and was in awe by Rajon Rondo's magic-like feel and control for the game. He told me: "The way you watch LeBron is the same way you should watch Rondo."
It was a very interesting point to digest and think about, because my whole attitude on LeBron has been, you have showed greatness at times, but let's be consistent and win a ring.
MVP awards, consistent career numbers, lights-out shooting percentages, while highly impressive, don't change my mind that he needs an NBA title to get to the next level.
And frankly at this point I don't care about all of personal achievements in the regular season anymore.
I've seen him do it for nine years, but his fans react with a sheer excitement, like he just walked through the door of their homes.
This, in my opinion, prompts them to be very oblivious to his shortcomings of not showing up in the fourth or the game as a whole, or missing key free throws/shots that could change the outcome of the game.
I once saw on Twitter, some LeBron fans were getting on Wade because he only scored five points in a blowout loss to the Pacers in Game 3 earlier these playoffs.
But when LeBron has disappeared in the past, they looked at his near-triple double line and dismissed his "ghost act" criticism.
I guess they're too forgone.
Of course no one is perfect and sometimes shots won't fall. But no one is as gifted from a physical, skill, and basketball IQ standpoint as LeBron James is.
He's nine years deep, and doesn't have time to let Kevin Durant best him in Game 1.
I really wish they could see that.
3. They Act Like They Don't Understand Why People Dislike LeBron
This one probably irks me the most out of all three.
They saw him walk off like a spoiled kid who didn't get his candy against the Magic in 2009.
They saw his collapse against the Celtics in Games 5 and 6 in 2010.
They saw him virtually spit in Cleveland's face on live TV so he and Chris Bosh could join his ego-tripped friend Dwyane Wade in South Beach.
They also hear his arrogant comments and watch a grown, 6'9, 265-pound man whine about calls on the court.
I'm sure there's more, but you can't be that blind to see how LeBron James brought the hatred on himself.
Oh wait, the big three celebration with his "not four, not five, not six..." championship jazz, too.
This goes back to reason one—standing up for a grown man all the time—and reason two, being so wrapped up in loving LeBron that they have become unaware to his shortcomings or silly behavior.
Did I mention the Michael Jackson dancing in Cleveland? Also entertaining the idea of wanting to go back there? After "The Decision?"
LeBron James is perhaps the most disliked athlete in the whole United States. I'll choose him over Tim Tebow.
But LeBron fans will call you a "hater," for some odd reason.
I hate on people I want to be. Take Tom Brady, for example, who had everything handed to him. But that's another article for another day.
In conclusion, I really will feel bad if LeBron doesn't win a ring; he had a season for the ages, and people will start blaming him for things that weren't his fault. But I won't excuse him for it, and will see him in a different light than before.
One thing I noticed is that fans are just a reflection of their favorite players.
Kobe is arrogant, but takes responsibility. His fans are very arrogant, but will let you know he didn't play well.
D-Wade fans are humble, but will be more willing to let you know he didn't step up here or there. They are even more dissatisfied in the way he's been playing in the playoffs, believing he's not himself.
Carmelo fans represent their favorite player fully, but know which lines are not to be crossed.
LeBron fans? We all know they are a reflection of their favorite player, and then some.