Matt Cain Perfect Game: A Special Moment for a Storied Franchise
June 14, 2012

Jason O. Watson/Getty Images
This year, the San Francisco Giants are celebrating their 130th year as a franchise, one of the most storied in all of professional sports. On Wednesday night, they were celebrating a first for that proud franchise as well.
Matt Cain's perfect game against the Houston Astros represented the 22nd perfect game in MLB history and the second this year. But more importantly, it also represented the first perfect game in franchise history.
There have been a number of great pitchers who have starred for the Giants—Christy Mathewson, Carl Hubbell, Juan Marichal, Gaylord Perry, even Cain's teammate, two-time Cy Young award winner Tim Lincecum—but none of them were perfect for just one game.
That's how incredible a perfect game is—only 21 have ever been thrown before Wednesday, some of them by pitchers whom no one expected to ever achieve that feat (Phillip Humber, anyone?). The stars literally have to be perfectly aligned for it to happen.
The stars were aligned on Wednesday night at AT&T Park. It seemed evident early on that Cain had his A-game in tow, mowing down Astros hitters in succession with a variety of pitches that were constantly moving and, by extension, constantly missing bats.
By the end of the sixth inning, a buzz was palpable at the park, as fans sensed something special was going on.
In the top of the seventh, Cain got behind Astros center fielder Jordan Schafer. With the count at 3-2, Cain made his only mistake of the night, grooving a pitch that Schafer turned on, hitting the ball toward the gap in deep right-center field.
Right fielder Gregor Blanco got a bead on the ball right away and dove to make a spectacular catch in full flight.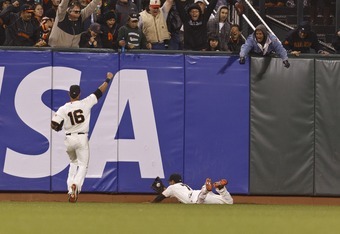 Jason O. Watson/Getty Images
No-hitters and perfect games always seem to have at least one defensive gem, but the catch by Blanco would be a web gem on any given night. This one just happened to save a perfect game.
Cain took the mound for the top of the ninth, having thrown 114 pitches to that point with 14 strikeouts. Brian Bogusevic and Chris Snyder both popped out to left fielder Melky Cabrera, leaving pinch-hitter Jason Castro as the last hope for the Astros.
Castro took a Cain offering and grounded sharply to third, but Joaquin Arias handled the tough-hop grounder and fired a perfect strike to first baseman Brandon Belt, who tucked the ball safely in his back pocket before joining his teammates at the mound to mob Cain.
A franchise as old as the Giants has certainly seen some of the most momentous occasions in baseball history.
But on this night, perfection was seen for the very first time.
Doug Mead is a featured columnist with Bleacher Report. His work has been featured on the Seattle Post-Intelligencer, SF Gate, CBS Sports, the Los Angeles Times and the Houston Chronicle. Follow Doug on Twitter, @Sports_A_Holic.